Oakland Athletics: Re-Grading the A's at Every Position After April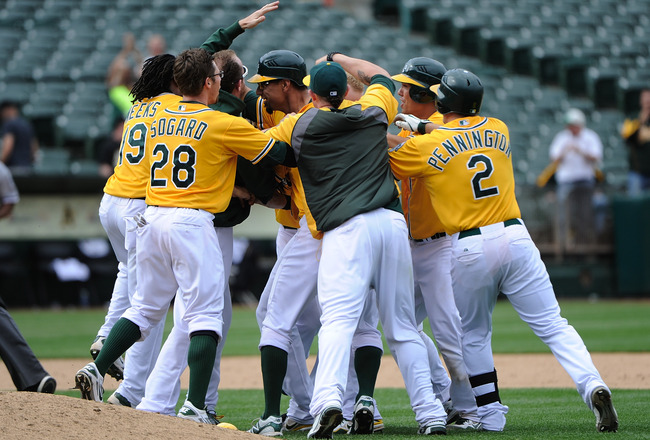 Thearon W. Henderson/Getty Images
Anyone can predict how the Oakland Athletics will do before they set foot on the field, but after one month of baseball, more realistic grades can be doled out.
On March 28, I gave my initial grades for the A's.
Since then, the team collectively has surprised me. Individually, though, many players have underwhelmed.
Oakland stands tied for second place in the AL West. Their 12-13 record puts them five-and-a-half games behind the Texas Rangers.
Here are updated grades for each position after April.
Starting Rotation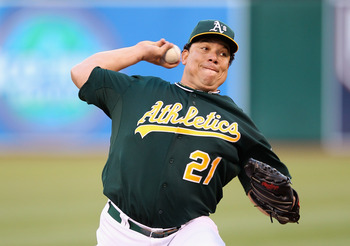 Ezra Shaw/Getty Images
March Grade: D
Before the season began there were many question marks about three spots in the rotation. I praised Brandon McCarthy and doubted Bartolo Colon.
The staff's 3.41 ERA places them ninth in the MLB.
They're also No. 1 in the league in shutouts (four) and innings pitched.
Tommy Milone has pitched two eight-inning shutouts. Colon meanwhile, has been nothing short of impressive.
Though he's not quite as dominant as fans had hoped, McCarthy continues to hold his own.
The back of the rotation, however, hasn't fared so well.
After going 0-3 with an ERA over five, Graham Godfrey was sent down. Tyson Ross is 1-1 with a 6.48 ERA.
New Grade: B
Catcher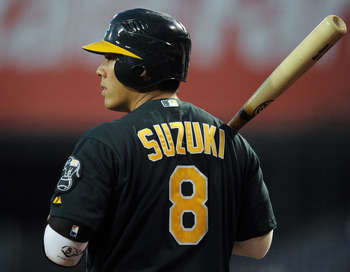 Harry How/Getty Images
March Grade: D+
After last season's horrendous hitting, anything over .215 for Kurt Suzuki seems amazing.
Hitting .229 isn't great, but it's an improvement.
The good news is, six of his 19 hits are doubles.
The bad news?
One walk to 14 strikeouts.
Suzuki has been fairly average defensively. He's thrown out 46 percent of base-stealers.
New Grade: C-
First Base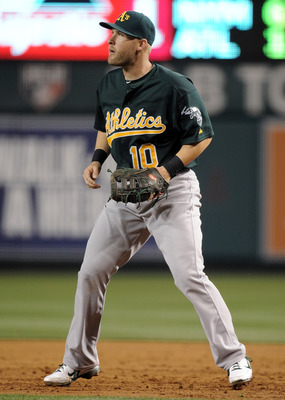 Harry How/Getty Images
March Grade: C-
Since my last grades, the Oakland Athletics designated Brandon Allen for assignment and reinstated Daric Barton.
In 18 games, he's hitting .184 with one RBI.
He's definitely got pop, as shown by four doubles and one home run. He's also walked seven times.
So far, he's been solid in the field.
New Grade: C
Second Base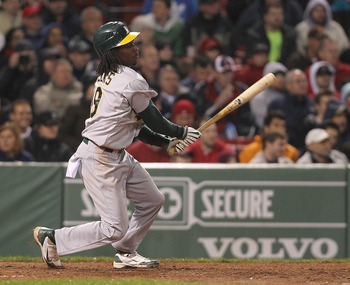 Jim Rogash/Getty Images
March Grade: A-
After hitting .303 last season, Jemile Weeks started this season by hitting .184 in the month of April.
The semi-good news, though, is his surprising two home runs.
Weeks has also stolen three bases and knocked in three runs.
His defense still isn't great. He's already made four errors in 2012.
New Grade: C+
Shortstop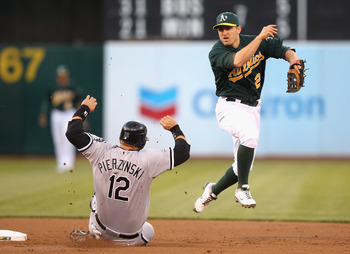 Ezra Shaw/Getty Images
March Grade: C-
Before the season began, I claimed Cliff Pennington was an average-to-barely-serviceable shortstop.
After one month of baseball, he's proving to be below-average.
His stats are almost identical to Jemile Weeks'.
His batting average is nearly the same. His hits, doubles, strikeouts and stolen bases are all almost the exact same.
Hey, he's only made two errors so far though.
New Grade: C
Third Base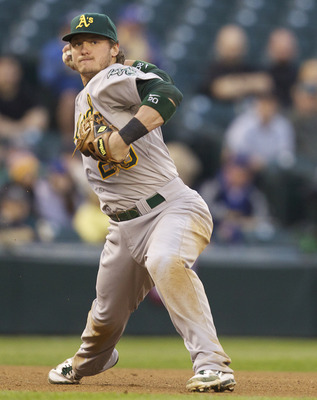 Stephen Brashear/Getty Images
March Grade: F (Josh Donaldson), D (Eric Sogard)
Josh Donaldson hit .069 in April. He made three errors in eight games.
Eric Sogard hit .167 and committed one error.
Donaldson and Sogard earn an F and a D, respectively.
It was bad enough the team tried Luke Hughes.
After a 1-13 start and three errors in four games, he too wasn't good enough.
Now the team turns to Brandon Inge.
New Grade: D-
(Remember: it's for April, not moving forward.)
Left Field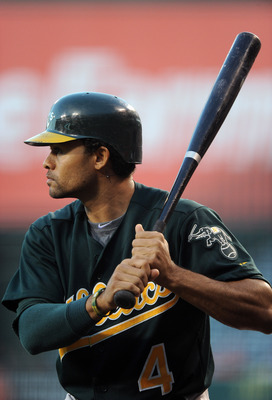 Harry How/Getty Images
March Grade: B+
The grade in March was for Coco Crisp. Surprisingly, four guys have spent time in left field so far.
Crisp has the best batting average of them all at .236. He has five RBI and four stolen bases.
Seth Smith hit .193 in April.
He has two home runs and five RBI.
Jonny Gomes has nearly the same amount of hits—with more home runs and RBI—in half the games.
Collectively, they're all about average.
New Grade: C
Center Field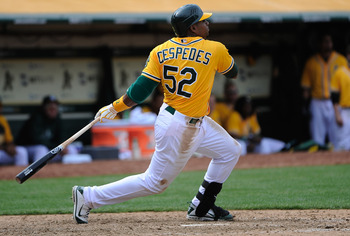 Thearon W. Henderson/Getty Images
March Grade: A-
So far, Yoenis Cespedes has delivered.
Though his average is low—at .244—he's plated 17 runs on 19 hits.
He's hit four home runs and stolen four bases too. Cespedes has the most home runs and the most strikeouts on the team. But his RBI total is twice as much as the next guy.
New Grade: A-
Right Field
Koji Watanabe/Getty Images
March Grade: B
Right fielder Josh Reddick owns the team's highest batting average of any regular starter, at .276.
He has 24 hits in 21 games—including six doubles and three home runs. He's knocked in eight runs too.
Reddick leads the entire league in outfield assists at four.
He's been a nice bright spot.
New Grade: A-
Designated Hitter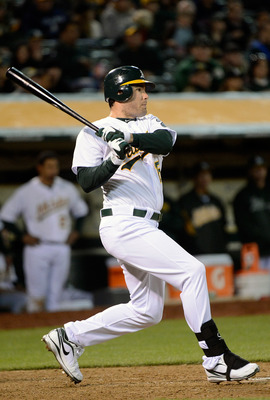 Thearon W. Henderson/Getty Images
March Grade: C+
Five players have batted as the designated hitter this season.
Of them, Seth Smith has the most time.
Again, he's hitting just .197 with two home runs and five RBI.
Though Kila Ka'aihue has played first base more often than DH, it's worth noting he leads the team in batting average at .286 (not counting Brandon Inge's one game).
Maybe he should DH more often, or take over first permanently.
New Grade: C
Bullpen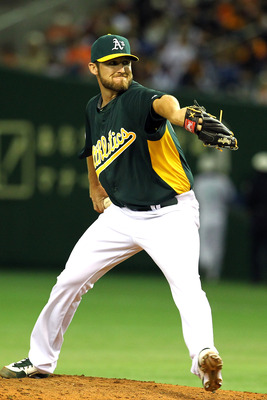 Koji Watanabe/Getty Images
March Grade: B
The Oakland Athletics bullpen sits right in the middle of the pack with three blown saves out of nine opportunities.
In eight games, Ryan Cook has given up one hit.
Closer Grant Balfour is 5-for-7 in save opportunities. He's kept batters to a .179 average.
Six of the 10 relievers have an ERA less than 2.25.
Collectively, they're impressively good.
The three blown saves this month are the only blemishes, but as a bullpen, those are important.
New Grade: B+
Bench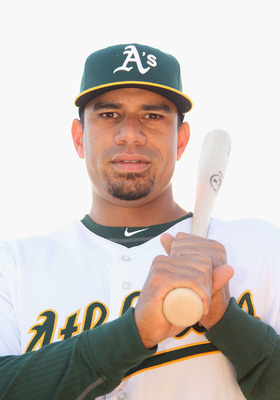 Christian Petersen/Getty Images
March Grade: C-
Collin Cowgill, Luke Hughes and Eric Sogard are doing terrible.
Jonny Gomes is decent.
Anthony Recker and Kila Ka'aihue are actually doing pretty well.
All of them seem to even each other out.
Added all together, the bench is hitting about .200. The entire team is hitting .209.
Yikes.
New Grade: C
Keep Reading

Oakland Athletics: Like this team?