2013 NFL Mock Draft: Where Next Year's Top Prospects Will Land
May 1, 2012

Jonathan Daniel/Getty Images
With the 2012 NFL draft out of the way, it's time to completely jump the gun and fast forward to the 2013 edition of our mock drafts. That's what happens when you live the NFL draft process.
As good as the 2013 NFL draft class looks, it will be important to watch a certain few future NFL stars.
Players italicized are the guys to watch.
1. Jacksonville Jaguars: Matt Barkley, QB (USC)
As much as Blaine Gabbert was supposed to be the quarterback of the future, the Jaguars have to decide next season whether they feel more comfortable going forward with a mediocre starter or a potential star prospect who could also be mediocre.
Matt Barkley has talent, but he just isn't the franchise QB that many people believe he is.
2. Indianapolis Colts: Sam Montgomery, OLB (LSU)
Andrew Luck is the new face of the Colts offense, and 2013 will bring in the new face of the Colts defense: LSU outside linebacker Sam Montgomery.
3. Miami Dolphins: Robert Woods, WR (USC)
Ryan Tannehill won't be terrible next season, but the team needs to give him some kind of target to throw to. USC wide receiver Robert Woods will be his go-to man.
4. St. Louis Rams: Jarvis Jones, OLB (Georgia)
The St. Louis Rams have made wholesale changes, but their lack of a pass rush is alarming. Adding Jarvis Jones to the team and converting him to a defensive end may be a risk just crazy enough to work.
5. Minnesota Vikings: Manti Te'o, MLB (Notre Dame)
With a serious need right through the gut of the Vikings defense, the team will snag what could be the best pure defender in the 2013 draft in Notre Dame middle linebacker Manti Te'o.
If the star can stay healthy through 2012, there is no reason Te'o can't be a top-five pick and a star in the NFL.
6. Tennessee Titans: Barkevious Mingo, DE (LSU)
Harkening back to the days of Jevon Kearse, the Titans will find that pass-rushing defensive end with a knack for getting the QB in Barkevious Mingo.
7. Seattle Seahawks: David Amerson, CB (NC State)
Seattle's weak secondary will prove to be its biggest flaw in 2012, which makes selecting CB David Amerson at No. 7 an easy pick.
8. Cleveland Browns: Keenan Allen, WR (Clemson)
Brandon Weeden's time is already running out, so getting him weapons is a process that must be sped up.
9. Kansas City Chiefs: Nico Johnson, LB (Alabama)
Nick Saban has the Crimson Tide NFL-ready, and Kansas City will reach to steal one of their more underrated stars Nico Johnson.
10. St. Louis Rams (from Washington): Tyrann Mathieu, CB (LSU)
The Rams secondary has been terrible over the years, but they will find a possible star in LSU cornerback Tyrann Mathieu.
11. San Diego Chargers: D.J. Fluker, OT (Alabama)
Philip Rivers needs help standing up in the pocket. Another season of being crushed will show San Diego they must do something. Taking a star tackle like D.J. Fluker should be an easy choice.
12. New York Jets: Marcus Lattimore, RB (South Carolina)
While the New York Jets were reportedly interested in moving up to acquire Trent Richardson this season, they will have their top target fall to them at No. 12 in 2013.
South Carolina star running back Marcus Lattimore is  a serious star in the making. If the Jets could snag him, they would add a serious running back to what has been a disappointing aspect of the team over the last three seasons.
13. Tampa Bay Buccaneers: Alex Okafor, DE (Texas)
With the need for more pressure off the edge, the Tampa Bay Buccaneers will take 4-3 defensive end Alex Okafor.
14. Oakland Raiders: Tyler Wilson, QB (Arkansas)
With the Carson Palmer experiment not going exactly how they planned, the Raiders exit plan starts by drafting Arkansas star Tyler Wilson.
15. Arizona Cardinals: Oday Aboushi, OT (Virginia)
It doesn't matter who is under center, they will need more protection. That need will force Arizona's hand, and they will take offensive tackle Oday Aboushi.
16. Carolina Panthers: Johnthan Banks, CB (Mississippi State)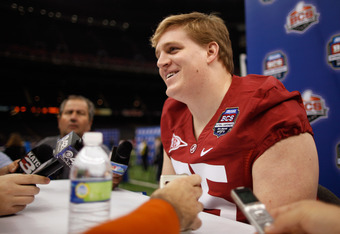 Chris Graythen/Getty Images
The Carolina Panthers are truly building their team from the ground up, and their 2013 pick will be the best value at a position of need. Johnthan Banks is the difference-maker at cornerback the Panthers need.
17. Dallas Cowboys: Barrett Jones, OG (Alabama)
The biggest flaw on the Cowboys right now, one that will remain throughout the season, will be on the offensive line. If the Cowboys don't address their needs through the middle in free agency, you can expect Barrett Jones and other linemen to be heading to Dallas.
18. New York Giants: Tyler Eifert, TE (Notre Dame)
The Giants haven't had an elite tight end since Jeremy Shockey, but they will find their new man in Notre Dame tight end Tyler Eifert.
19. Buffalo Bills: Logan Thomas, QB (Virginia Tech)
As good as Ryan Fitzpatrick has looked at times, he will prove that the Bills need to start looking towards the future as well.
20. Denver Broncos: Kawann Short, DT (Purdue)
Broncos head coach John Fox uses a very specific 4-3 defensive scheme, and he needs a stable of excellent tackles to make it work. Adding another in Kawann Short is the plan.
21. New Orleans Saints: Ricky Wagner, OT (Wisconsin)
With Drew Brees locked into a long-term deal, protecting their enormous investment will become priority No. 1 for the Saints organization.
22. Cincinnati Bengals: Knile Davis, RB (Arkansas)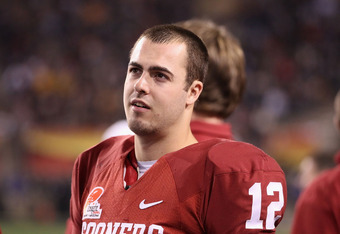 Christian Petersen/Getty Images
The Bengals like the Law Firm of BenJarvus Green-Ellis, but he isn't the future. Star running back Knile Davis could very well be, though.
23. San Francisco 49ers: Landry Jones, QB (Oklahoma)
After ruining another season, the 49ers will wise up and start the process of getting rid of Alex Smith. Enter Landry Jones.
24. Atlanta Falcons: Seantrel Henderson, OT (Miami)
As much as the Atlanta Falcons have surrounded Matt Ryan with great weapons, they haven't given him the protection he needs. It will be exposed in 2012, and they will be forced to draft Seantrel Henderson in the first round.
25. Pittsburgh Steelers: John Simon, DE (Ohio State)
The aging Steelers defense needs to find youth along the front. Ohio State John Simon will offer the pass rush and run-stop capabilities the Steelers demand.
26. Detroit Lions: DeMarcus Milliner, CB (Alabama)
Detroit's need for help in the secondary will still be a major issue after 2012, so drafting Alabama star DeMarcus Milliner is a no-brainer.
27. New England Patriots: Montee Ball, RB (Wisconsin)
If the New England Patriots can somehow steal Montee Ball this late in the first round, they would finally have the running back they have needed for years.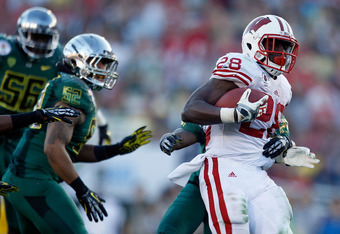 Jeff Gross/Getty Images
28. Chicago Bears: Khaled Holmes, C (USC)
The need through the middle of the offensive line in Chicago has not been addressed. It will be in 2012 with Khaled Holmes.
29. Baltimore Ravens: Sean Porter, OLB (Texas A&M)
With a serious help needed from a pass-rushing outside linebacker, the Ravens will snag Sean Porter late in the first round.
30. Philadelphia Eagles: Baccari Rambo, S (Georgia)
While the additions at linebacker are nice, the need through the middle of the secondary will be an Achilles heel for Philadelphia. That's where Baccari Rambo comes in.
31. Houston Texans: Devin Taylor, DE (South Carolina)
Another Melvin Ingram-energy player out of South Carolina, Devin Taylor has the same motor as Ingram but a bigger body.
32. Green Bay Packers: T.J. McDonald, S (USC)
After addressing the defensive line issues, the lack of consistent play from the safeties will have the Packers reaching for McDonald or whoever the best safety is left on the board.
Check back for more on the National Football League as it comes, and check out Bleacher Report's NFL Page to get your fill of all things football.