Mayweather vs Pacquiao: What Floyd Must Do to Force Fight with Manny
May 1, 2012
Mayweather vs Pacquiao seems like a dream of year's past, but there are a number of changes that Floyd can make to transform this fantasy into a reality. 
Watching Floyd Mayweather for five minutes gives adversaries a stockpile full of ammo to be used as motivation. He's an assertive, brash-talking, unapologetic personality that seeps into the pores of his critics' skin and strikes every nerve in the vicinity.
What's worst about his trash-talking ways? 
He always backs it up.
Manny Pacquiao is an easy-going, well-liked man hailing from the Philippines. His interviews aren't polarizing and his English is shaky. However, actions speak louder than words, and overhand lefts transcend a universal language of hurt. 
The two icons appear to be worlds apart, yet live in their own. 
To some, Mayweather is unbearably straightforward about his unwavering inner confidence. Unlike most, his mouth isn't barricaded by a resounding moral conscience. Mayweather's well-publicized encounter with ringside commentator Larry Merchant exemplifies his unpredictability. 
But don't be fooled, Pacquiao may not directly label himself as obliviously arrogant, but relatively recent decisions would beg to differ (see: running for congress in the Philippines.) In past episodes of HBO's 24/7, trainer Freddie Roach had also voiced concerns regarding his prizefighter's handling of then-newfound popularity.
The bottom line: both boxing legends have inflated egos. 
Egos have the capability to cast blindness amongst people when it comes to opportunities.
If Mayweather truly wants this fight to anchor in reality, he will be forced to bend regarding two glaring issues.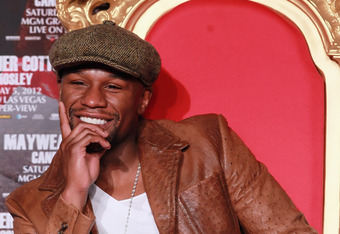 Jeff Gross/Getty Images
Purse
Floyd "Money" Mayweather runs his own show. In the past, he has publicly shown disdain for promoters, and would cut the middle-men out of the sport altogether if it was his decision. However, he also takes home shockingly disproportionate amounts of each individual fight's purse.  
Going into Mayweather's previous bout—against up-and-comer Victor Ortiz—Floyd was guaranteed to earn a base salary of $25 million. Ortiz? $2 million. 
Mayweather vs Mosley stacked up $22.5 million for the former, and $7 million for the latter. 
According to Osman Rodriguez, Mayweather reportedly told HBO's Michael Eric Dyson that he offered Pacquiao $40 million guaranteed (BoxingScene.com). However, the undefeated money-hustler wouldn't agree to a 50/50 split. 
Blood Testing
Before the purse was the elephant in the room, the two camps were divided by a wedge that seemingly wouldn't splinter: blood testing.
Mayweather has implied that Manny Pacquiao has injected himself with steroids on multiple occasions. While no hard evidence has surfaced to solidify the aforementioned claim, Freddie Roach's name has hovered amongst steroid controversy in the past. A number of his fighters, including James Toney, have tested positive for the substance.
Bob Arum, Pacquio's promoter, responded to the allegations by inferring that Mayweather is searching for excuses in order to avoid "Pacman." Pacquiao's camp believes that Floyd is paranoid of Manny blemishing his flawless 42-0 record. 
At the end of the day, constant bickering is the only variable in the equation that never changes. 
As Bryan Armen Graham of Sports Illustrated hints, pride is really the immovable object that separates both sides.  
Not drug testing. Not purse splitting.
Egotistical bravado. 
The longer the potential bout is set astray, the less it becomes relevant. 
Both fighters are in their mid-thirties. Pacquiao's upcoming opponent, the undefeated Timothy Bradley Jr., is as unbeknownst to casual fans as Mayweather's back is to the mat. Floyd's next adversary, Miguel Cotto, has already been decisively defeated by Manny. 
The fantasy matchup between Floyd Mayweather and Manny Pacquiao became larger than life due to both boxers' long-reigning dominance. However, if even one of the two loses, the media firestorm will gradually fizzle, and the feud will be a mere shadow of its former self. 
Mayweather is the puppeteer that pulls the strings for boxing's can't-miss pay-per-views. The ball is in his corner. 
However, if he fails to pass it, the sport's most captivating dream will become an unforgiving nightmare.