Floyd Mayweather: Why Money Will Never Be Considered an All-Time Great
May 2, 2012

Chris Trotman/Getty Images
Floyd Mayweather will never be remembered as one of the great boxers.
His name will never be spoken in the same breath as Muhammad Ali, Rocky Marciano, Joe Frazier, George Foreman, Jack Dempsey, Joe Louis, Mike Tyson or any of the truly transcendent figures of the sport.
Those guys fought for and earned the right to be all-time greats.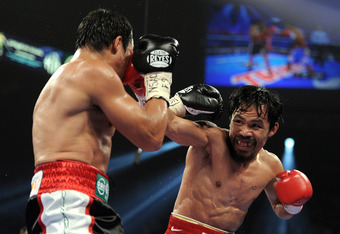 Harry How/Getty Images
When the 35-year-old fighter decides to hang up his boots, the world will remember him—when they are forced to—as the ultra-talented but extremely misguided man who denied the public and himself the glory of fighting Manny Pacquiao, the only boxer worthy of being considered his equal at the time.
They will also remember a fighter who was embattled in domestic violence disputes and spent time rotting in jail instead of fulfilling his destiny in the ring.
This weekend, Floyd will take on an opponent in which the outcome is all but decided. Money is going in as a -700 favorite against Miguel Cotto, and it would take a miracle for the Puerto Rican to emerge victorious.
After that, Mayweather is heading to jail in June for 90 days.
It's during that three-month stretch that Floyd has to decide if he wants to change his destiny.
Floyd has made enough money to live in elaborate mansions, drive the most expensive cars, burn 100 dollar bills, bet nearly $2 million on one game of the first round in the NBA playoffs and countless other stunts for the rest of his life.
He's got a chance to man up and actually fight Pacquiao when he is freed. Winning that bout would make him immortal and one of the greatest fighters of all time, not just the wealthiest.