25 Reasons We Love Jose Canseco's Twitter Account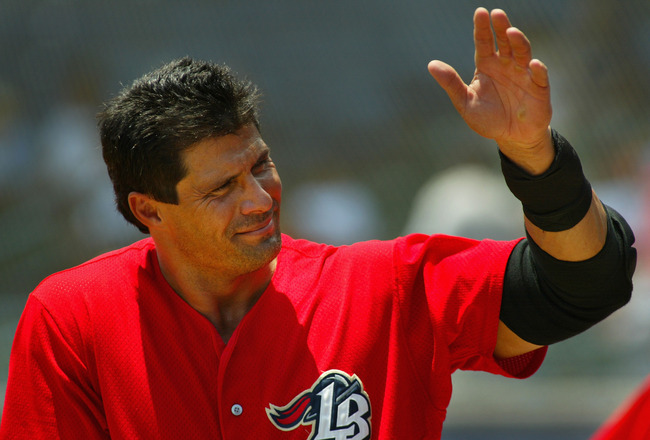 Christian Petersen/Getty Images
It's hard not to feel bad for Jose Canseco. After being one of the most dominant power hitters and stolen base threats in the '80s and '90s, he has now become little more than baseball's rodeo clown. With his quirky attitude and outspokenness, the guy is always good for a laugh!
What's even funnier is that Canseco practically sets himself up for ridicule via his Twitter account, @josecanseco. If you're having a dreary day and need a pick-me-up, look no further than this piece of cyber gold.
In fact, here are 25 reasons as to why we all love Canseco's Twitter.
ALL PHOTOS ARE COURTESY OF https://twitter.com/#!/josecanseco
His Ego

First off, I didn't even know that Canseco cared about politics, let alone attending the White House Correspondents Dinner.
Next, how ballsy does someone have to be to actually tweet the First Lady and ask for a hookup simply because he played for her favorite team for one year in the twilight of his career?
Invisible Man or No?

Um...yeah...
I have no idea how to respond to this one.
Man Crush, Perhaps?

Then again, only Jose Canseco would be obsessed with a portly power hitter playing in Japan.
The Empty Threats

I have no clue what "kimionwheels" is, but the fact that Canseco is willing to slap those who don't vote for them...I don't know if it's scary or just downright hilarious.
Tweeting from Jail??

OK, a couple of questions here.
Why was Canseco in jail, and how was he able to tweet from there??
Lack of a Filter Much?

I don't know who Canseco is saying this to, but it's hard not to laugh simply because it's him saying it.
The Odd Predicaments

Where does he come up with this one here? No, honestly! I need to know how the dude's mind works!
The Delusions of Grandeur

No, Jose. You are not the only "real" entertainer on Twitter.
If you're looking for a real one, might I suggest Jim Gaffigan?
The Potential Breach of Contract

Canseco currently has 466,060 followers, a number that surely grows daily. When he reaches the 500k plateau, he might have some explaining to do!
The Anonymous "Hater"

Just who is this hater and why does he deserve to be slapped?
The Heartless Self-Promotion

"Who says I don't have a heart."
Hmmm...I don't know, Jose. Maybe the fact that you'll go anywhere if it means an appearance fee?
His Delusional God Complex

Actually, Jose, my life was fine without you.
Then, it got a lot better once you joined Twitter!
Potential TV Show?

You know what? I'd watch that. How bad could it be?
Jose the Vampire?

Um...yeah. I've got nothing.
Too Much Information!

And here's an image that I'll never be able to get out of my head, thanks to this 'roid boy.
Master Jose

Release me from what? Your "deadly" clutches?
Captain Obvious

Really, Jose? You tweet so much already that we all had no idea!
Comedy-Enhancing Drugs?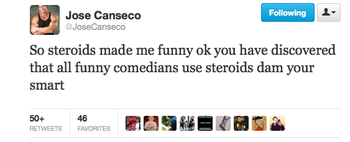 If this is true, maybe it's time to have Jerry Seinfeld, Chris Rock and Jeff Foxworthy all testify before Congress on the subject.
Bobby Valentine Man Crush?

Wow. I guess Jose just likes Bobby V!
The Man Crush Continues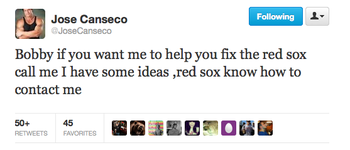 Now here's the real question: does he really want to help the Red Sox or just be in the same room with Bobby V?
Jose the Animal Lover

The Delusional Ladies Man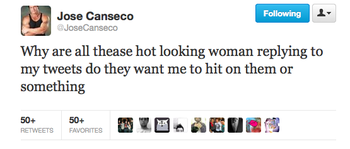 I don't know, Jose. Try it and see what happens! It's only Twitter, you know.
Zen According to Jose

Move over, Phil Jackson. The world of sports has a new Zen Master!
Foul Ball Paul

Back in the day, hitters named their bats Black Betsy. Today, we have Jose Canseco and Foul Ball Paul.
Brilliant!
Aliens Exist?

Ohhhh so THAT'S why Canseco disappeared from Twitter for a day!
Keep Reading