2012 NFL Draft: RGIII and Kirk Cousins Make for a Potential Soap Opera
May 1, 2012

Al Bello/Getty Images
The Washington Redskins' management pulled another head-scratcher in another poor NFL draft.
It seems to be business as usual in Dan Snyder's office. With the seventh pick in the fourth round, the Redskins selected QB Kirk Cousins from Michigan State, three rounds after selecting Robert Griffin III as their franchise quarterback.
For a team plagued by quarterback controversy over the past few years with Donovan McNabb, Rex Grossman and John Beck, Washington is keeping the soap opera theme going strong. Learning from their mistakes is not one of the Daniel Snyder-run Redskins' strong suits.
With an experienced starter in Grossman entrenched as the backup to second overall draft pick RG3, the Redskins decided to use their third draft pick to select yet another quarterback.
There are two questions that arise from this action, one solved at training camp and another that will rear its ugly head all season long.
Who will be the backup and who will be the third string?
Rex Grossman has inconsistently shown flashes of what made him a former first-round pick and Super Bowl-experienced quarterback. He is not a starter by any stretch of the imagination, but he is a "been there, done that" kind of guy teams want as solid backup, ready to take charge after an injury.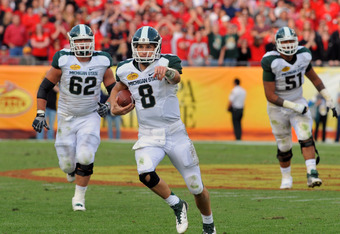 Al Messerschmidt/Getty Images
That leaves Cousins, a relatively high picked quarterback with a decent amount of skill holding the clipboard. If Cousins buys what the Skins' are selling, great.
Another valid point to bring up is that if Washington intends to build Cousins up into a tradeable asset years down the road, how exactly will he reach his potential taking snaps with backup teams and getting the least amount of coaching and play time out of all three quarterbacks?
It is more likely that he will be wondering all season long , "Why did this team draft me if they never had any intention of playing me?"—thus creating an unhappy locker room presence.
What if Cousins outperforms RG3 at any time during their stay together in DC?
Teams are generally very sheepish about benching their franchise quarterbacks when they are under-performing.
In the NHL, if a star goalie is struggling, a team will pull him to save face, let the game play out, and stick him back in as the starter the next game, no questions asked.
The NFL is a different beast when it comes to benching stars. There are a lot more hurt feelings, unnecessary drama and media frenzies when it is even suggested a starting quarterback ride pine for a few quarters.
So this brings us back to the original question: What does happen if Cousins can play better than RG3?
The easy answer is that Cousins will never see a start in his life as long as he is in Washington. Being selected second overall is one thing for RG3 but based on the sheer amount of draft picks—i.e. the future—nobody will ever get a chance behind him.
Redskins' 2012 Draft Summary
Despite what Griffin III does during his career, we are going to look back at this draft and notice two things.
It was the day the Redskins selected their first true franchise QB in modern history.
and
The other draft picks were wasted.
After giving up so very much to the St. Louis Rams, this was a draft where Washington really needed to take a page from the Pittsburgh Steelers and hit on every single pick, especially in the higher rounds. Without future high picks, the Redskins' depth is going to diminish over the immediate future.
History can vindicate the players Washington pulled in later rounds, but fans will always be wondering what gem could have been had in the fourth round. Instead they will be left with an empty jersey who they will only get to see play in the preseason and training camp.