Stanley Cup Odds 2012: Breaking Down Each Remaining Playoff Teams Chances
May 1, 2012

Jim McIsaac/Getty Images
The 2012 NHL Stanley Cup Playoffs are well underway. There are eight teams remaining, with all the players hopeful that their squad will be the one allowed to touch the cup at the end of the long postseason.
Let's take a look at each remaining team and their current odds to win the Stanley Cup.
East
Philadelphia Flyers – 7/2
The Flyers are in the drivers seat in the East—for now. They have a 1-0 lead over the Devils and play in a game tonight that would give them a huge advantage over their opponents for a conference finals spot should they win.
New York Rangers – 9/2
New York was the favorite until it dropped a game to the Capitals last night. Now the series could go either way and Washington might ride that momentum. The Rangers were the better team during the season, but if these playoffs have shown us anything, that doesn't matter.  
Washington Capitals – 10/1
Ovechkin continued to see limited time on the ice last night but made it count with the game-winning goal. It'll be interesting to see if the Caps keep reigning in Ovy like this now that they are finding success.
New Jersey Devils – 12/1
After a devastating OT loss, the Devils need to pick it up and regain ground in the series with a tonight to have a chance against the Flyers. They are an experienced and hungry team and they cannot afford to fall farther back.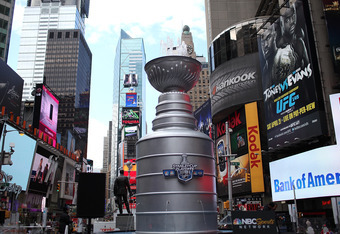 Justin Sullivan/Getty Images
West
Los Angeles Kings – 5/1
With a 2-0 lead over the Blues, it's looking more and more inevitable that the No. 8-seeded Kings will be headed to the Western Conference Finals. Not many would have predicted that at the start of the playoffs and this team is now a Stanley Cup favorite.
Phoenix Coyotes – 6/1
The Yotes are likely going to meet up with the Kings in the WCF, as they also maintain a 2-0 series lead over their opponent. Despite losing Raffi Torres for an extended period of time, this team is rolling right now.
Nashville Predators – 14/1
The Preds have to dig their way out of a massive hole if they want a chance at hoisting the Stanley Cup. They did a great job knocking out Detroit quickly in Round 1, but seemingly became content afterwards.
St. Louis Blues – 15/1
St. Louis had a lot of momentum going into the postseason, but seemed to have screeched to a halt after defeating the San Jose Sharks in five games. They are down 2-0 in the series against L.A. and will soon be eliminated if things don't change.