San Francisco 49ers 2012 Draft: Pulling a Bill Belichick
May 1, 2012

Let's stray away from throwing premature grades at the dartboard that was the San Francisco 49ers draft for a second and look at something of real substance.
I am talking about what Trent Baalke did in the war room during the draft and what it means for the sustained success of the 49ers franchise moving forward.
What the Wheeling and Dealing Means
San Francisco ended the 2012 NFL draft with just as many (seven) picks as they started out with. Despite this, the 49ers did make four draft day deals and picked up three additional picks in 2013.
Essentially, they traded down from the third to the sixth round to acquire a third-, fourth- and sixth-round pick in 2013.
Let's take a look at the value in doing so. While NFL trade charts are not an exact science and need to be tilted a little bit to take into account future selections, they are a good gauge to determine value.
According to Draft Tek, the 49ers yielded 132 points by trading their third-round pick (92nd overall). Assuming that the three teams San Francisco traded with have the same type of years that they had in 2011, the 49ers picked up about 310 points in addition to a sixth-round selection in 2012 (Trenton Robinson).
That is mastery in its purest form.
What Does it Mean Moving Forward?
San Francisco picked up a seventh-round pick in the Taylor Mays trade during the 2011 offseason. This gives them a total of 11 picks next year.
Peter King over at CNNSI (great read by the way) has also indicated that the 49ers are going to receive two compensatory selections due to 2012 free-agent departures. This leaves them with a total of 13 picks next year.
Of course, the 49ers are not going to hold on to all those picks. Why would they? This is a Super Bowl contender, not a franchise that is going to go into a season with a quarter of their roster allocated to rookies.
This is also one of the reasons why the 49ers were able to make these moves during the draft. As I indicated in a previous article that predicted these deals, they really don't have a lot of room on the 53-man roster for rookies. Grabbing value, talent and future picks made more sense.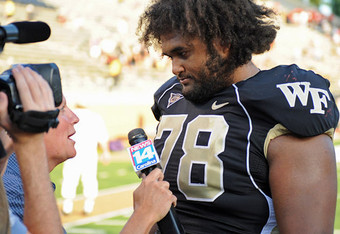 Now, San Francisco has an incredible amount of flexibility, both for the remainder of this offseason and into the future.
They can now make a play for a veteran that hits the trade market later in the offseason. There promises to be a multitude of those as teams start to get a better feel for their roster following the draft. This would enable San Francisco to pluck a proven player at a position of need for a mid- to late-round pick.
The New England Patriots have consistently done this throughout the years.
San Francisco also has the ability to use multiple picks in next year's draft in order to move up in the early rounds. This will enable them to target an elite prospect and then make a play for him with some of these 13 picks.
See, good teams have this capability because their needs just aren't as much as mediocre teams, who need to fill a myriad of roster spots.
There is also a possibility that Trent Baalke and Co. are planning much longer-term. Why not turn one of next year's mid-round selections into an earlier-round pick the following year? This is what the Patriots have consistently done with major success throughout the duration of their run under Bill Belichick.
The Plan Takes Hold
Why not trade up for a player like David DeCastro? Why not use extra picks to get the one player at that position of need? A strong argument could be made for this. After all, it is pretty clear the 49ers were looking to address the guard position in the draft.
San Francisco now has four draftees battling out for the starting job at guard: Joe Looney, Jason Slowey, Mike Person and Daniel Kilgore. What are the chances that one of them doesn't turn out to be a starter-caliber guard? Not really good if you ask me. Then they are able to continue building depth with the three youngsters that don't earn a starting job.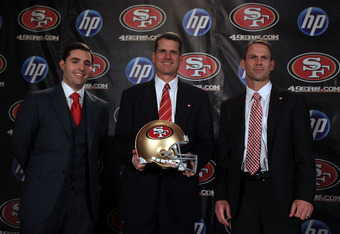 Ezra Shaw/Getty Images
Overall, I am not going to make a judgement in regard to how the 49ers fared in the 2012 NFL draft. That is something that should be rehashed a couple years from now.
What I can do is look at the concrete information that we have and draw a conclusion. Trent Baalke literally stole multiple picks from disappointing franchises who were desperate to add players for the 2012 season.
San Francisco wasn't in the position—much to the liking of their front office—to have to do this. Instead, they could wait for the phone to ring and reap the rewards.
Those rewards are as many as 13 picks in 2013, a strong 53-man roster this year and a couple skilled playmakers on offense that gives San Francisco an added dimension for a Super Bowl run this year.