If nothing else, Dale Hunter has already done better than Bruce Boudreau did a year ago for the Washington Capitals.
Last season, Boudreau got the Caps to the Eastern Conference Semifinals but had no answers for the Tampa Bay Lightning as the Caps were stunned in a four game sweep.
After Washington's 3-2 win at Madison Square Garden in Game 2, the Caps are already ahead of the game from where they were last season.
And Dale Hunter is the reason.
When Hunter was brought in as coach of the struggling Caps earlier this season, everyone knew he would be an interim coach, even if Ted Leonsis and George McPhee were not calling him that.
When the Caps struggled through the regular season and barely made the playoffs, that unofficial interim tag seemed all the more real.
But after upsetting the defending champion Boston Bruins in the first round, and now drawing even with the No. 1 seed New York Rangers, Hunter is well on his way to removing that interim status and securing his future as the coach of the Washington Capitals.
Hunter has done something that many Caps fans did not think was possible—he has changed the entire philosophy of the team and has helped them acquire something that was missing for several years now, namely an identity.
Under Boudreau, the Caps were lost, unsure whether they should be the offensive juggernaut that got stunned by Montreal in the 2010 playoffs, or whether they should be the more disciplined team that took the No. 1 seed last year and then fell flat against the Lightning.
Has Dale Hunter Earned The Caps Head Coaching Job?
This year, however, the Caps have followed the lead of one of the most beloved players in franchise history and they now seem poised to do something they have not done since 1998—advance to the Conference Finals.
On this team, with so many egos and an equal amount of insecurities, Hunter has done what needed to be done.
He has taught the team what it means to play defense, what it means to block shots and the level of sacrifice necessary to succeed in the playoffs. It is something that did not come naturally to the Caps. They had to be shown by someone who had been there and done that.
The Caps are now "all-in" on this philosophy. They still make mistakes and they still take bad penalties. But their level of discipline is so much more than it was just a month ago that the change is startling.
One of the best things Hunter has been doing is playing to win. He is not coddling egos or trying to make friends. This is evident with the way he has been dealing with Alexander Ovechkin.
Ovie is still one of the best players in the world, but Hunter knows that Ovechkin is not a good defensive player. He does not always fit in with the scheme Hunter is trying to run. Rather than trying to appease the team captain and generate ice time for him, he has kept Ovechkin on the bench for long stretches of time.
Highlights of the Caps Game 2 win over the Rangers
Boudreau would never have done that. He would have tried to put the team's fortunes on Ovechkin's shoulders with predictable results.
Hunter is more concerned with winning than smoothing ruffled feathers. When Jay Beagle has just shy of 20 minutes of ice time, while Ovechkin has just over 13 minutes, this is as clear an example of Hunter doing what he thinks is in the best interest of the team.
As Spock said in Wrath of Khan, "The needs of the many outweigh the needs of the few."
"Or the one," as Kirk would respond.
Star Trek quotes aside, Hunter is demonstrating why he deserves to be head coach by not just his leadership skills, but by recognizing who he has going for him, from game to game, that gives him the best chance to win.
Mike Knuble and Joel Ward combined to beat the Bruins. Hunter must have seen what I saw in Game 1 against the Rangers, namely that Ward and Knuble and Keith Aucoin have an extra spring in their step. So, those guys got a little extra ice time and it paid off with a beautiful tic-tac-toe goal that got the Caps going in Game 2.
And if you needed one more example of how Dale Hunter has come into his own as a coach, it is the way he is using Alex Ovechkin. This is pure genius. He is limiting Ovie's ice time for a specific reason—he is preventing the Rangers from ever really knowing when the Great 8 will be on the ice.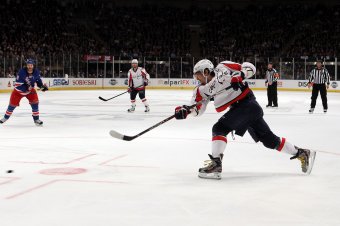 Bruce Bennett/Getty Images
The Rangers want to get their best defensive pairing, Ryan McDonagh and Dan Girardi, on the ice against Ovechkin as much as they can. With Hunter deliberately limiting Ovechkin's ice time, it is difficult for Ranger's coach John Tortorella to get the matchup he is looking for.
It is a brilliant piece of strategy. Ovie is staying fresh and when he hits the ice, he makes an impact as evidenced by his game winner in Game 2.
But perhaps the best validation of why Hunter is well on his way to securing the Caps' coaching job is Ovechkin himself. While he may have been a bit miffed about his lowered ice time against Boston, he has not really said anything about his reduced role against the Rangers.
For the first time in memory, Ovechkin is playing like the captain and not the egotistical, arrogant prima donna he has been portrayed as many a time. Hunter knows that Ovechkin just wants to win. Ovechkin wants to be a key part of that, but he knows that what is best for the team is what is best for him.
And Ovechkin is beginning to respond.
Alexander Ovechkin is going through a bit of a maturing process right before all of our eyes thanks to Dale Hunter. Ovechkin might not be winning any defensive player of the year awards this year, but Hunter is helping him to become a better all-around player and, more importantly, to be a better leader.
To get that out of one of the best players in the world shows great guts, excellent leadership skills, true knowledge of the game and a willingness to do what is best for the team, no matter how unpopular some of those decisions might be.
That sure sounds like an NHL head coach to me.