2012 NHL Playoffs: 4 Takeaways for the Kings Following Game 2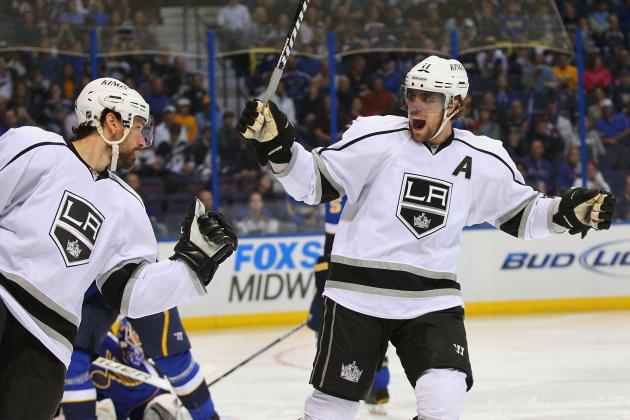 Dilip Vishwanat/Getty Images

It seems like we were here about a week and a half ago. The Kings are coming home up 2-0 in the series against the upper seeded St. Louis Blues.
The Kings put in a dominant 5-2 performance, spurred on by a four-goal first period, to lay the foundation for a homestand that could put them into the franchise's second conference final, and their first since 1992-93.
Game 2 had it's ugly moments, it's brilliant plays and plenty of talking points to mull over in the long three-day break until the teams meet again on Thursday at Staples Center.
Here are a few takeaways for the Kings following their Game 2 win.
Begin Slideshow

»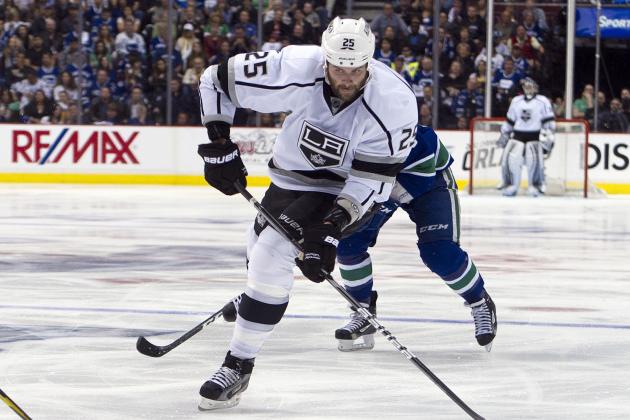 Rich Lam/Getty Images

The Kings should be confident in their goal scorers.
Let's put all things into a vacuum for a moment, season numbers, pancake incidents and poor Columbus careers.
When you look at a top six that has Mike Richards, Anze Kopitar, Dustin Brown, Dustin Penner, Jeff Carter and Justin Williams, you have to think, "Wow, that is a fantastic top six."
It really is. And it's good to finally see them performing at a high level. This group can dominate a hockey game. And they did tonight. More performances like this and more confidence in themselves will play a major role in vaulting the Kings to a conference final and beyond.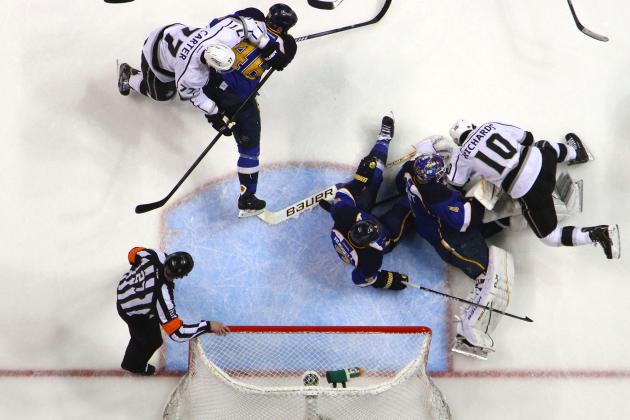 Dilip Vishwanat/Getty Images

Let's be real for a second: It wasn't all glory and greatness tonight.
The Kings went 0-for-6 on the power play, and they were 0-for-5 last game. This has to change. The Kings are luckily getting some fantastic penalty killing on the other side of the special teams, so it's balancing out.
Believe it or not, the Kings have more short-handed goals (four) than they do power-play goals (three).
However, you must make teams pay. It would take a load off of the Kings' 5-on-5 play if they could net just a few power play goals from time to time.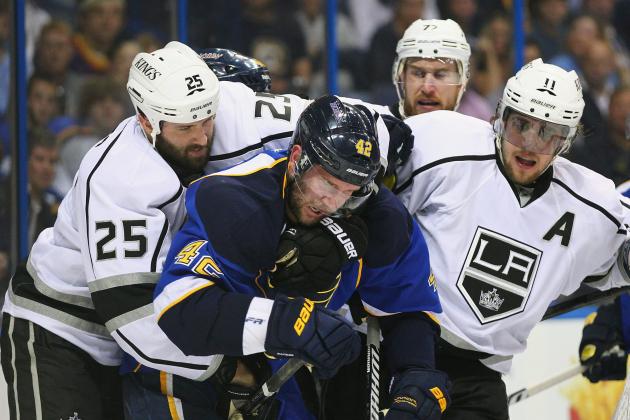 Dilip Vishwanat/Getty Images

There was one thing the St. Louis Blues did successfully tonight, and that was get under the skin of the Kings.
Down by four goals, and then three goals, the Blues turned to a simple tactic to try and get themselves back in the game: Hit everything, and hit it legally.
The tactic nearly worked, with the Kings taking nine penalties, including a near full-length 5-on-3 with under six minutes to play. The Blues did not capitalize on any of these chances, but the chances were there, and the Kings have to minimize that.
The Blues just lost two games in their own barn and will have a few days to let the blood boil. No doubt they will come out hard in game three and try and use a similar tactic.
Play smart, play your game and let St. Louis get off their game trying to take runs.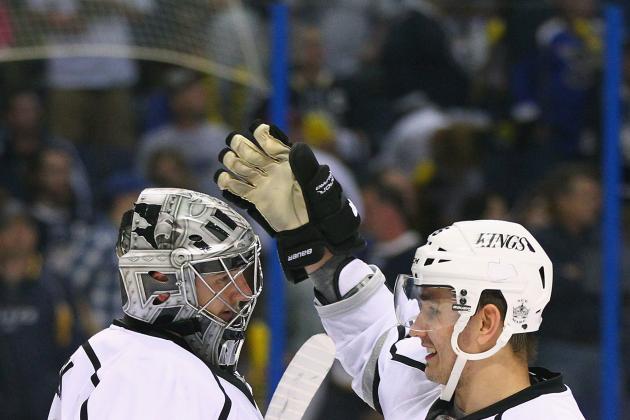 Dilip Vishwanat/Getty Images

Yes, it's very exciting for fans, and probably players alike, that they are so close to the next step. But there is still work to be done.
And if past attitudes of Darryl Sutter and the Kings are any indication, they know that as well.
There is still a lot of hockey to be played and the Blues are a team that traveled fairly well (19-16-6). The Kings found out it can be a little hard to close out a series on home ice with the Canucks, and they should expect nothing less out of the scrappy St. Louis Blues.
Regardless, the Kings have put themselves in a fantastic position.