Detroit Lions: 'Super' Things for the Lions in 2013
May 2, 2012

Leon Halip/Getty Images
There are very few moments as a fan of a franchise when the light bulb goes on and the success of the team is not only obvious, but it's predictable.  It's the moment you know that special things are going to happen in the not too distant future. The Detroit Lions 2012 draft is "that" point for me.
It is too soon to gauge what the Lions really have in the players that they have selected. They are raw and they need to be taught how to play in the NFL, but the positions that the Lions chose to address sends a clear message.
This is the point: The Lions did not approach the 2012 NFL draft with the 2012 season in mind. It is bigger than that, and it sets them up for great things in 2013 and beyond.
The draft tells a story and this is the story from a Lions perspective. They addressed positions of priority everywhere, even for those of you out there shaking your head about wide receiver Ryan Broyles. Yes, the Lions needed a slot receiver to run routes underneath the defense and across the middle. Broyles will excel at this aspect of the game.
The Lions have put an offense that on paper is comparable to and perhaps better than any offense in the NFL. Stay with me because I am not talking about the 2012 season.
In 2013, Matt Stafford will be 25, Calvin Johnson will be 28, Titus Young will be 24 and Ryan Broyles will be 25. It's an embarrassment of riches and an offense that will be dominant for years. The Lions offense will be among the NFL's best for quite some time as they have already shown how explosive they can be.
Adding Ryan Broyles makes it better, as it gives them another threat that defenses that are already stretched thin will have to account for. Broyles does things no other Lions wide receiver can do consistently well. I can't imagine game planning to stop this offense.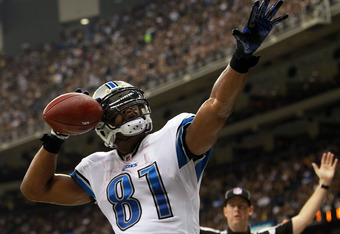 Ronald Martinez/Getty Images
Getting back to the draft and the message it sends. It tells me that the Lions are serious about finding a cornerback through the draft, and their commitment was big enough to use three selections on the position. They are playing the odds that at least one of the three turns out to be a big piece of their defense.
It also tells me that they were serious about improving the depth of their linebacker group and bringing in young athletic players who can play special teams. They addressed perhaps the most significant need on the entire roster with the selection of tackle Riley Reiff. They are filling holes with young talent.
The Lions entered the 2011 season with some very big holes on their roster, and at times it really showed. The Lions did not get quality secondary play last year. One of the biggest reasons was because they lacked depth at the position. This really showed up towards the end of the 2011 season when their starting cornerbacks were banged up.
As the Lions plug holes in their roster and as those holes get filled with talent, this team becomes more and more dangerous. That is not to say they are going to be competitive in 2012 from a championship standpoint. I think it is unrealistic to think that they are capable of winning anything significant in 2012.
This brings us to 2013 and a Lions team that continues to add talent across the roster. There are a couple of "ifs" that will be vital to their success. If they can develop a cornerback from this draft class and move their current starters to secondary roles, they will be in good shape and should be able to compete with any NFL team.
The last piece of the puzzle is a cornerback that comes to the Lions in the 2013 free agency class, a big-time cornerback who takes this secondary from problematic in 2011 to a potential strength in 2013. If those two things happen, the Lions really won't have any holes in their lineup and should start to have great success as they make championship runs.
The Lions have really taken some big steps in the past two seasons, and the trend will continue into 2012 and beyond. Looking at the makeup of their team and projecting what their needs will be, there is no reason to think that the Lions can't contend for a Super Bowl in 2013.