Tim Lincecum Rumors: If Problems Persist, Could Giants Let Him Walk?
May 1, 2012

A few days ago, during a San Francisco Giants post-game wrap, a radio personality solicited callers to name the team's best pitcher.
The first caller said Madison Bumgarner, which made perfect sense given that it was Bumgarner who had pitched 7.2 innings of one-run baseball in that day's game. The next caller made the case for Matt Cain, owner of a complete game in shutout in 2012 and off to a tremendous start. Then a third caller rang in and, in the tentative tone of a student called on in front of the class, offered the name Tim Lincecum.
How did a 27-year-old, two-time Cy Young winner with a World Series ring suddenly become his team's third-best pitcher?
Most would argue the change occurred on April 16, sometime between 7:15 p.m. and 7:45 p.m. PT. During this window, Tim Lincecum gave up four first-inning runs. In and of itself, the four runs weren't disastrous, but the context in which they occurred was rife with bad omens.
It was the third consecutive start in which Lincecum allowed at least two runs in his first frame on the mound. On the season, Lincecum's total of nine first-inning runs exceed the total number he gave up for all of 2011 (eight). 
At first, Cain and Bumgarner also struggled, opening the door for Barry Zito to channel his former self with a truly unfathomable complete game shutout at Coors Field. However, Cain and Bumgarner bounced back in a big way. Only Lincecum was left to scuffle as the rest of his rotation returned to form.
In addition, Cain had signed a monster, record-breaking extension three days before the start of the season. This came as an expected, and widely hoped for, development. Less anticipated was the five-year extension of Bumgarner on April 16. Combined, the two deals equated to a lot of money, years and trust being placed in Giants starting pitchers not named Tim Linecum.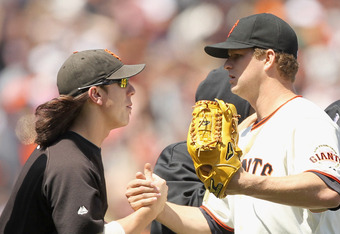 Was there a message being delivered in the front office's actions? 
Absolutely not.
At this point the season, you can't read a single article that doesn't caution readers about how long the year is and how much baseball is left to be played. While cliché, both sentiments are entirely accurate, and perhaps even more so with a pitcher. While a slugger like Albert Pujols get four-plus at-bats a night to try and get himself right, a starter like Lincecum gets one chance every five games to test his mechanics and tweak his pitches.
This doesn't mean there aren't elements to Lincecum's 2012 that merit concern, but there is no way a shoddy April is going to make Brian Sabean decide not to extend his former ace. 
After all, this is a team that actually considered bringing back Mark DeRosa during the offseason.
With Lincecum currently signed through 2013, there is no inherent rush to get an extension done ahead of the offseason. In the wake of the Bumgarner deal, Giants VP Bobby Evans told CSNBayArea's Andrew Baggarly that he called the agents for Lincecum and Buster Posey, too. 
"Really, it was to remind them of our view of them as a priority," Evans said. "It's reiterating what they already know. We'd like to see them as Giants into the future." 
Given that Evans' comments came after Lincecum's wretched run of subpar starts, it speaks to the Giants' innate desire to retain homegrown talent and their faith in Lincecum's ability to rebound. From a fiscal standpoint, having both Matt Cain and Madison Bumgarner's contracts arranged gives the team "cost certainty" in approaching a plan for locking up Lincecum, as the San Francisco Chronicle's Henry Schulman notes.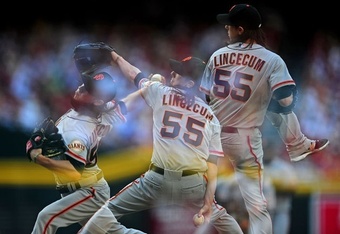 In fairness, Baggarly's article also details Evans expressing the team's intentions of evaluating every player, including Lincecum, before working towards any kind of long-term agreement. No VP is ever going to tell a reporter anything definite before it happens internally, so it doesn't merit much focus to analyze this caveat.
In his last two starts, Lincecum has looked a whole lot more like his old self. In the first game of a doubleheader in New York on April 23, Timmy pitched five innings and yielded only one run in the second inning. His control was spotty, resulting in five walks and a high pitch count that forced an early exit. Then last Saturday, Tim took the mound at home against and Padres and delivered an impressive line: eight innings pitched with one run on three hits and four walks.
It will take more than one quality start to quell the nerves of fans, but many have taken Lincecum's most recent effort as a sign that the ace is coming into his own again.
In either case, whether Lincecum continues to pitch at a Cy Young level or endures future stints of poor performance, the matter of his extension will remain shelved. Brian Sabean is nothing if not methodical, and whatever fate he has in store for The Franchise, we'll be waiting a while to learn it.