2012 NBA Playoffs: Why the Knicks' Game 2 Loss to Miami Is Beyond Landry Fields
May 1, 2012

Mike Ehrmann/Getty Images
In the Knicks' Game 2 104-94 loss to the Heat, Landry Fields eerily resembled a Knick from last year's playoff team. His name was also Landry Fields. 
In just 16 minutes, Fields took a number of bad shots, while only hitting one. More importantly, Fields allowed Dwyane Wade to light up for 25 points on 11-of-18 shooting. 
In Game 1, Iman Shumpert forced Wade into five turnovers and Shumpert's absence for the remainder of the season inevitably provided many matchup problems for the Knicks in Game 2. Most notably, Fields on D-Wade. 
Though, Fields was most certainly not the only reason why the Knicks are now facing an 0-2 series deficit. 
The Knicks could simply never make a lengthy run and get over the hump. Maybe it was that many players were banged up and coming off injuries. Maybe it was that Melo and Amar'e simply can't coexist. Nonetheless, no matter how close the score, the Knicks never seemed poised to win the game. It just wasn't happening. 
First of all, the team was out-hustled by every stretch of the imagination. 
The Knicks committed 13 sluggish turnovers and continuously let Miami capitalize off of their mistakes. The Knicks' transition defense featured sticking a hand out while watching LeBron plow through for the and-one. 
In fact, this was the Knicks' only solution for Miami's Big 3: lazy fouls. LeBron, Wade and Bosh combined for 41 points in the first half and the Knicks responded by sending the Heat to the line 27 times.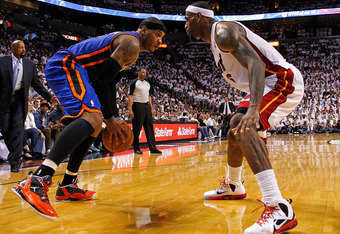 Mike Ehrmann/Getty Images
Offensively, the Knicks were far from efficient. 
After a "lights-out" first half, Melo was slowed down dramatically. He finished shooting just 12-of-26 and only scored nine points in the second half. It was almost as if during halftime he decided to concede his matchup with LeBron. Melo was completely overmatched by his counterpart, and the Knicks were in desperate need of a second scoring option. 
The Knicks don't have that Jason Terry-type player to their Dirk Nowitzki. Sure, they may get a string of low post buckets from Chandler or a hot shooting night from Smith or Novak, but they don't have a sure, consistent scoring outlet that can be relied on night in and night out. 
Other than Carmelo, of course.
The absence of a sidekick for Melo plagued the Knicks in Game 2 and has troubled them all series long. 
Chandler is averaging under seven points a game for the series and Novak shot just three times in all of Game 2. While Smith has provided scoring, he has taken way too many shots to do so. 
The man who was originally regarded as Carmelo's sidekick in James Dolan's master plan, Amar'e Stoudemire, has been everything but consistent. Stoudemire has simply looked out of rhythm and unable to do the small things, such as hitting free throws and boxing out. 
The Heat's defense eventually illuminated the Knicks offensive woes by forcing someone other than Melo to provide a lift. Nobody did. 
Yes, the Knicks are capable of beating a team from downtown and could easily steal a game from the Heat on a night when Novak and Smith are firing from three. Though, this game plan won't take them very far. 
Looking ahead, the Knicks are going nowhere unless they start to show more fight, will and effort on the defensive end while establishing another dependable, dangerous threat on offense.