NHL Fantasy Hockey: The Underrated Stats
May 1, 2012

Richard Wolowicz/Getty Images
When you talk about fantasy hockey with your buddies, it won't take long till someone brings up how many goals Steven Stamkos has or how many assists Henrik Sedin has.  The discussion usually centers on goal, assist and point totals. However, the smart fantasy GM knows there are a few underrated stats that are extremely important.
Points, especially goals, garner all the highlights on TV. To be successful in your fantasy pool you can't just look at points.  Time-on-ice per game, power play time-on-ice per game, and team penalty minutes per game are underrated stats that fantasy players don't use to their potential.
Time-on-ice per game is exactly as it sounds; the average amount of time a player gets into the action during a game. As a fantasy GM, you want to add players who average more ice time. Simply put, the more a player is on the ice, the greater their chance to produce a point for you.  A key to remember with this stat is that you have to separate forwards from defensemen.  The reason for this is that top end defenseman will usually play four to six minutes more than top end forwards.  Use this stat when deciding between players of the same position.
Brian Campbell, Duncan Keith, Ryan Suter, Dan Girardi and Shea Weber were the top five regular season defensemen, averaging over 26 minutes a game. 
Ilya Kovalchuk, Martin St. Louis, Steven Stamkos, Ryan Getzlaf and Eric Staal were the top five regular season forwards, averaging over 21.5 minutes a game.
Power play time-on-ice per game is the average amount of time a player gets during a game while on the power play.  99.9% of the time coaches are going to give their most offensively gifted players the majority this time.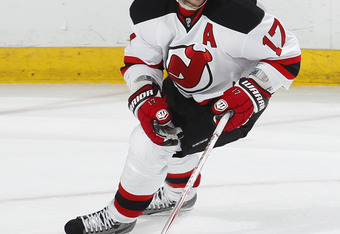 Joel Auerbach/Getty Images
Ilya Kovalchuk, Evgeni Malkin, Michael Del Zotto, Brad Richards and Greg Campbell were the top five regular season leaders in power play time-on-ice per game, each averaging over four minutes per game.
Team penalty minutes per game is an interesting stat to look at because the more penalties a team takes, the fewer minutes a star player gets to play.  A great example of this comes from the Vancouver Canucks. Henrik and Daniel Sedin don't kill penalties and Vancouver had the sixth highest penalty minutes per game at 12.8.  That's potentially 13 minutes of a 60-minute game that the twins (Vancouver's best players) won't be on the ice. 
The Philadelphia Flyers, Ottawa Senators, Boston Bruins, St. Louis Blues and New York Rangers had the five highest penalty minutes per game total.  The Flyers were the highest with over 16 minutes per game compared to the Nashville Predators and Detroit Red Wings who were the lowest at 8.5 penalty minutes a game.
This stat works in two ways. Not only will star players sit on the bench more for teams that take a lot of penalties, but their opponents will also see that many more power play opportunities.  When dressing your weekly/daily line-ups this is a stat you should be definitely looking at.
When you're constructing your draft lists, remember to look at more then just goals and points. Be sure to check these underrated stats as well. 
-----------------------------------------------------------------------------------------------------
Aaron Brouwer is the co-creator of www.fantasyhockeycoach.com.  FHC is a free fantasy hockey service that developed a ranking system combining post-lockout statistics, current factors and hockey knowledge. Email: brouwer@fantasyhockeycoach.com.