NBA Playoffs 2012: 4 Ways the Pacers Can Advance Far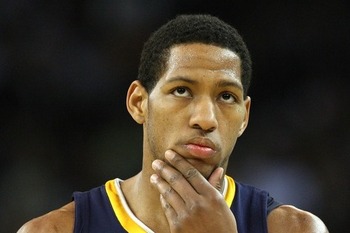 In Game of their series against the Orlando Magic, the Indiana Pacers showed how dangerous of a team they can be.
David West, Danny Granger, George Hill and Paul George provided the scoring. Roy Hibbert provided rebounding. Everything just clicked.
Game 1 of the series was nearly the same.
Despite only Granger and West leading the offensive attack, everything still clicked for the Pacers. Then it all fell a part in the final minutes.
Drawing a playoff matchup against a Orlando team without Dwight Howard seemed like a cake walk in the making for Indiana.
Instead they receive a team that, at its best, can surprise and have a playoff run similar to the Memphis Grizzlies in 2011. A Memphis team who was ironically missing their star player as well.
If the Pacers win, this series will create a blueprint of how they will need to consistently play to advance far in the 2012 NBA Playoffs
Keep Reading

Indiana Pacers: Like this team?