Seattle Mariners Status Update: Carp, Gutierrez, Sherrill and the Generals
May 1, 2012

Christian Petersen/Getty Images
There's a lot happening in the Mariners organization which most fans usually don't keep up with. There are injuries, recoveries, promotions, big plays and plenty of other goings-on that are worth noting but don't receive the same media attention as events surrounding the big-league squad.
So what are you missing out on?
First, an update on the Mariners' Double-A affiliate, the Jackson Generals.
They're the best Double-A team out there right now, due largely in part to the devastating pitching staff they sport, which includes Taijuan Walker, Danny Hultzen, James Paxton and Andrew Carraway.
Here are their stats up through Monday afternoon:
Andrew Carraway, 5 GS, 3-0, 2.63 ERA, 23 SO
Danny Hultzen, 5 GS, 2-2, 2.05 ERA, 30 SO
James Paxton, 5 GS, 2-0, 3.09 ERA, 31 SO
Taijuan Walker, 4 GS, 3-0, 1.64 ERA, 26 SO
Those lines speak for themselves. As fans, we can just revel in the glory and take comfort in the fact that they're on their way up to the majors to join Felix Hernandez himself. By 2014, King Felix and his Generals will be marching through and on top of hitters throughout the AL.
Second, an update on the two big injuries from earlier this year.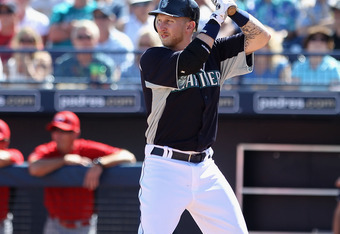 Christian Petersen/Getty Images
Mike Carp, who suffered a sprained right shoulder on Opening Day in Tokyo, is finishing up a rehab assignment with the Triple-A Rainiers. 
He's just 7-for-47 in his time in Tacoma, but M's manager Eric Wedge doesn't seem too concerned.
However, I'd say Carp's spot in LF is definitely a little less solidified than it was back when he was first injured. A lot of the young guys have been playing well and deserve game play, so Carp will have to prove his worth once he gets back to the major-league level. The unfortunate injury to catcher Miguel Olivo, however, may present further opportunity for the young prospect.
Franklin Gutierrez received the other big injury earlier this year when he tore his pectoral muscle. He was on the road to recovery until an irritation in his heel was aggravated. He's currently just hitting and throwing, but he's expected to begin his own 20-game rehab assignment pretty soon.
Those injuries come as a major psychological setback for Gutierrez, who hasn't been healthy during regular-season play since 2010. He went into spring training with the stomach virus behind him and a healthy status, which had many of us optimistic for him and the 2012 season.
That leaves Gutierrez down, but not out—I'm hopeful for his speedy recovery from here and potential influence at the major league level by June.
Third, an update on veteran reliever George Sherrill.
Sherrill, 35, was brought in as a bullpen filler this offseason who would add some variety and sagacity to the otherwise youthful Mariners relief staff. That plan was recently brought to a halt when it was determined that he would need Tommy John surgery.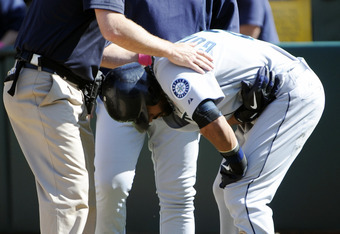 Thearon W. Henderson/Getty Images
He wasn't looking too sharp before then, but it could have been a result of the sprained flexor bundle. Either way, at age 35, a reconstructive surgery is nearing futility. Maybe it would be better to move him into a Ken Griffey Jr.-type role, since he does have a considerable history with the M's.
Regardless of what job he resumes after surgery, we wish him best of luck in the procedure!
So hopefully you feel a little bit more up to date with what's going on around the Mariners organization—there's a lot to be excited about.
I'm currently watching, perplexed, as the Mariners venture into extras against the Tampa Bay Rays, as they've managed just one run off 10 hits. The Rays also have one run, but they only have six hits. The only reasonable answer to the conundrum is a duel between two very skilled pitchers who have the presence to work out of jams. In this case, Felix Hernandez and Jeremy Hellickson.
And while that game does show one of the Mariners' big strengths in their pitching, it isn't indicative of the much-improved offense that they've shown this year. They're ranked in the middle of the league in runs scored, which is a great jump up from dead last in 2011.
Holding second place in the AL West is a pretty mighty feat considering the preseason predictions and circumstances. So be proud of your Mariners!