Switzerland Olympic Men's Soccer Team 2012: Updated News, Roster & Analysis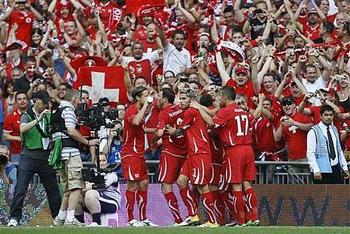 News Just Now
Even though the prospect of playing Switzerland never puts a fear in opponents, the team is solid, especially at the youth levels. Schweizer Nati is good enough to win some sort of medal in London if the results fall their way.
Unlike Spain, which also qualified for the Olympics from Europe (along with Belarus), Switzerland didn't make it into the UEFA European Championships this summer. As much of a drag as that is for the senior team, it means the Under-23s have all of their players at their disposal.
It also means the Swiss can pull three highly experienced and talented players from that senior squad to compete for something meaningful this summer. However, an injury to talented midfielder Xherdan Shaqiri won't help.
He would have been an invaluable part of the midfield, especially against teams with superior attacks. Shaqiri would have helped the Swiss retain the ball better than they can without him.
Switzerland's recent success at the Under-17 and Under-21 levels also gives rise to the hope that this team—not quite boys, not quite men (in soccer terms)—can do something special at the Olympics.
Schweizer Nati: Facts and History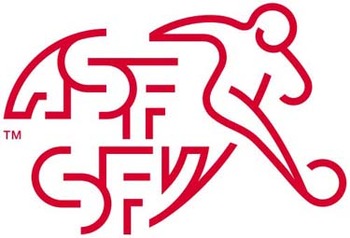 Federation: Schweizerischer Fussballverband/Association Suisse de Football.
Confederation: UEFA (Europe).
Nicknames: Schweizer Nati (German), La Nati (French), Squadra Nazionale (Italian).
Domestic league: Swiss Super League (standings).
Manager: Ottmar Hitzfeld (full team), Pierluigi Tami (Under-21, Under-23).
Olympic qualifications: 1924, 1928.
How Switzerland qualified for London 2012: Finished in second place in UEFA European Under-21 Championship (lost to Spain in final).
Best Olympic finish: Silver medal (1924).
Trophy cabinet: UEFA European Under-17 Championship (2002), FIFA Under-17 World Cup (2009).
Fun fact: Switzerland has four official national languages: German, French, Italian and Romansh.
The Man in Charge: Pierluigi Tami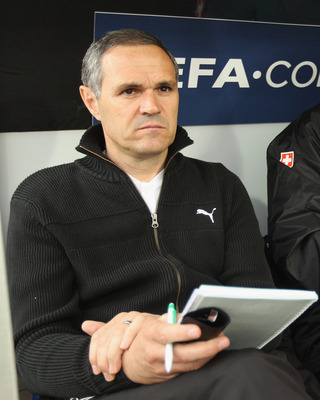 Ian Walton/Getty Images
In his playing career, Switzerland coach Pierluigi Tami was a defender. He played for FC Chiasso, AC Bellinzona, FC Lugano and FC Locarno, all in Switzerland.
His coaching career has spanned Lugano and Locarno on the club side, and he has been with the Swiss federation since 2005. He has coached the Under-17 and Under-21 national teams, as well as assisting with the full national team since 2006.
As shared on the UEFA website, Tami says his coaching philosophy is playing "bravely in attack and compact in defense. I ask of my players that they are capable of adapting to variable systems. I want to see 11 people working in attack as well as defense."
That's not too descriptive, but the idea of adapting to various systems suggests that he's not afraid to change the way his team plays mid-tournament if he has to. He's also an experienced scout, as that was his role with the senior squad at the 2010 World Cup.
Final Roster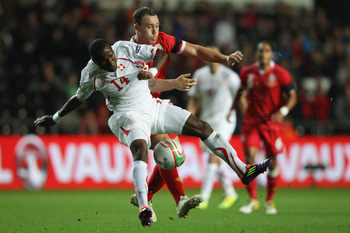 Michael Steele/Getty Images
Goalkeepers
1. Diego Benaglio (VfL Wolfsburg)
18. Benjamin Siegrist (Aston Villa FC)
Defenders
3. Fabio Daprela (Brescia Calcio)
5. Francois Affolter (SV Werder Bremen)
13. Ricardo Rodriguez (VfL Wolfsburg)
15. Timm Klose (1. FC Nuernberg)
16. Fabian Schar (FC Basel 1893)
17. Michel Morganella (US Palermo)
Midfielders
2. Xavier Hochstrasser (FC Luzern)
4. Oliver Buff (FC Zürich)
6. Alain Wiss (FC Luzern)
8. Amir Abrashi (Grasshopper Club Zürich)
9. Fabian Frei (FC Basel 1893)
10. Pajtim Kasami (Fulham FC)
Forwards
7. Innocent Emeghara (FC Lorient)
11. Admir Mehmedi (Dynamo Kyiv)
12. Josip Drmic (FC Zürich)
14. Steven Zuber (Grasshopper Club Zürich)
Replacements
22. Roman Buerki, GK (Grasshopper Club Zürich)
19. Haris Seferovic, F (ACF Fiorentina)
20. Vullnet Basha, M (FC Sion)
21. Silvan Widmer, D (FC Aarau)
Note: Each male soccer team is allowed three players over 23. Those selections are in italics.
Worst-Case Scenario: Crash and Burn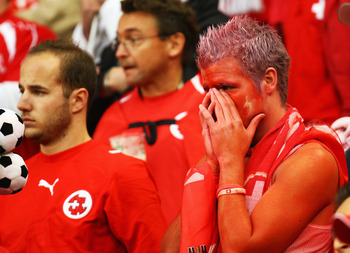 Ian Walton/Getty Images
If Switzerland fails to get past the group stage, it will be a disaster for a proud soccer nation that is already missing out on the European Championships this summer.
It would be unacceptable to have the experience of all first-team national team members at the coach's disposal and fail.
Even with youth-soccer powerhouse Mexico in the same group, the Swiss should feel they can get out of the group at the very least.
Best-Case Scenario: Gold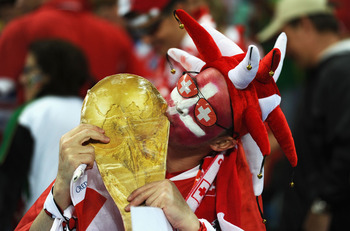 Laurence Griffiths/Getty Images
The spectrum of possible outcomes for Switzerland at the Olympics is wide. The nation has a successful history at the youth levels, winning the Under-17 European and world championships in the last decade.
However, the full national team's problems also trickle down into the younger teams.
Stalwart defending cannot make up for a lack of offensive firepower—most of the time. If Switzerland ends up with the gold medal in London, it will be because of the experienced players it brought, especially goalkeeper Diego Benaglio, will marshal the defensive half of the field.
Certainly, it's a stretch to say that Switzerland will win. But it's not impossible.
The first team has pulled off major upsets before, such as being the only team to defeat Spain on La Furia Roja's way to winning the 2010 FIFA World Cup. The Under-23s will hope for much the same on the way to their own success.
For that to happen, though, the Swiss have to find a way to win Group B over Mexico, which (assuming Brazil wins its own group) will allow them to avoid Brazil for as long as possible—hopefully allowing the South Americans to lose somewhere along the line.
What Will Actually Happen: Fourth Place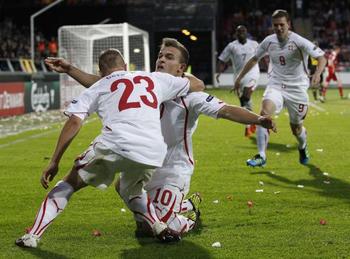 Reuters
Schweizer Nati will finish second to Mexico in Group B. The Mexicans are just too good right now to be beaten at the youth level by a Swiss team that won't score many goals.
However, going through the knockout round as a second-place team won't keep Switzerland down.
A quarterfinal matchup against either Great Britain or Uruguay will see the Swiss come out on top, but die Schweizer are on a collision course with Brazil in the semifinal.
After losing to the Samba kings, Switzerland will lose once again to Mexico, this time in the bronze-medal game.
Keep Reading