Mayweather vs. Cotto: Would a Victory for Cotto Make Pacquiao His Next Opponent?
May 1, 2012

Jeff Gross/Getty Images
Miguel Cotto is battling Floyd Mayweather this Saturday, and if Cotto somehow manages a victory this weekend he should be next in line for a crack at Manny Pacquiao.
That is not saying that Cotto deserves another shot at Pacquiao. The two have fought once before, and Pacquiao clearly was the dominant fighter.
Cotto would get his second chance at the pound-for-pound champ, mainly by default. There simply are no more fighters left for Manny Pacquiao to dispose of. 
The fight that everyone wants to see is Pacquiao vs. Floyd Mayweather. Now that seems like a pipe dream.
Pacquiao is slated to fight Timothy Bradley on June 9, and if he wins, it truly is difficult to foresee what lies ahead for him.
If Cotto can indeed pull off a victory against Mayweather, there are only a handful of potential opponents left for Pacquiao to fight, and even those bouts don't make much sense.
Another bout with Juan Manuel Marquez is a possibility, but Pacquiao has defeated Marquez twice consecutively and the two had a draw in their first fight.
Marquez has given Pacquiao the toughest challenges of his career, and the decisions in all three fights have been controversial, but a fourth contest seems excessive.
There are some younger fighters like Victor Ortiz, or possibly Brandon Rios, who eventually could receive a chance at Pacquiao, but those fights would not be appropriate right now, either.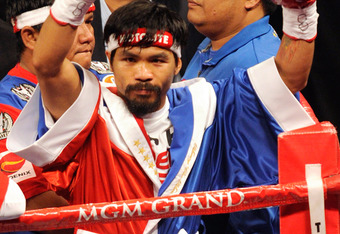 Ethan Miller/Getty Images
That leaves the giant elephant that has been in the room for years. A potential blockbuster showdown with Floyd Mayweather.
This is the match that boxing fans have been clamoring about for years, but negotiations between the fighters have been tumultuous, to say the least. 
Mayweather is a fighter known for his defensive prowess and his innate ability to make opponents miss. He seems to be saving his most elusive performance for Pacquiao, and he has been dancing away from him since the fight negotiations started a few years ago. 
Mayweather is likely one of the smartest boxers to ever grace a ring, and throughout his career he has always had the uncanny ability to fight his opponents at precisely the right time.
Every fighter goes through a process of deciding which fights to take, but it seems like Mayweather has become a master at picking his bouts when there is no chance he can lose.
Pacquiao is the only fighter who can put a blemish on Mayweather's perfect record, and Mayweather remains the only viable opponent left for Pacquaio to test himself against. 
The world wants to see possibly the biggest fight of all-time sometime in 2012. Sadly, it looks like we will be stuck watching Pacquiao dominate Cotto once again, while Mayweather does his best to avoid the champ at all costs.