Albert Pujols and the April All-Bust Team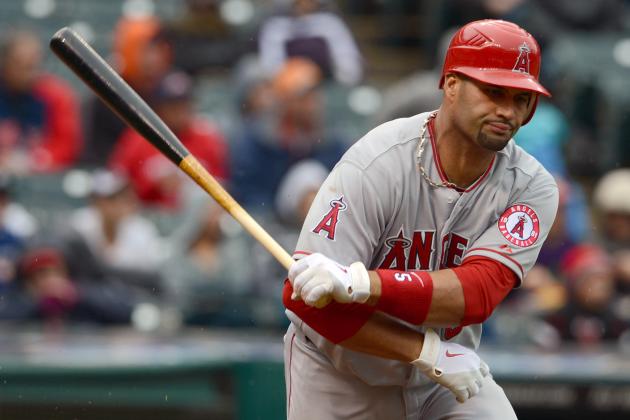 Jason Miller/Getty Images

It is way too early to drop these guys. Those who own them might be panicky and many of these players might be excellent buy-lows. But for now, all that is known is they had horrendous Aprils and if you are an owner at this point, you won't get fair trade value, so you're best sitting tight.
That being said, it's one month—162 games makes for a long season, and if one of these guys had a slump in July, no one would be worried. Be patient with your stars and don't fall victim to a facepalm-type trade.
On the other hand, one of these guys could be the new Adam Dunn, so owner beware.
Begin Slideshow

»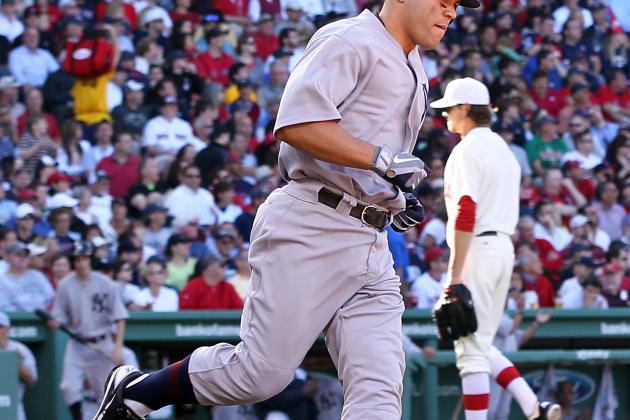 Jim Rogash/Getty Images

Russell Martin more than tripled his home run totals from 2010 in 2011. His OPS went up over 50 points. Tragically, after 18 HR, 65 RBI and 57 R, Martin was drafted among the top 10 catchers in many fantasy drafts.
After 18 games, Martin is batting .176 with a .668 OPS. Now his six RBI and eight runs scored both reflect a similar pace to match his numbers from 2011. He is in a lineup that will always have men on base and will always have run producers coming up behind him, so don't worry about the counting stats.
However, the average is a concern. He's a career .265 hitter, but he hasn't hit over .250 since 2008. Keep an eye on the slumping Yankee. In shallow leagues, there are enough decent catchers to use that you don't need to hold onto Martin if he's batting under .200 by mid-May.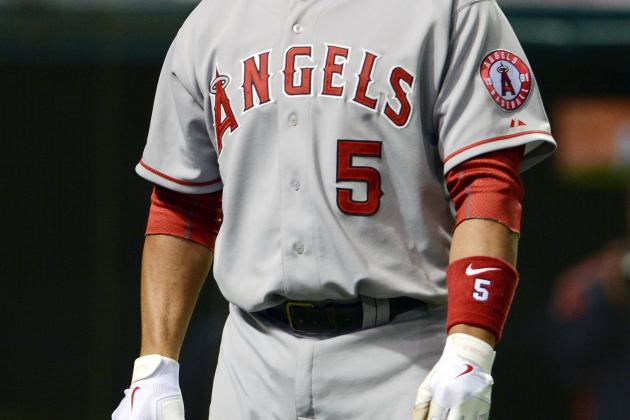 Jason Miller/Getty Images

Albert Pujols, the new $250-million man, is hitting .216 with zero home runs and a .561 OPS in 22 games since signing his mega-deal with the Angels.
Since 2002, Pujols has walked more times than he has struck out. So far, he has 13 strikeouts and six walks. He also has just four RBI. Call this hedging bets, but I would trade for Pujols if I could get him for 70 percent of his draft day value and I would trade him away if I could get 90 percent back.
This "honorable mention" seemed pertinent enough to include...Eric Hosmer is batting .188 through 21 games. He has five HR and 13 RBI, so those are both excellent paces for counting numbers. He also batted .293 through 128 games in his rookie year.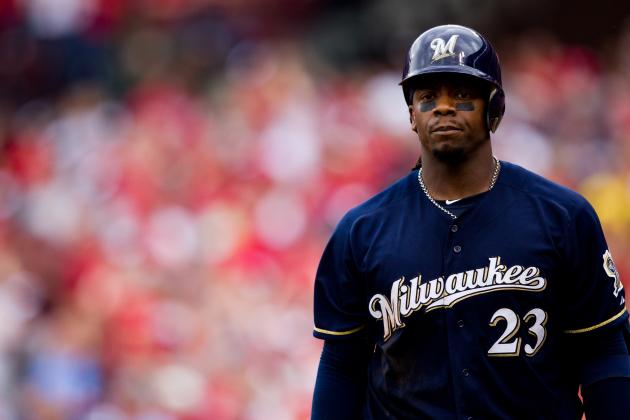 David Welker/Getty Images

Rickie Weeks is batting .193. Weeks was one of the top five second basemen drafted in most leagues, with 49 home runs over the last two seasons.
Weeks is a career .254 hitter, and there is little in his April performance to suggest he won't be around that number again this season. There is also little in his career to believe he will stay healthy the entire season.
Weeks made his major league debut in 2005 and has played over 120 games just twice and over 130 just once. He managed 20 HR in 118 games in 2011, so the power will be there, but losing Prince Fielder means one less thumper to knock him in.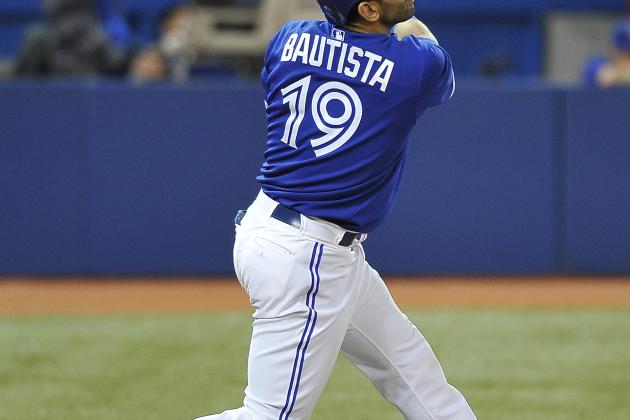 Brad White/Getty Images

If it wasn't for Pujols' zero bombs, Bautista would have no competition for "Bust of the Month." He is batting .190 with three home runs and an OPS of .662, which is nearly 40 points lower than his 2011 season number.
Now it bears pointing out that even in his "breakout" season of 2010, in which he led all of baseball with 54 home runs, Bautista hit for a then-career-high .260 average. He is a career .252 hitter. His three home runs, 10 RBI and 16 walks are all good signs, but approach Bautista ownership with fair expectations.
At the end of the season, Joey Bats will likely have around 30 HR, close to 100 RBI and 100 strikeouts and bat closer to his career number than his 2011 mirage.
Honorable mention: Hanley Ramirez is 2-for-32 since April 20.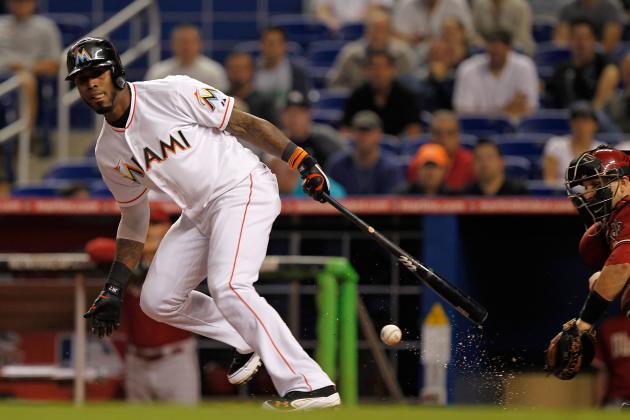 Sarah Glenn/Getty Images

The 2011 National League batting champ, Jose Reyes, is batting .205 with a .596 OPS through 20 games of this season. He has four steals and eight walks, which are both encouraging numbers for owners, but this guy has to get on base to be valuable.
Now, I'm not worried. As long as Reyes is healthy, he has the potential to hit .300 with 40 or more steals and 100 runs scored. In fact, at some point, I'm expecting the Marlins entire team to wake up and go on a tear, which could still put them in contention for a playoff spot down the road.
As long as there are no signs of injury, buy low on Reyes (and Han-Ram and Giancarlo Stanton) while you can.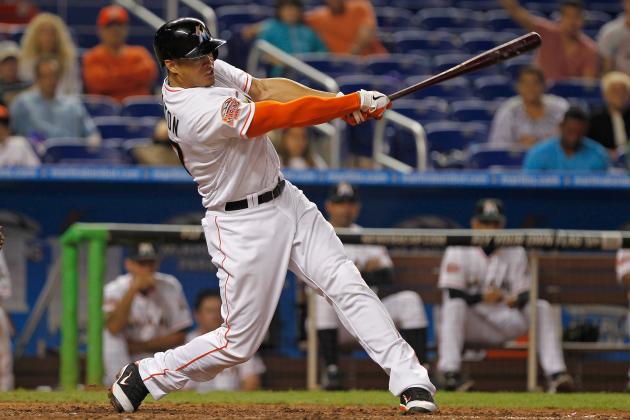 Sarah Glenn/Getty Images

At 21 years old, in 2011, Mike Stanton hit 34 HR, knocked in 87 RBI and scored 79 runs while batting .262 with a .893 OPS.
Giancarlo Stanton hit his first home run of the season on April 29 and has 17 strikeouts and a .635 OPS through 20 games of 2012. Stanton had some early injury concerns, but he appears healthy, and as I said about Jose Reyes, this is a guy you will want on your team as long as he is healthy.
I don't mean to excessively rag on the Marlins, but there is too much talent here for them to keep hitting like this. You'll wish you bought low by the end of May.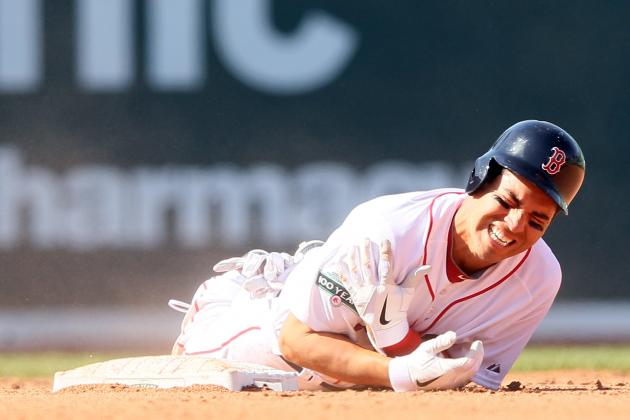 Elsa/Getty Images

Jacoby Ellsbury was a first-round pick in most drafts, going among the top 10 players chosen quite often. And he deserved it. His 2011 numbers came out to .321, 32 HR, 105 RBI, 119 R and 39 SB.
All that being said, Ellsbury played seven games and batted .192 before injuring his shoulder and going on the disabled list. This certainly left a gaping hole in many fantasy lineups, not to mention Boston's Crawford-less outfield.
Wait on Ellsbury. Don't expect the same power from 2011, but that was a long shot before he was hurt. He's talented enough to hit 15 home runs and steal 30 bases with a solid .280-.300 average upon return.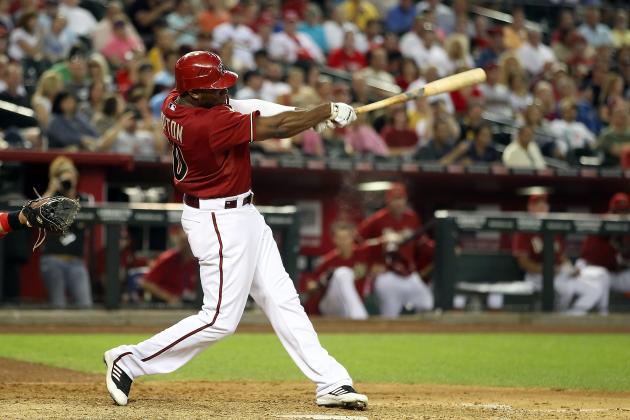 Christian Petersen/Getty Images

Justin Upton stuffed the stat sheets on his own in 2011, with a line of .289, 31 HR, 88 RBI, 21 SB and 105 runs scored.
In 19 games of 2012, the kid is batting .230 with one home run. Now, he has scored 14 runs, but his 18 strikeouts are also disconcerting for a free swinger who is making less contact early in 2012 than he did in his MVP-contender season last year.
Be patient with Upton. At 24 years old, he is likely to have cold streaks and strikeout a lot, but he is also likely to hit 25 home runs and steal 20 or more bases, with 100 runs scored. And there is always room for that on any fantasy team.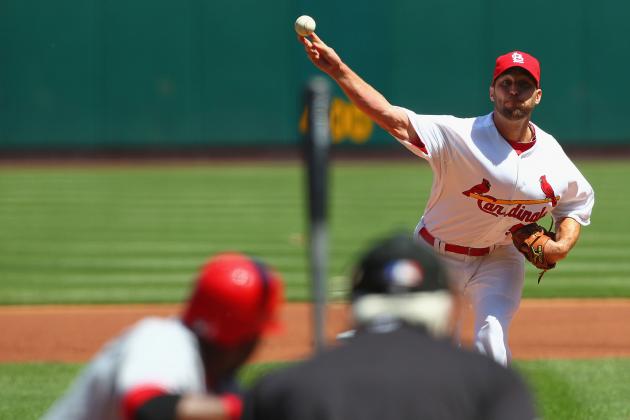 Dilip Vishwanat/Getty Images

Coming off of Tommy John surgery in 2011, Adam Wainwright was a popular sleeper coming into the 2012 campaign, and the newly Pujols-less Cards were expecting their ace to lead from the front.
Four starts in, Wainwright is 0-3 with an ERA over seven. But there is hope. In his last start, Wainwright went six innings, allowing just one run with seven strikeouts. Pitchers coming back from Tommy John, especially those who rely heavily on breaking stuff (like Wainwright), often take a while to regain the control of their off-speed pitches.
That being said, Wainwright has shown glimpses of his old self, and the window will soon close to buy low. Expect some rough outings, but by mid-summer, Wainwright could be among the best starting pitchers in baseball once again.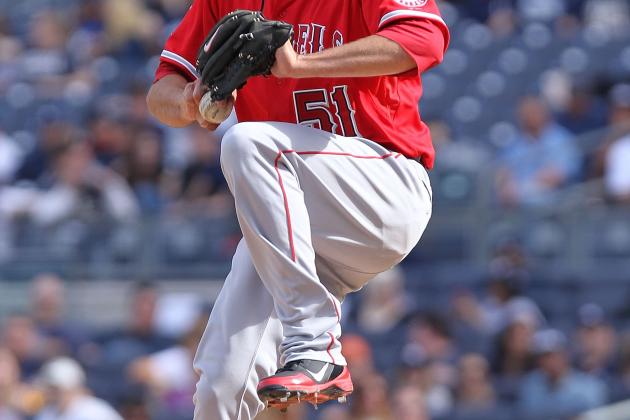 Nick Laham/Getty Images

Brian Wilson and Ryan Madson are done for the season. Andrew Bailey is likely headed that way and Drew Storen has not pitched yet in 2012.
Injuries are one thing, but Jordan Walden, with his 8.31 ERA through six games this season, is the non-injury bust of April for relief pitchers. While some closers may have worse raw numbers (I'm looking at you, Boston bullpen), Walden came in with high expectations after he broke out in 2011.
Owners should have known what they were getting into when they drafted the major league leader in blown saves of 2011. Walden will be back as the Angels' closer soon, likely by June 1, and should still provide 20-plus saves, but they won't all be pretty.