WWE Extreme Rules 2012 Results: Grading Each Match at the Latest Pay-Per-View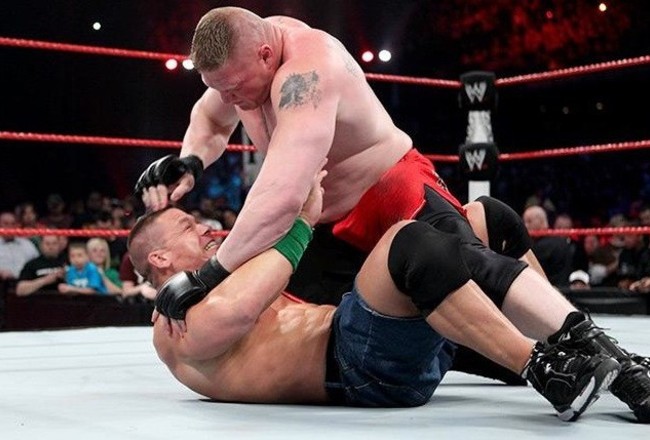 Photo courtesey of examiner.com

A great Extreme Rules pay-per-view is more than 24 hours old and fans are still sorting out their thoughts on what they saw. It was a lot to take in for one Sunday night in Chicago, but WWE delivered on their first pay-per-view since WrestleMania 28.
Nine matches saw five titles up for grabs and two change hands. However, it was some of the non-title matchups that take the best and worst spots of the night.
WWE made it difficult on themselves by having four rematches from the previous pay-per-view, which can often lead to a letdown with little left in the tank following a WrestleMania encounter.
Instead, each match was completely different as the match stipulations proved to be a nice touch in separating one match from another. Many of the matches actually improved from their WrestleMania counterparts.
It's time to get the red pens out, criticize the bad, praise the good and mark each match with a big letter grade. Here are the grades for each match from WWE Extreme Rules on Sunday night.
Santino Marella Defeats The Miz: D+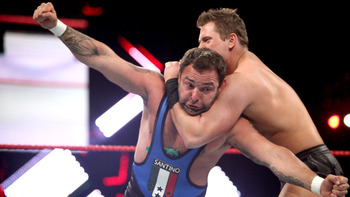 Photo courtesey of wwe.com
Let's begin with the pre-show match, which was featured on YouTube. United States Champion Santino Marella defended his championship successfully against former champion The Miz. The YouTube preshow deserved a lot better.
I can see that this might as well be a dark match, but it could have lasted a little bit longer. I don't think 20 minutes of promos and finding out the match type for Big Show and Cody Rhodes was so much more pertinent than this bout.
The point of a dark match is to get the crowd excited and this match did not do that. For a moment, it looked like The Miz had something going, but those who believed that should have known better. Santino is a strong champion in the sense that his weak finisher is impossible to come back from. The Cobra struck and Santino stayed U.S. Champion.
If you want to promote matches via YouTube and get people to tune in, a title change would have been a good swerve. Much like a title change at a house show, it helps excite people to go to them in the hopes of seeing something special.
Randy Orton Defeats Kane: C+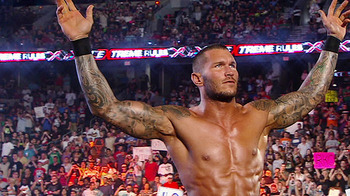 Photo courtesey of tuttowrestling.com
This was a better match between Randy Orton and Kane than WrestleMania. Orton and Kane started the night off with a Falls Count Anywhere match, but there were classic issues with this match. For one, they both went backstage early on, only to return a few minutes later.
While they were there, not many props seemed to be used. In fact, the one unique spot was going into a room where WWE superstars were sitting down and watching the event. Did they not realize they were outside?
What also took this match down was Zack Ryder's involvement, only to be fought away and never heard from afterward.
What's stopping Ryder from coming down at the end, distracting Kane and costing him the match? Just like that, it gives Ryder and Kane a new jumping-off point for their storyline.
The match was good with constant near-falls, but it could have been improved more, especially in the wrestling logic sense.
Brodus Clay Defeats Dolph Ziggler: D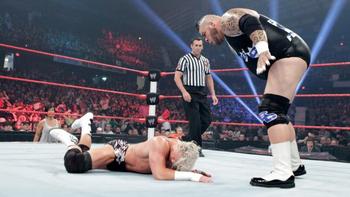 Photo courtesey of wwe.com
Did we really need to see this on pay-per-view? Sure, Ziggler had more offense on Brodus Clay, and Clay seemed to be more down-to-Earth now, but the Funkasaurus simply is not ready for pay-per-views just yet.
With his limited offense, they are almost afraid to have Clay doing anything. Is this the idea of him being dangerous again?
If there is one man who is able to have a good match with just about anyone, it is Ziggler. Even he couldn't help this match out. Ziggler continues to get buried, Clay continues to win matches with body splashes and headbutts, and Hornswoggle continues to dance in a track suit.
Clay's matches are quickly replacing Divas matches as the bathroom breaks.
Cody Rhodes Defeats Big Show: C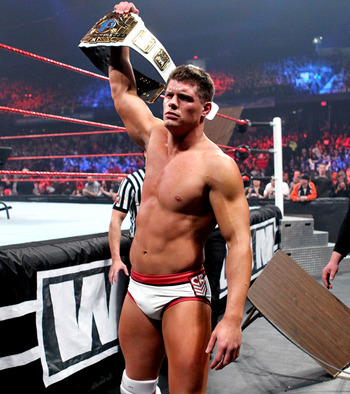 Photo courtesey of thewrestlingflock.com
I hate giving such a bad grade to a decent match, but there wasn't a lot of actual match to praise, hence the lower grade. It only went a few minutes and ended unexpectedly.
That's what made it such a unique match, but also hurt it in comparison to the great matches that followed and had time to develop. This feud has been given a lot of time to work itself out and seems to be continuing.
I don't hate Cody Rhodes with the belt once more, but it makes me fear when he will be ready to move up to the main event. A loss here could have sealed Cody's fate and taken him away from the midcard forever.
Instead, Rhodes needs to keep the title around him a little bit longer and hopefully get a new person to feud with soon. Big Show is not doing anybody any favors with his inclusion in a spot that an up-and-comer could be in.
His unusual attitude after the match was suspect. He was insistent on hurting Rhodes when it was Big Show's footing and his weight that cost him the Tables Match.
Rhodes went through two tables hard and complained about his hip before all that. He still walked out on his own power. Rhodes gets a better individual grade (and some points with the guys in the back) than this match does.
Sheamus Defeats Daniel Bryan: B+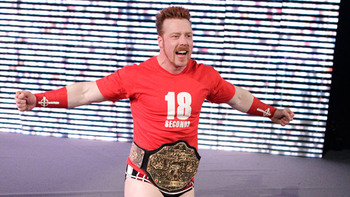 Photo courtesey of wwe.com
It may be the best match for either of these men in their short WWE careers. Bryan and Sheamus needed all three falls to decide a winner, which isn't shocking. It almost always comes to the final fall. What was surprising was the first two falls.
The first one was a disqualification, but not at the hands of the angry Irishman with a history of overreacting. It was Bryan who ignored a referee's count and gave Sheamus the first victory.
For fall two, Bryan continued the punishment on Sheamus, locking in the Yes Lock. It hurts that Sheamus would not tap out or be able to break the hold, but seemed to pass out from the pain. Sheamus was considered knocked out and Bryan got the fall, but it hurt the credibility. Why wouldn't Sheamus just tap, break the hold and live for another day?
The third fall was almost bittersweet. A great exchange by the two, but Sheamus seemed to get a clean pinfall on Bryan and retain the title. All in all, it was a great match for the two men and certainly something I wouldn't mind seeing more of.
I tweeted during this match that Bryan and Sheamus were almost telling Jericho and Punk to beat their performance. They certainly tried to do that, but we will get there in a minute.
Ryback Defeats Two Local Competitors: D-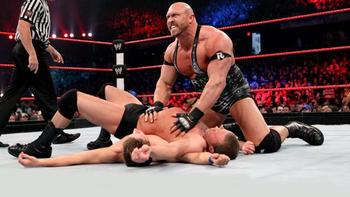 Photo courtesey of wwe.com
I'm not ready to call it a failure with Ryback, but I'm pretty close. It's hard to justify putting any jobbers on a pay-per-view with so many guys in the back without a chance on pay-per-view.
Ryback really is not getting over with fans, despite the talent that he does have. It just seems too recycled. Would I call him a rehash of Goldberg? Partially. The idea of Ryback almost being like a terminator is just unusual. I thought that the last movie of that franchise was three years ago.
The fact that I have spent at least twice as much time on this slide as this match lasted makes me feel uneasy. He got booed loudly by the Chicago crowd and if there isn't a change in the coming weeks from that obvious negative reaction, I would be shocked.
CM Punk Defeats Chris Jericho: B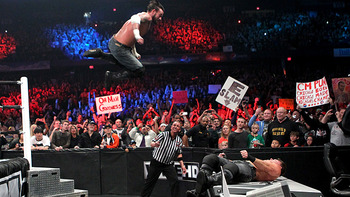 Photo courtesey of wwe.com
Their WrestleMania match was fantastic. This time around, a Chicago Street Fight was an entirely different match. It didn't feel like it was the "Best in the World" vs "Best in the World" build that we saw at WrestleMania. This was more of a personal grudge match and almost reminded me of the unsanctioned match between Jericho and Shawn Michaels a few years ago.
Punk wearing jean shorts felt unusual, but it was a great touch. The involvement of Punk's sister in the crowd was anticipated, but I thought that more than a slap from her would have been involved. There were interesting spots in this match, including the fire extinguisher used by Punk to break The Walls of Jericho.
The destruction of the Spanish announce table was expected on the night, but the flying elbow from Punk was great to see. It looked as if Jericho may have gotten a concussion from the impact his head took on the spot, but he seems to be okay.
Ultimately, this match was everything we expected this match to be without it being a real street fight. There was no fighting in the crowd, probably in fear of Punk being mobbed by local Chicago fans. They didn't copy Kane and Orton with a backstage area sequence. It was a street fight that remained indoors, and everyone was okay with that.
Layla Defeats Nikki Bella: C-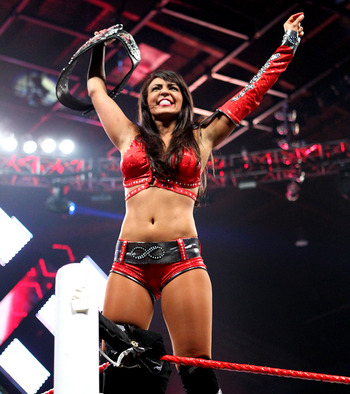 Photo courtesey of thewrestlingflock.com
WWE spoiled the fact that Beth Phoenix was not going to compete in the match, speculation immediately surrounded the name of Kharma, who debuted at Extreme Rules last year. Eve literally said backstage that it was not Kharma who would replace Phoenix, which all but screwed up everyone.
Layla then came to the ring and fought Nikki Bella. It was a few minutes for the match and there was some athletic spots seen. There have been a lot worse that a Divas match has given us.
Layla is decent as a champion, but it will be interesting to see her as a face champion. Layla is just the fifth woman to ever hold both the Women's and Divas Championships in her career. It also all but ends the careers of The Bella Twins in the WWE.
John Cena Defeats Brock Lesnar: A-
Photo courtesey of 411mania.com
What a brutal match this was. It actually got to the point where it was uncomfortable to watch. Lesnar's shots really hurt as Cena was bleeding from just about the beginning of the match. It was almost like something out of The Bible.
As the match wore on, even anti-Cena fans were beginning to say "okay, enough is enough now". Cena grew to gain sympathy in a match where Lesnar looked like he was out to harm Cena.
Cena did fight back and there was actual support for him, but Lesnar was tough and continued the pressure on Cena. There is some question as to controversy backstage with Lesnar and how last night was supposed to actually play out.
However, it was still a fantastic match. I question whether it was the right call to have Lesnar lose in his first match back, but it was one of the best matches this year and it is hard to question those results.
Grades Recap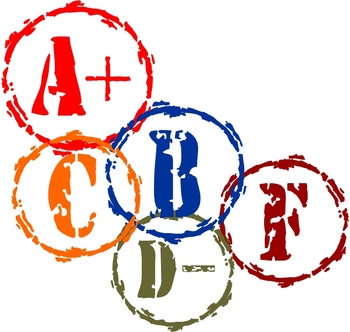 Here is a list of all of the matches with their grades, in order of best grade to worst grade.
Cena/Lesnar A-
CM Punk/Jericho B
Sheamus/Bryan B+
Kane/Orton C+
Rhodes/Show C
Layla/Bella C-
Santino/Miz D+
Clay/Ziggler D
Ryback/Jobbers D-




Keep Reading