2012 NHL Playoffs: Each Remaining Team's Most Under-Performing Player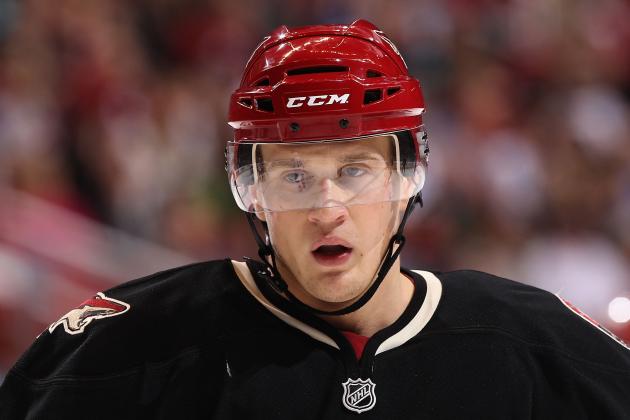 Christian Petersen/Getty Images

The Stanley Cup playoffs are not only the most intense postseason in sports, but also an excellent showcase of many of the best hockey players on earth.
It's hard to name a current NHL star who's earned his name recognition without conquering the playoffs, and it's all but impossible for a player to go down in the history books without at least a Cup ring or two on his fingers.
But not every single guy in the postseason is destined to be a superstar, though.
Nashville forward Alexander Radulov, who only rejoined North American hockey two months ago after a three-year hiatus in Russia, got his fair dose of criticism Monday as NBC commentator Keith Jones's anti-Radulov rant went viral.
However, compared to some of his teammates—and, for that matter, a plethora of others around the 2012 playoffs as well—Radulov's effort and production (six points in seven games) look utterly fantastic.
From Cup-contending veterans to highly skilled youngsters, each and every squad still left in the running has at least one scapegoat from their first three weeks of playoff hockey.
We'll outline how and why each one has underperformed—and throw a few insults, for good measure—in the coming slides.
Begin Slideshow

»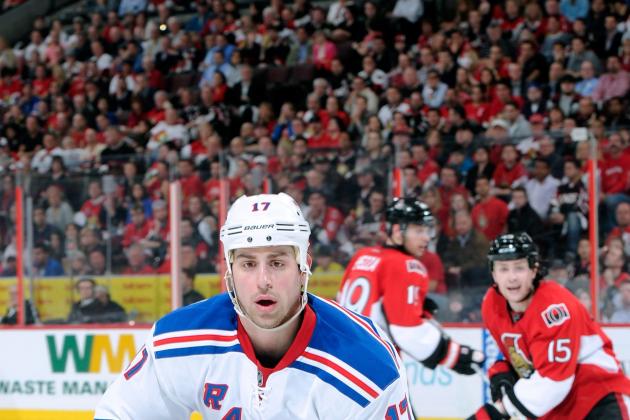 Richard Wolowicz/Getty Images

After back-to-back 20-goal seasons heading into last summer, 26-year-old Brandon Dubinsky fell flat on his face this past regular season, tallying merely 10 scores and 24 assists.
Dubinsky's year-long slump has shown no signs of being broken in the playoffs, either, as the prime-aged center has continued his decline down the depth chart with a miserable performance through seven games. He had zero goals and just one assist in the Rangers' first-round takedown of the Senators and has been out for the first two games of the conference semifinals with a knee or ankle injury.
But let's just say that he hasn't exactly been a big loss for New York.
Honorable Mention: Since his emergence late in the '10-'11 season, young defenseman Ryan McDonagh has earned big minutes for the Blueshirts.
Lately, conversely, the 22-year-old rearguard has proven to be somewhat of a liability, tallying only one assist and compiling three minor penalties and a minus-three rating in nine playoff games.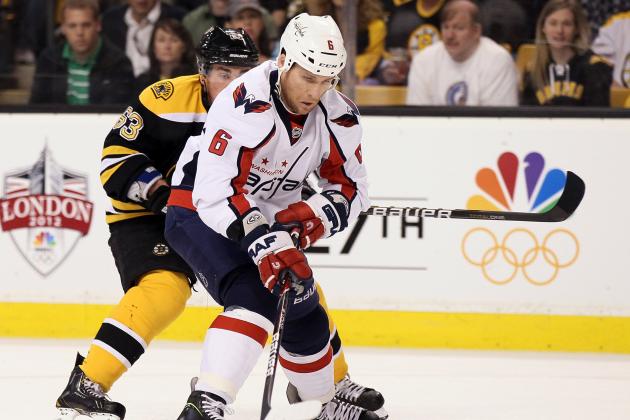 Elsa/Getty Images

Dennis Wideman's minus-eight rating currently ranks 338th out of 388 players who have made at least one postseason appearance, and unlike the circumstances in the regular season, Wideman's offensive production is also failing to bail him out.
The aggressive blueliner recorded solid numbers (11 goals, 35 assists) in the regular season to soften the blow of his minus-eight rating, but has managed a mere one assist in nine games while setting a plus-minus pace that would be equal to minus-55 over an 82-game season.
With the Capitals in the midst of a tight fight with the Rangers, Washington needs Wideman to make use of his plentiful ice time and, at last, do what he gets paid to do.
Honorable Mention: Defensive teammate Jeff Schultz's minus-five rating and zero points shouldn't get overlooked either, and fortunately, it hasn't.
Although Schultz isn't expected to be quite the point producer that Wideman is, he's certainly fallen flat in that department—especially considering he's only played five games so far.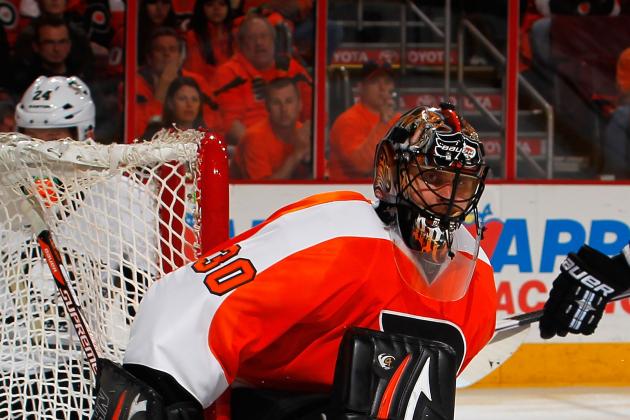 Paul Bereswill/Getty Images

When the Philadelphia Flyers brought Ilya Bryzgalov into the City of Brotherly Love last summer, they expected him to be the solve-all for their perpetual goaltending troubles.
So far, they've been wrong.
After a fairly pedestrian regular-season performance (33-16-7, .909 save percentage), Bryzgalov has tanked in the postseason. The 31-year-old veteran has allowed 24 goals on 189 shots—a save percentage of .879—and racked up an almost-as-depressing 3.62 GAA, also, in eight appearances.
It looked as if 'Bryz' might finally have his first standout performance Tuesday evening, with 24 saves on 25 shots through the first two periods, but the Devils' three tallies in the third frame ruined that upward trend and gave Bryzgalov only his third loss of the playoffs to date.
While the Flyers' high-octane offense has still bailed him out most nights, Bryzgalov's first playoff run with Philly has certainly not gone like he hoped.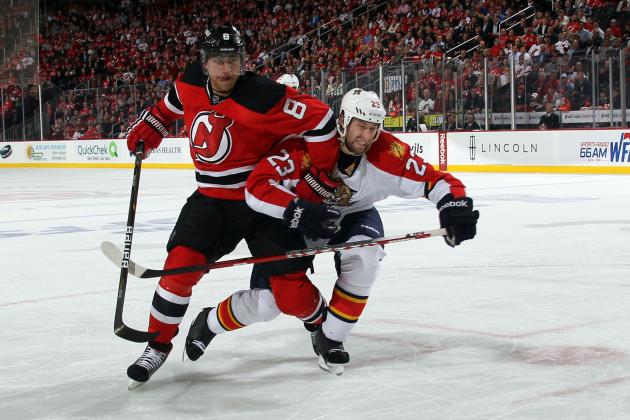 Bruce Bennett/Getty Images

Lithuania's second-ever NHL player, Dainius Zubrus, has represented his small country well over his extensive 17-year career, including an ongoing streak of 12 consecutive seasons with over 25 points.
The 33-year-old is in the midst of his ninth lifetime playoff berth, too, despite failing to advance past the Eastern Conference Finals each of the previous eight times.
Unfortunately, however, Zubrus has underperformed severely up to this point, scoring merely one goal, one assist and committing three penalties over an eight-game span.
The Devils expect far more than that from one of their most experienced assets, and now tied 1-1 with Philadelphia in their second-round series, would appreciate a re-emergence from Zubrus more than ever.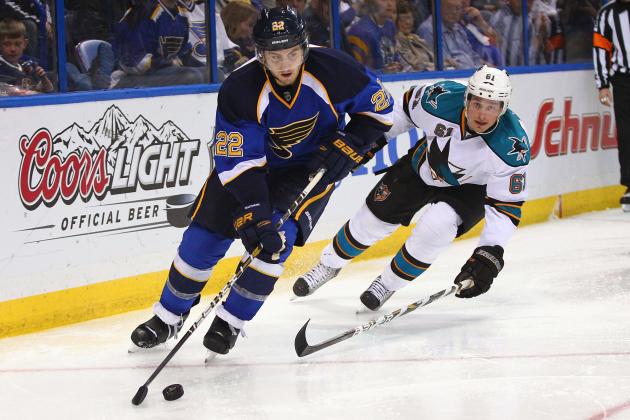 Dilip Vishwanat/Getty Images

Blues' youngster Kevin Shattenkirk, the 14th overall selection in the 2007 draft, is arguably one of the most unheralded up-and-coming defensemen in the NHL.
But his 2012 postseason performance to date definitely won't help him gain much of the positive attention he deserves.
After an impressive 81-game regular season, which featured 43 points, 103 shot-blocks and a plus-20 rating for the 23-year-old, Shattenkirk's measly one point and atrocious minus-four rating in the playoffs almost seem like typos.
Nevertheless, they're real, and Shattenkirk is certainly not helping ailing St. Louis in any way. Trailing Cinderella-story Los Angeles two games to none and missing star goalie Jaroslav Halak, Shattenkirk's minus-three rating in Game 1 and six shots (none of which went in) in Game 2 are simply inexcusable.
Moving forward in the series, we wouldn't mind seeing Shattenkirk, even considering his bright future, spend quite a bit more time on the bench.
Honorable Mention: Chris Stewart's horrendous regular season has been oft-criticized for the past six months, but, by now, it almost seems as if zeroes scattering Stewart's stat line are no longer alarming.
Nonetheless, zero goals, zero assists, zero points and a minus-one rating is not exactly the ideal level of production from a former first-line player in absolutely any situation, much less the playoffs.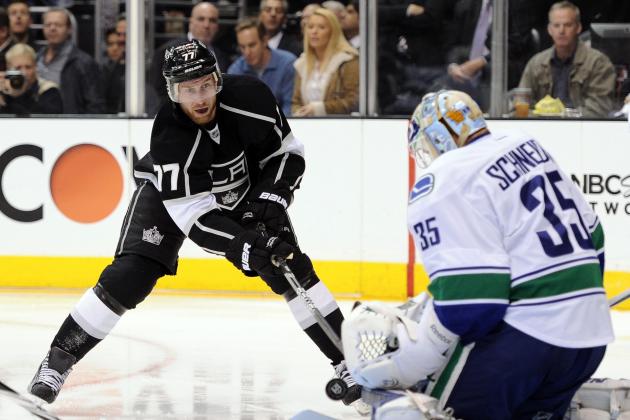 Harry How/Getty Images

Jeff Carter's much-hyped trade deadline move to Los Angeles concluded perhaps the ugliest chapter yet in his eventful career—a miserable eight-month stint with worst-in-the-league Columbus that included a broken leg and just 25 points through the end of February.
Upon arrival in Hollywood, expectations were lower than ever for the former 46-goal scorer. As it's turned out, though, that's probably been the only thing keeping Carter out of the Kings' doghouse.
Although the first round started off very nicely for the 27-year-old center, his production has rapidly slowed down since with just one goal and no assists in six games since.
Add onto that Carter's poor 36.8 faceoff winning percentage and team-leading 11 missed shots in the playoffs, and it's just hard to believe that Kings' coach Darryl Sutter really gives him over 18 minutes of ice time, on average, each night.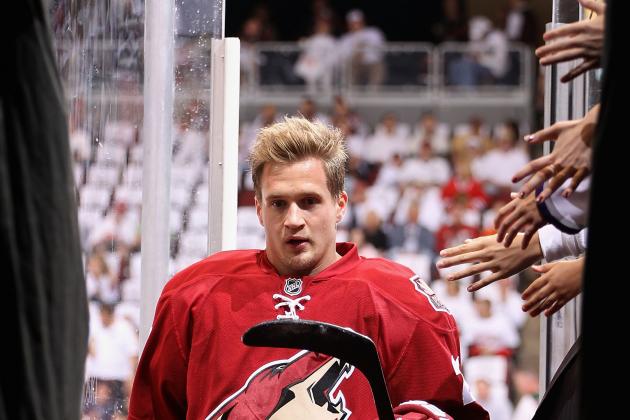 Christian Petersen/Getty Images

Coyotes' winger Lauri Korpikoski, 25, tends to be overshadowed by many of the team's more prominent and well-traveled forwards. In truth, though, the Finland native's 36 goals and 41 helpers over the past two seasons have locked Korpikoski securely into Phoenix's top six.
Well, at least until the 2012 playoffs began.
Not only has he suffered through a variety of health issues since then, but Korpikoski has also been utterly shut off the scoresheet in five appearances in spite of a time-on-ice average of 18:50 per game.
If he can return to usual form, Korpikoski has the skills and underrated status to become a secret weapon for Phoenix. If he continues to putter along like this, though, Korpikoski will remain nothing more than an underperforming tag-along for the Cup-seeking Coyotes.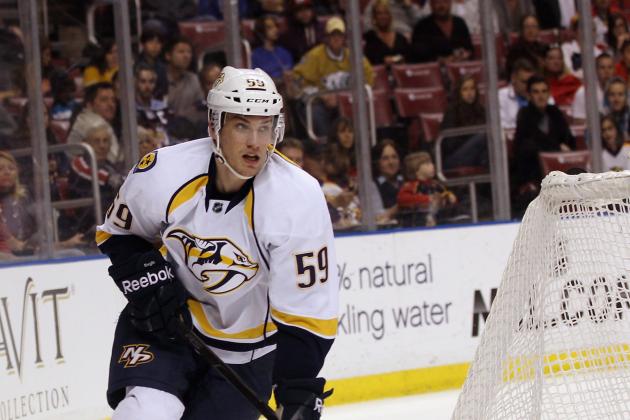 Bruce Bennett/Getty Images

Following Nashville blueliner Roman Josi's solid rookie campaign this past regular season, many were interested to see what the 21-year-old could bring to the big stage for the Cup-contending Predators.
In short, the answer is, essentially, nothing.
It's goose eggs across the board for Josi, who's played big minutes in all of the Preds' seven playoff games to date, except for the two categories where he wishes he did have a big, fat zero—penalty minutes and plus/minus rating.
The numbers read eight and minus-four, respectively, in those departments, and it's about time for Nashville to take notice. They've hit a slump in the first two matches of the conference semifinals after a decisive first-round victory, and Josi's 20-minutes-a-night pace is not helping to fix their current defensive dilemma.
Honorable Mention: Unlike with Josi, the Preds' probably can't blame their goal-defending troubles on 25-year-old forward Sergei Kostitsyn, but they can still give him a much-needed wake-up call.
Kostitsyn has only one point and a minus-four rating at this point, although, given the fact that he racked up 93 of those points over just the past two regular seasons and five of them in last year's playoffs, he's clearly capable of a lot more.
With his brother Andrei also in trouble, though—in his case, for violating team rules—perhaps the Preds' should consider dropping the reunited brothers idea altogether.