2012 NBA Playoffs: Full Grades for Utah After Their Game 1 Loss to San Antonio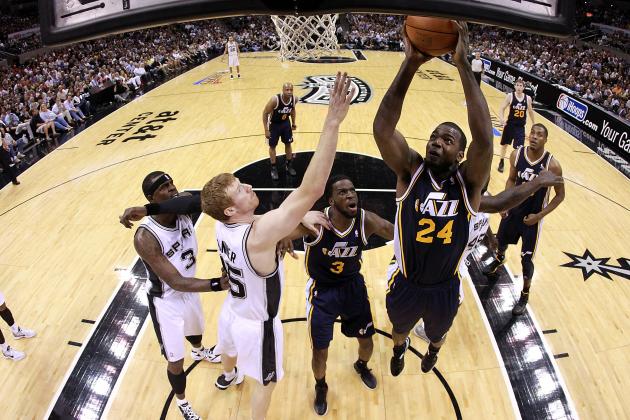 Ronald Martinez/Getty Images

Oh Utah. Welcome to the playoffs!
After a game one loss to the playoff-savvy San Antonio Spurs, Utah looked exactly how an eighth seed is expected to look. They were overmatched, wide-eyed, and unable to ever pull close enough to win this game.
San Antonio's veterans, in front of their hometown crowd, clearly had their way with a young and inexperienced Utah team.
Based upon yesterday's results, these are the full grades for Utah's performance in game 1 of the Western Conference Playoffs.
Begin Slideshow

»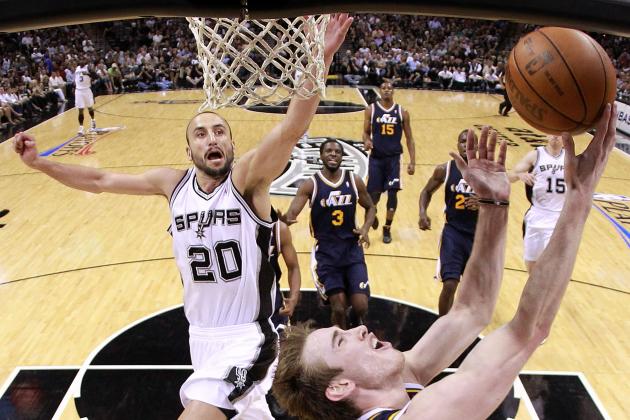 Ronald Martinez/Getty Images

Utah didn't play terribly, though they were far from amazing. They played just good enough to stay close throughout the game, but never threatened to pull it close or take a lead.
Simply put, the Jazz played a mediocre game 1.
That type of basketball won't win games for them in the playoffs. Especially against a team like the San Antonio Spurs.
Al Jefferson, Paul Millsap, and Gordon Hayward all posted decent games. Hayward alone, got himself to the free throw line many times and shot 12-12. Millsap and Jefferson each were able to pull down 9 rebounds while putting up 20 and 16 points each.
The main weakness offensively for the Jazz came from one single player.
Devin Harris simply did not show up for the Jazz when they needed him most. He was only able to make 3 out of 9 shots and ended up with seven points total.
Additionally, he committed 5 costly turnovers for the team.
I'll never understand why Derrick Favors wasn't starting over Josh Howard. Sure, Howard brings some fantastic playoff experience to the roster, but Favors has been tearing it up as of late. He finished with 7 points, 8 rebounds, and 2 blocked shots in 24 minutes of action.
Why change what's been working? The lineup of Favors, Millsap, and Jefferson absolutely torched Phoenix and Dallas recently.
As I said before, Utah's offense wasn't great, but it also wasn't terrible. San Antonio just played better.
Utah's Offense: C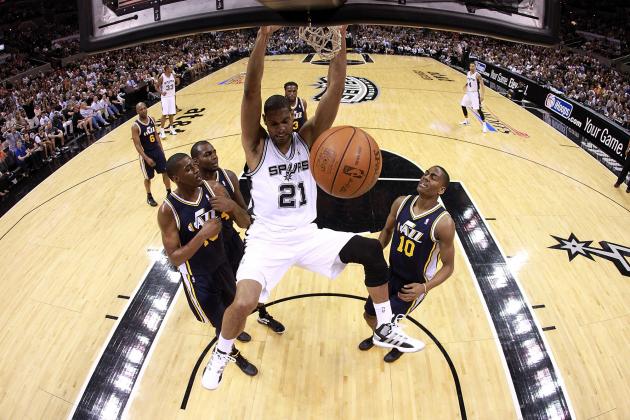 Ronald Martinez/Getty Images

Considering the fact that San Antonio shot 47% from the field, it's evident that Utah's defense just didn't perform on Sunday.
On a positive note, Utah was able to block eight of San Antonio's shots, with three of those coming from Paul Millsap. This was significantly better than San Antonio's two blocked shots for the game.
But the difference ended up being Utah's inability to stop Tony Parker from driving to the basket. Devin Harris just couldn't stay in front of him. On top of that, they fouled him like crazy and he was able to put in eight points at the line.
Tony Parker had his way with the Utah Jazz defense, with Tim Duncan not slouching either. Parker had 28 on the game and Timmy had 17 to go with 11 rebounds and five assists.
Utah's defense didn't perform well at all against San Antonio's seemingly unstoppable offense.
Utah's Defense: D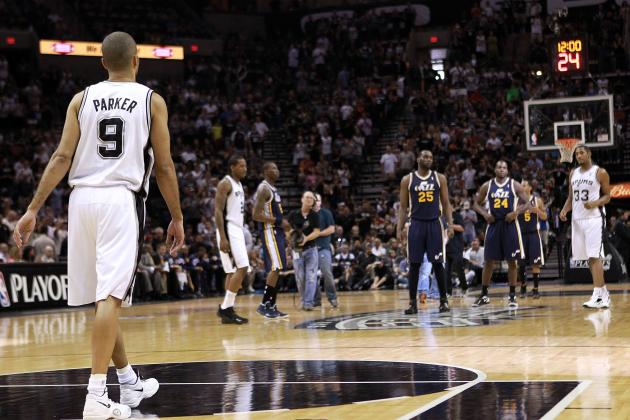 Ronald Martinez/Getty Images

On the plus side, Utah did receive fantastic performance from the bench.
Most of the bench production came from Favors as mentioned earlier, as well as Jamaal Tinsley and Demarre Carroll.
Tinsley ran the floor well, dishing out 5 assists in only 20 minutes of action. And Carroll contributed an extra 7 points and 4 rebounds in 21 minutes.
But San Antonio's bench was better. Matt Bonner and Stephen Jackson torched Utah from the three point line (a combined 5 of 8), while Manu Ginobili seemed to struggle (he only made 3 out of 10 shots).
Based on San Antonio's superior bench, Utah receives a slightly less than average grade for bench production.
Bench Production: B-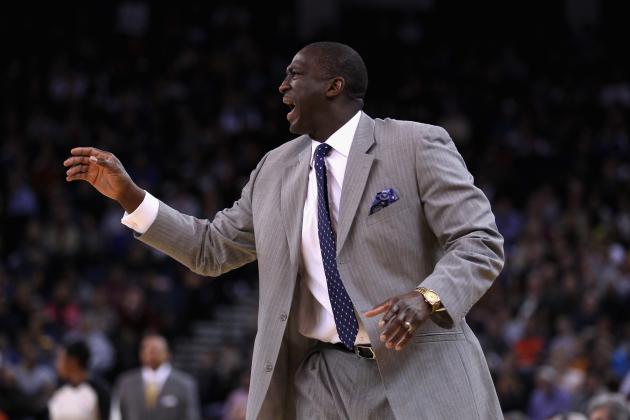 Ezra Shaw/Getty Images

Tyrone Corbin is new to the playoffs compared to Gregg Poppovich. And it showed. He simply was outmatched on all ends of the floor.
Tyrone didn't seem to have a game plan in place to stop Tony Parker or Tim Duncan. Because of this, the both of them exposed Utah as an up-and-coming team who's not ready to contend.
At the same time, his starting lineup was questionable, with Josh Howard starting after missing many games due to injury. Like I said earlier, why fix a starting lineup that has worked wonders the past few games? Favors should not have been coming off the bench.
But, in the end, his coaching wasn't terrible. He's just not up to Poppovich's level. For an adequate but not great coaching job, Corbin's grade is simply that: adequate.
Coaching: B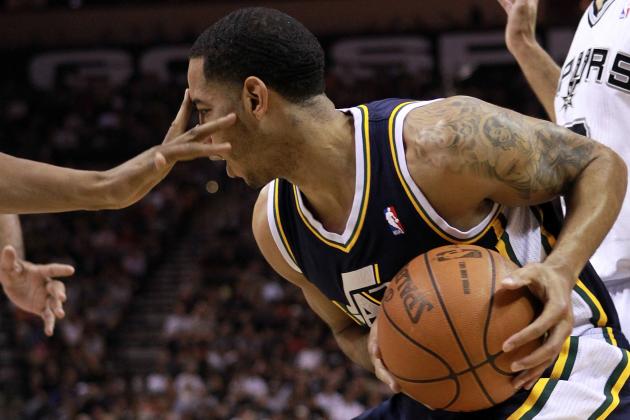 Ronald Martinez/Getty Images

At this point, the Jazz should be happy that they are even in the playoffs.That is an accomplishment in itself. This just isn't their year. The experience will do wonders for youngsters Gordon Hayward, Alec Burks, Derrick Favors, and Enes Kanter.
And if there's one things these playoffs have exposed, it's proof that Devin Harris is not the long-term option at point guard for this team. At a time when the team needed his production and defense against Tony Parker, Harris simply disappeared.
But San Antonio is not going to go down twice in a row in the first round. Expect Utah to be dispatched in no-less than 5 games.
Compared to other games on the same day, Utah should be proud that they were able to hang with San Antonio. On a weekend where Denver, New York, Philly, and Boston were blown out, Utah looked more playoff-ready than all of them.
They performed just as expected and no better. In the grand scheme of things, this year will be forever considered a success in the history of the Utah Jazz franchise.
Overall: C+