Today in the MMA Twitterverse: Josh Barnett, Dana White and More!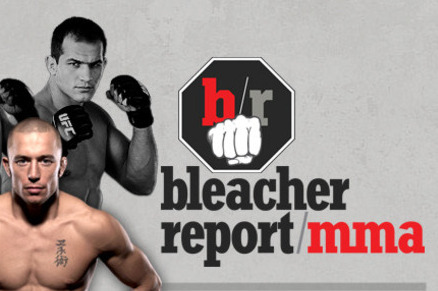 I don't know what I'd do without Twitter. It keeps me in tune with the world of MMA. Who is on the Dolce Diet? What fights does Joe Silva have lined up for us? Who is Dana White yelling at today?
Keeping up with Twitter is a daunting task. It's easy to miss things—and that's why Bleacher Report will be here every evening, breaking down the day's best and most important tweets.
Today we had a debate between me and former UFC welterweight champion Pat Miletich, a quiet day from Dana White, feedback on Brock Lesnar's WWE PPV return and much more.
Begin Slideshow

»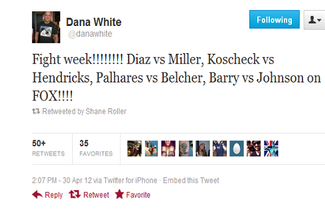 Forget there was a Fox show this weekend?
As we learned later in the day, there may be a reason for that. But Dana White is here to remind us that the UFC does indeed have a card on free network TV this weekend. And it's a promising one headlined by two fighters with UFC siblings.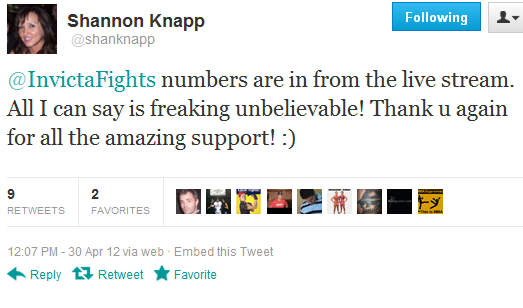 The ladies took center stage over the weekend with Invicta Fights. All women all the time, headlined by Marloes Coenen, who wasted little time challenging Ronda Rousey after the main event.
And good news! Invicta owner Shannon Knapp says lots of fans tuned into the free stream.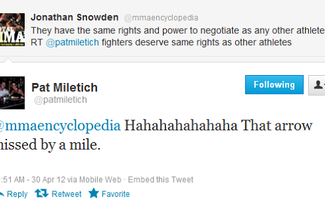 In one corner? A slightly bloated blogger.
In the other? A former UFC champion.
Good thing we were separated by a thousand miles. Pat Miletich and I may disagree on a California law regulating MMA, but we both agree Mauro Ranallo is kind of funny looking.
Here's to common ground.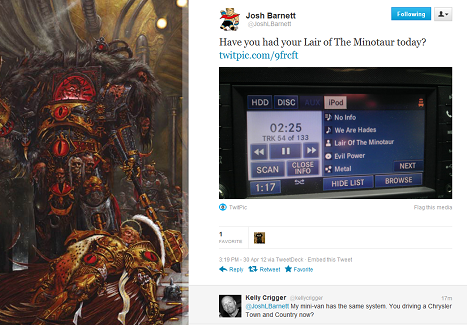 Josh Barnett loves the metal music. But this tweet is mostly notable for the sick burn from MMA author Kelly Crigger.
Is Barnett pushing a minivan?
The world must know.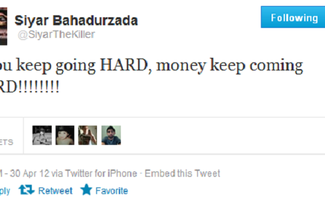 The UFC's only Afghan fighter, Siyar, knocked out veteran Paulo Thiago in Sweden. If this tweet is any indication, he's still feeling pretty darn good about it.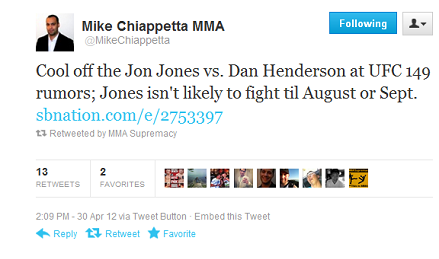 Jones was rumored to return to the cage at UFC 149. The MMA Fighting reporter Mike Chiappetta stops that rumor in its tracks:
Jones was rumored to fight on the UFC 149 card in Calgary, but Kawa says it's too soon for Jones to return to the cage:

"He will not be fighting in July," Kawa said. "It's just probably a little too soon. There's been no timetable yet but July probably isn't going to happen."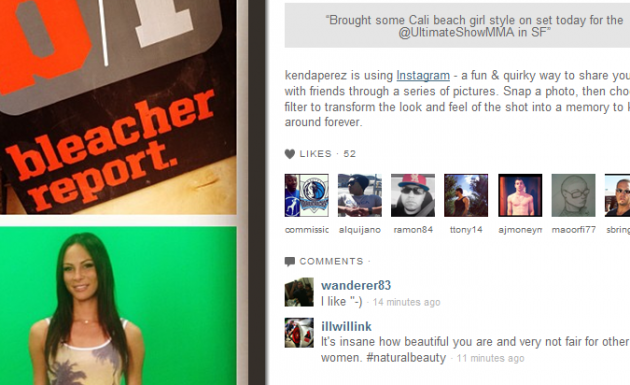 The lovely Kenda Perez goes full on spring for The Ultimate Show. I don't think I am quite ready for a sleeveless turn on the show myself.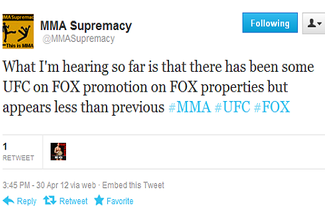 MMA Payout's MMA Supremacy speculates on Fox's support of the UFC's third card on the network—or lack thereof. His account is one of the few must-follows for serious MMA fans.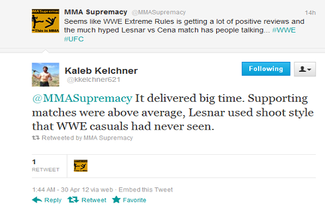 According to Bleacher Report's Kaleb Kelchner, Brock Lesnar put on a great show on WWE PPV Sunday night.
You remember Lesnar, right? Enormous guy? Flat top?
I think he fought Frank Mir or something. Who can recall?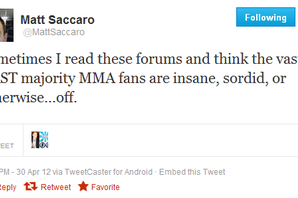 Finally, Bleacher Report's Matt Saccaro realizes something most people discover very early in life—other people are, almost without exception, crazy and stupid.
Sorry you had to learn it this way, Matt!