NFL Draft 2012: What It All Means for the Cleveland Browns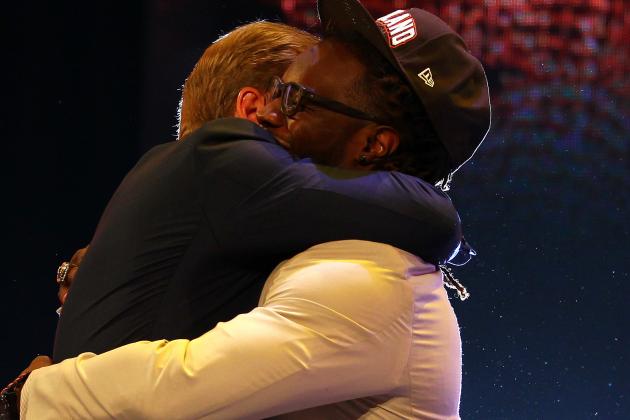 Al Bello/Getty Images
Trent Richardson/Roger Goodell
It seems like everyone has some type of draft or free-agent signing grade at this time of the year.
These gradings are ridiculous in nature, though, because no one can predict injuries, off-the-field problems, or even individuals over- and underachieving.
Instead of grading a draft that is less than 72-hours old, let's take a look at what the 2012 draft class actually means to the future of the Cleveland Browns.
Begin Slideshow

»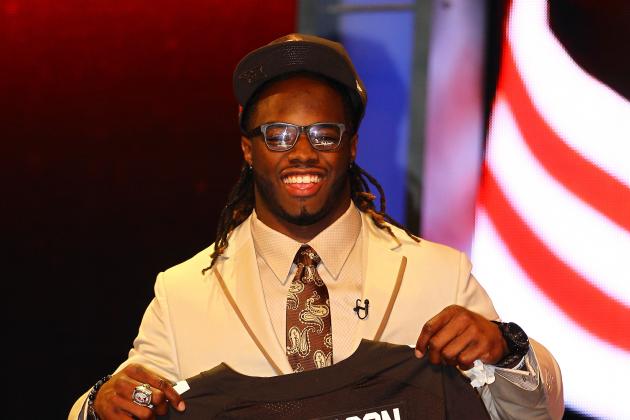 Al Bello/Getty Images
Trent Richardson
Trent Richardson (3rd-overall selection):
This pick really started to make sense when former Browns running back Peyton Hillis started sitting out games during last season because of unspecified or unrealistic injury concerns.
Obviously, Hillis' actions caused him to fall out of favor with the Browns regime. This was even more apparent when the Browns let him leave via free agency for only a one-year contract worth $3 million.
Trent Richardson is cut largely from the same mold as Hillis when it comes to running style and apparent toughness.
Richardson is a powerful back who lacks that true explosiveness or speed of an Adrian Peterson or Chris Johnson.
Richardson's success in the NFL will come because of his gritty nature and powerful style of running.
Jeffri Chadiha of ESPN called Trent Richardson to the Cleveland Browns the top "worst marriage" of all of the 2012 draft selections.
Even though Chadiha makes some valid points, I could not disagree with his assessment any more vehemently.
This selection is a statement not only for the Cleveland Browns offense, but the Cleveland Browns organization as a whole. Richardson will a bring a toughness and consistency to the Browns offense that the AFC North requires.
Yes, Richardson may not be the player in Cleveland that he was while at Alabama.
Yes, Richardson may only have a good five or so years of NFL running in him.
But none of that should or will matter if Richardson gives the Browns offense an identity and consistency that it desperately needs.
My only concern with the Richardson selection is how new offensive coordinator Brad Childress and head coach Pat Shurmur are going to use Richardson in creative ways so that he can complement the West Coast offense that Shurmur and company love so much.
Also, what creative offensive wrinkles are going to be put in place so that Richardson is not constantly trying to run against eight defenders in the box?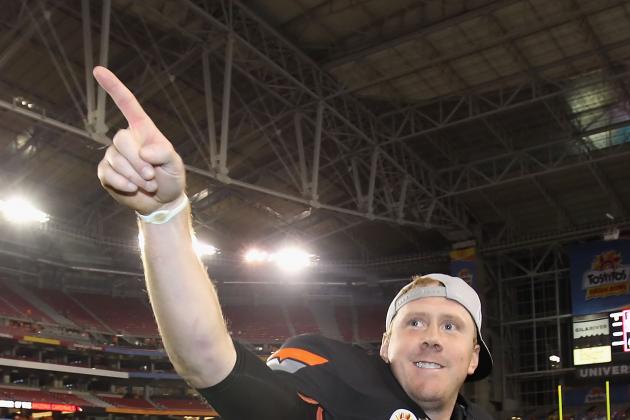 Christian Petersen/Getty Images
Brandon Weeden
Brandon Weeden (22nd-overall selection):
The selection of Brandon Weeden at pick No. 22 seems to be one that was vastly hated judging by the initial response. As time has passed, Clevelanders have seemed to warm up to the oldest first-round selection in the history of the NFL draft.
Weeden is the make-or-break pick for this year's draft for the Cleveland Browns. Even if Trent Richardson suffers a career-ending injury on Day 1 of rookie mini-camp, Weeden is still the pick that will define this draft class.
Richardson was a lock to be selected at either the third, fourth or fifth pick in this year's draft. So even if injuries derail him in his career of underfed success, the pick still made sense heading into the draft.
Weeden, on the other hand, had some question marks heading into this year's draft: age, ability, adjustment to the NFL style of play, etc. Many even believe that the Browns over-picked Weeden with the 22nd selection.
For the Browns though, this selection really indicated their thoughts on incumbent starting quarterback Colt McCoy. This selection proved that the Browns regime has no faith in Colt McCoy as a NFL quarterback.
The selection of Weeden more than likely ends the run for McCoy as the Browns' starting quarterback.
If the Browns regime had any faith left in McCoy as a starting quarterback in the NFL, then the Browns would have been more willing to wait and see if Weeden would have been available early in the second round.
With Weeden's age and Richardson's smaller NFL shelf life, these two picks really indicate that Tom Heckert and Mike Holmgren believe the Browns can win sooner rather than later.
These two selections indicate that within the next five seasons, Heckert and Holmgren believe the Browns can not only be competitive within the AFC North, but also within the playoffs and possibly beyond.
Let's not lie to ourselves for one minute—five years is the projected window of success for both of the Browns' first-round selections.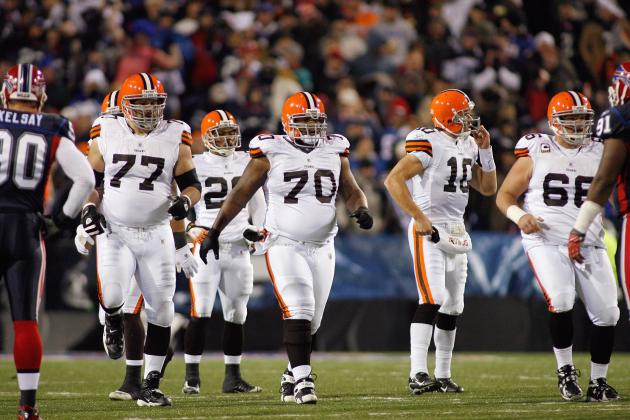 Rick Stewart/Getty Images
Cleveland Browns' O-Line
Mitchell Schwartz (37th-overall selection):
I'm not getting too much into how the Browns could have had a more highly-touted Cordy Glenn or Jonathan Martin at this selection, or even Riley Reiff at the 22nd-overall selection instead of Brandon Weeden.
This move indicated the weaknesses the Browns believe they have on their offensive line, considering the selection of Mitchell Schwartz coupled with the later selection of Ryan Miller, and the unofficial free agent signings of Jake Anderson, Matt Cleveland, Garth Gerhart, and J.B. Shugarts. The moves indicate one notion, and that is that the Cleveland Browns' hierarchy realizes how many weaknesses lie within the team's offensive line.
Schwartz can pretty much just be penciled in as the Browns starting right tackle for next season.
Miller and whichever other offensive linemen make the Browns roster will compete for the starting right guard job and the two (possibly three) backup offensive line positions.
Miller is an interesting prospect for the Browns because of his versatility. My guess would be that Miller does not begin the season as a starter for the Browns. Miller will more than likely be a key backup who will provide the Browns with a versatile offensive lineman able to play either tackle or guard positions in a tough injury-plagued situation.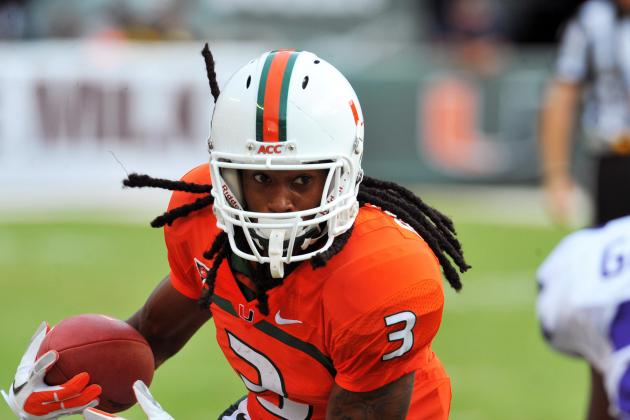 Al Messerschmidt/Getty Images
Travis Benjamin
The Rest of the Draft:
The rest of the Cleveland Browns' 2012 draft class indicated one thing to me: Heckert, Holmgren and company knew the Browns lacked overall depth and were looking for individuals who could contribute one way or another right away.
John Hughes, Billy Winn, James-Michael Johnson, Trevin Wade and Emmanuel Acho should all contribute to the Browns defense and special teams early on. All five of these prospects should help the Browns defense out in passing situations from Day 1.
With the looming suspension of veteran linebacker Scott Fujita, Acho and Johnson may even compete for a starting linebacker spot for the first game of the regular season.
Travis Benjamin and Brad Smelley should have similar trajectories to hit the field as their defensive counterparts.
Benjamin should play a very similar role for the Browns as Percy Harvin played for the Minnesota Vikings under then head coach Brad Childress. We should see Benjamin contributing as both a kick and punt returner, as well as playing some wide receiver and running back. Benjamin should allow the Browns' offense to have some explosiveness and versatility, especially when he and Joshua Cribbs are both on the field.
Out of all of these prospects, I believe Smelley has the best opportunity to be a starter from the first game of the regular season for the Cleveland Browns. Smelley is an H-Back in the truest form, playing some tight end and fullback while at Alabama.
I believe his selection also indicates how disappointed the regime was with Owen Marecic last season. The Browns' running game really missed the blocking of fullback Lawrence Vickers last season, and Marecic proved that he was not ready to pick up the task.
To say Marecic struggled last season is an understatement.
Smelley can come in right away and compete for the starting fullback job for the Browns.
Smelley is already accustomed to being used as a primary blocker after blocking for Trent Richardson from their days together at Alabama. Plus, Smelley offers the Browns enough versatility from the fullback position that he will not turn into a one-dimensional blocker like Vickers. Smelley also offers the Browns some offensive versatility, as he is able to not only lineup like a traditional fullback, but he can also line up anywhere within the offensive formation.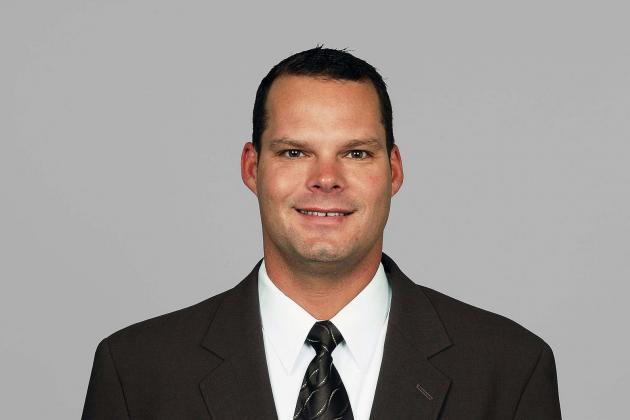 NFL Photos/Getty Images
Tom Heckert
No matter what we think of the Cleveland Browns' 2012 draft class, we can only hope and have faith in Tom Heckert and company. We can only pray that the right decisions were made and that the Cleveland Browns are heading in the correct direction.
With the highly-publicized first two selections and some of the more questionable later decisions, this draft will likely determine the future of Heckert, Mike Holmgren and Pat Shurmur with the Cleveland Browns.
For good or for bad, the current Browns regime made some big statements with its 2012 draft selections. Heckert, Holmgren and company decided that they were going to do the draft their way, and we can only all hope that things will turn out to be positive.
If these selections do not pan out, then Browns fans can once again be looking at a new regime change in the next couple of seasons.