Chicago Blackhawks: 5 Players Joel Quenneville Misused
Jonathan Daniel/Getty Images

For the second straight year, the Blackhawks' season ended well before they expected.
After hoisting the Cup in 2010, they have now been eliminated in the first round in back to back seasons. We all know the talent is there, so who's to blame?
You can blame the players because several struggled throughout the season. You can blame general manager Stan Bowman for not adding the right players. You can also blame coach Joel Quenneville and his coaching staff.
Quenneville loves to juggle his lines from game to game and sometimes even shift to shift. He also has a history with switching goaltenders, which Hawks fans know very well over the last four seasons.
For the purpose of this article I will not be mentioning the goalie situation as that has been well documented. I also won't be looking into how Patrick Kane was moved around this season because that is much bigger issue.
These are five guys who I feel if we saw a little more of (or in some cases a little less) the Blackhawks could have been much better off.
If there is one I missed or you disagree with, sound off below.
Begin Slideshow

»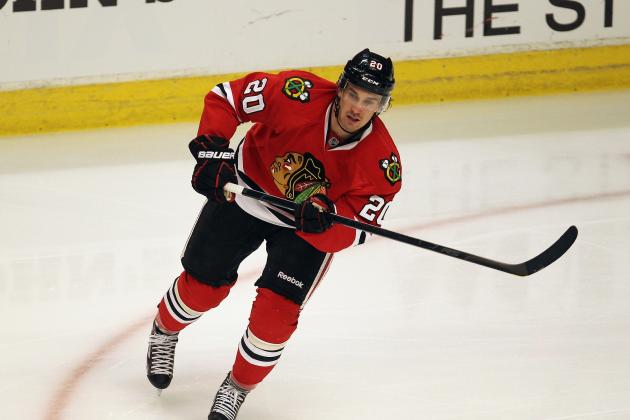 Jonathan Daniel/Getty Images

Every time John Scott or Sean O'Donnell took the ice for the Blackhawks, it meant that Sami Lepisto was in coach Quenneville's doghouse.
The 2011-2012 season was a nightmare for Lepisto.
For the first few months of the season he would play a few games and then sit out for weeks. Then in February, it looked like he finally played his way out of the doghouse only to get hurt and miss the final month of the season.
He got healthy in time for the conclusion of the season and ended up playing in three of the six playoff games.
In 26 games he contributed three points and had a plus-three rating. What could he have done if given more chances on the ice?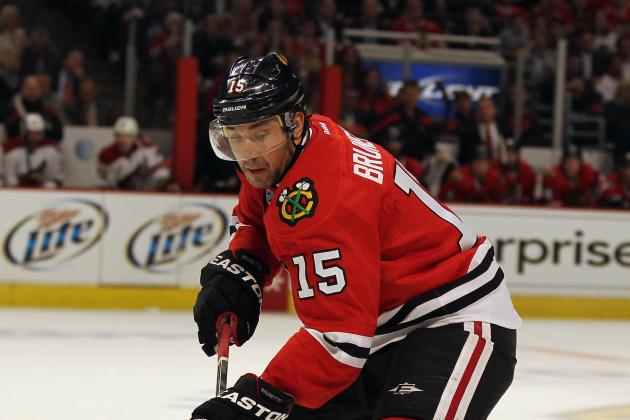 Jonathan Daniel/Getty Images

Andrew Brunette was signed to fill the role that Andrew Ladd played so well during the 2010 season. Unfortunately for the Blackhawks, his 11-year streak of totaling 40 points came to an end.
Brunette failed to live up to expectations totaling only 27 points and was a minus-13 on the season. While he moved between the lines he was consistently on one of the power-play units.
He did score four power-play goals on the year but all of those came during the first two months of the season. Why was he allowed to stay on the power play?
Even with his lack of production, Brunette was on the ice night in and night out. He played in 78 of the team's 82 games and all six playoff games. Why was he not sat like Bryan Bickell when he struggled?
Maybe if he found his way into the doghouse, the Hawks could have solved some of their issues.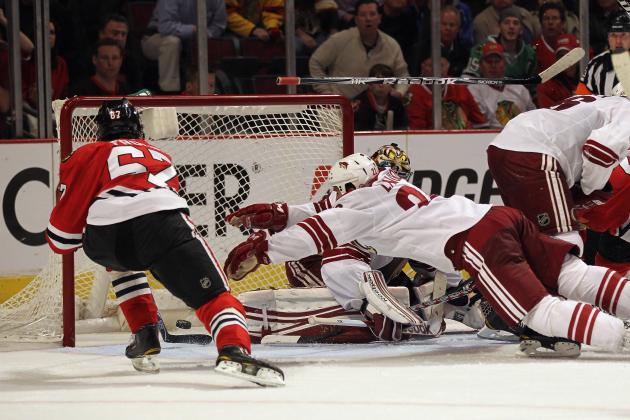 Jonathan Daniel/Getty Images

During 91 regular-season games, Michael Frolik has totaled eight goals and 16 assists for a total of 24 points. In 11 playoff games he has four goals and four assists.
Is he just a postseason player or does his lack of regular-season production have something to do with how he is used?
Honestly I don't know, except over the last two seasons I have seen Frolik get bounced from line to line as well as in and out of the lineup. I have seen him go from starting on the top line to being demoted to the fourth line in a matter of shifts, and then being a healthy scratch the next game.
Why is this?
Frolik showed in Florida that he had the talent for putting the puck in the net. He had back-to-back 20-goal seasons and then came to Chicago where he fizzled.
He started the season on the third line with Dave Bolland and Bryan Bickell and they were great for the first month. Then they started to struggle and that is when the bouncing around started.
I do find it interesting that once he was inserted back into the lineup during the playoffs, he once again produced alongside Bolland and Bickell. Coincidence? I think not.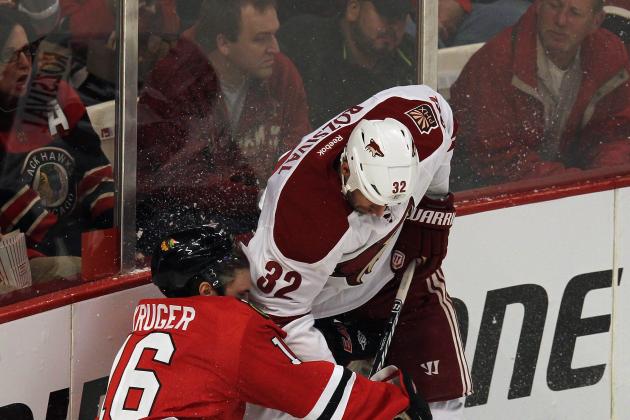 Jonathan Daniel/Getty Images

I'm not really sure what Joel Quenneville sees in Marcus Kruger, but he reminds me a lot of Tomas Kopecky.
Kopecky would consistently see time as a top-six forward even though most people viewed him as a bottom-six forward; Kruger looks much better suited to be a third or fourth-line center rather than being a second-line center.
Along with Brunette, Kruger often found himself on the second power-play unit. It is starting to become very clear why the power play struggled for most of the season: these two were out there with the man advantage.
Brandon Pirri, who was an All-Star in the AHL, would have been much better suited for the role that Kruger was asked to fill. It'll be interesting to see how Kruger fits on this team next season.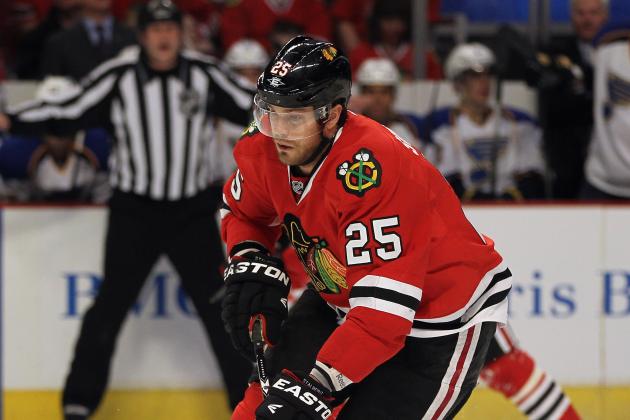 Jonathan Daniel/Getty Images

Viktor Stalberg had a career year during the 2011-2012 season. His 22 goals were one more than he had scored for his entire career.
However, not one of those 22 goals came on the power play. That is pretty impressive.
Stalberg scored the third most even-strength goals on the team, trailing only Patrick Sharp and Jonathan Toews. He finished fifth overall in scoring. I wonder what he could have done if he replaced Brunette or Kruger on the power play?
Could he have scored 30 goals? Wouldn't his speed have been valuable when the Hawks dumped and chased?
Adding Stalberg to the power play could have greatly helped a unit that struggled all season. Let's hope he gets his chance next year.