2012 NBA Playoffs: Grades for Boston After Their Game 1 Loss to Atlanta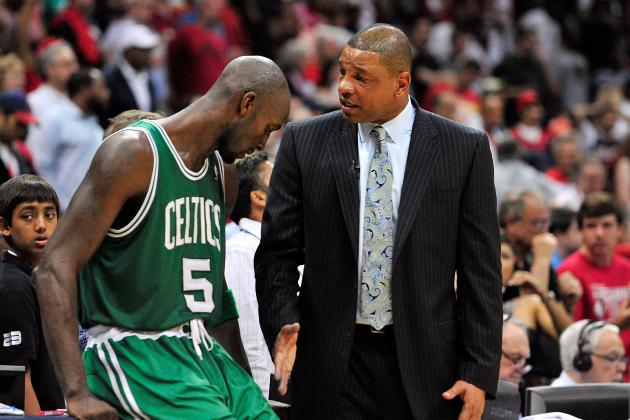 Grant Halverson/Getty Images

With Game 1 under their belts, the Boston Celtics didn't look much like former NBA champions. They were over-matched in every way by the Atlanta Hawks.
Due to Ray Allen's ankle injury, the Celtics desperately needed someone else on their roster to step up in order to take down a much savvier Atlanta team.
These are full grades for the Boston Celtics after their game one loss to Atlanta.
Begin Slideshow

»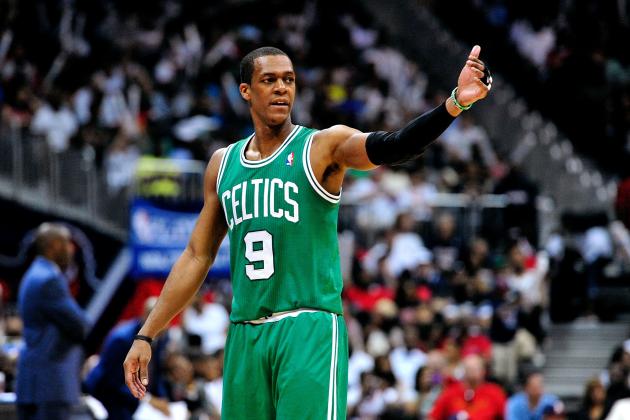 Grant Halverson/Getty Images

Boston definitely did not look like a playoff-experienced team after Sunday's loss. Their offense was stagnant and it seemed like nothing was going their way. In total, the team shot 39% compared to Atlanta's 40%. While that percentage is not much better, Atlanta clearly was in control early and never allowed Boston to gain traction in this game.
In reality, this team looked exactly like what they've been called in the past: old. Rajon Rondo appeared to be the only Celtics player with energy. KG looked exhausted early. Noticing this, Josh Smith, Joe Johnson, and Jeff Teague all had their way with this team early-on.
Boston was in trouble right out of the gate. They went down 31-18 in the first quarter and never recovered. While the Celtics were able to outscore the Hawks in the next three quarters, the poor first quarter would end up being the main reason they gave up this game.
Even though Garnett struggled early, he and Rajon Rondo were both able to put in 20 points. Though Paul Pierce did not have a good game and finished with 12 points.
With Ray Allen sitting out, Boston was unable to find their three-point range, shooting 0% from three (0-11). Pierce alone missed 6 three pointers.
Another huge stat to take note of here is Boston's rebounding. KG pulled down 12 in the end, with Greg Stiemsma adding nine. Boston all together was able to take down 41 rebounds compared to Atlanta's 50. Josh Smith absolutely dominated in the glass with 18 rebounds.
Rajon Rondo did have a good passing game, tossing out 11 assists to only one turnover. But this proved to not be enough.
Boston struggled mightily offensively, and purely based on their three point shooting and poor first quarter, their grade suffers.
Boston's Offense: C-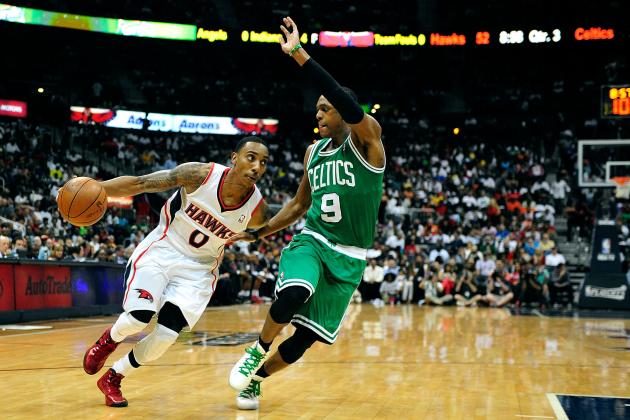 Grant Halverson/Getty Images

This Boston team has definitely gained prominence because of their fantastic and imposing defense. Since the departure of Tom Thibbodeau, it seems like they have lost a step or two at that end of the court. This was extremely evident Sunday night.
The team as a whole totaled 3 blocks, with no player totaling more than one. KG, Brandon Bass, and Stiemsma each posted one a piece. Atlanta wasn't much better in that respect, with only 1 block coming from Josh Smith.
Boston seemed unable to contain Josh Smith, who went off for 22 points and 18 rebounds, while Kirk Hinrich exploded with 4 three pointers.
Rondo was able to total 4 steals, but this defense definitely wasn't up to snuff against a seemingly superior Atlanta team.
Boston's Defense: C-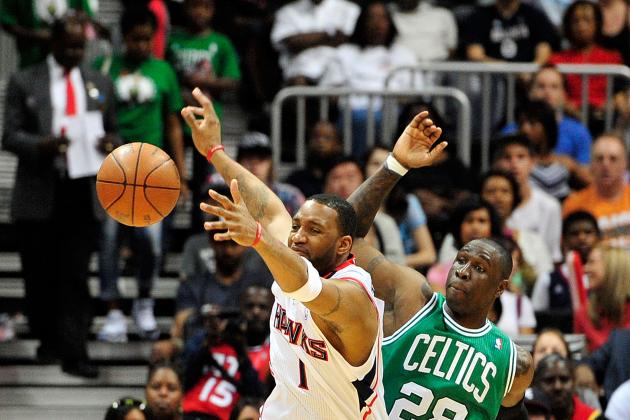 Grant Halverson/Getty Images

With the exception of Greg Stiemsma, the Boston bench wasn't able to contribute. In total, Boston received a paltry 4 points from its bench.
While the reserves had more energy than the starting five, the combination of Stiemsma, Keyon Dooling, Michael Pietrus, and Sasha Pavlovic were unable to have any positive effect on this game, with exception of Stiemsma's 9 rebounds.
Boston's Bench: D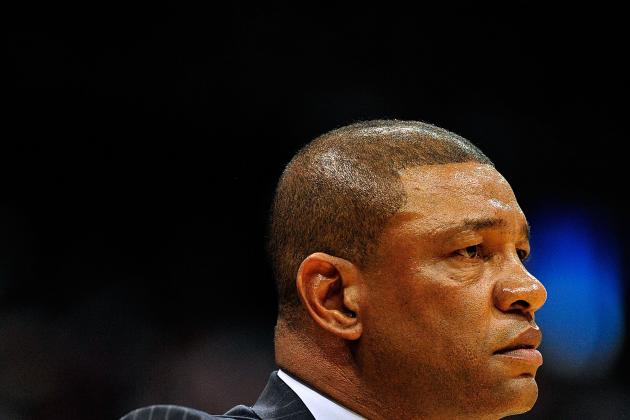 Grant Halverson/Getty Images

Doc Rivers was on his team front the start of the game. During early interviews, it appeared he had already lost his voice.
He obviously knew something wasn't right with this team. Doc ended up pulling KG early in the 1st quarter, after the forward went 1 of 7 and was unable to get any rebounds.
Blame for Boston's loss should be attributed to their poor start and on the shoulders of Rondo and his costly ejection. Up until then, it seemed Boston was about to pull itself back into the game.
According to ESPN, Rivers defended his point guard, saying, "I thought Rondo was walking toward Marc, and Marc turned back toward him, and that's when Rondo bumped him. ... That's all it was, in my opinion. But we'll see."
In the end, Boston would make a run. But Atlanta was just too much. Doc's coaching was not the reason the Celtics lost last night.
Coaching: B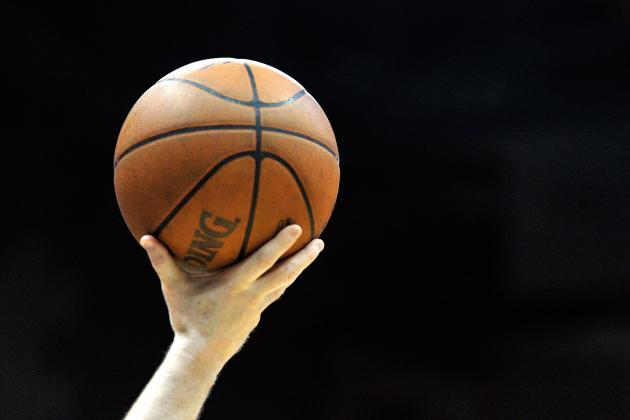 Grant Halverson/Getty Images

If Boston wants to win this series, they need to play all four quarters. Additionally, they will need to focus on containing Josh Smith and the three point shooters Atlanta brings to the floor. Boston cannot have any more poor starts to a game. If they had played an effective first quarter, they would have won this game.
Avery Bradley must show up in a bigger way if he hopes to maintain his starting spot once Ray Allen returns. KG needs to be KG and Rajon Rondo must keep his emotions in check.
A possible one-game suspension for Rajon Rondo's ejection is going to really damage this team in game two. Based on that and the game as a whole, the Celtics don't receive a very favorable grade in my book.
And considering the fact that I fell asleep during their game, they barely receive a passing grade.
Overall Grade: D