NHL Playoffs: Most Compelling Storyline from Stanley Cup Playoffs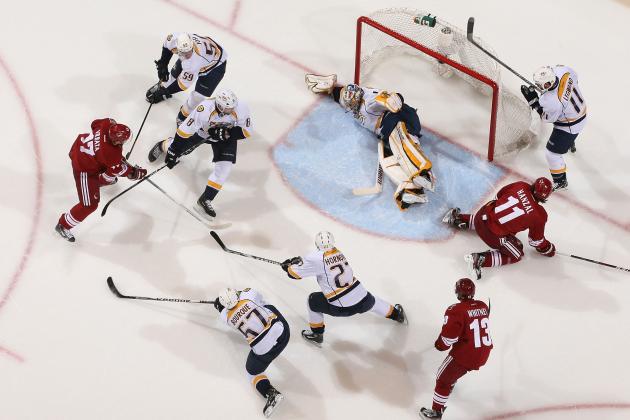 Christian Petersen/Getty Images

It doesn't take a detective to deduce which series I find most compelling (hint: look at the title of the slideshow), but I'm going to give a little love to the other three before discussing Preds-Yotes.
Here's the skinny on each series:
Los Angeles and St. Louis is intriguing because it's a big-city team with superstars facing a small-city team that's build around team defense. In St. Louis, the symbol on the front of their sweaters is certainly more well known than the names on the back.
Washington and New York has typically been a lopsided matchup. The Blueshirts have scared the Capitals in the past, but usually, Washington comes in as a top seed and wins the series.
This time around, however, the Rangers are the top seed and supposed to represent the East in the Finals. We'll see if the Rangers can turn the tables on the Caps. It's a showdown of superstars and should go down to the wire.
The Devils-Flyers series is a big-brother, little-brother matchup.
Because of the proximity to Philly, there are a lot of Flyers fans in New Jersey. However, the Devils' success has allowed them to build up their own fanbase. These two teams play each other frequently, they're in the same division and certainly there will be some households that are split over which team to cheer for in this series.
Finally, the league will win either way with the Nashville and Phoenix series.
Nashville is an up-and-coming franchise that has established itself in Tennessee. They made it to the first round the last two years and the playoffs for seven of the last eight seasons.
The Coyotes organization is hanging on by a thread, but coach Dave Tippett has his makeshift roster playing solid defense and in position to move to the Western Conference Finals.
The following is an in-depth breakdown of the first three series and five reasons why the Coyotes-Predators series is the most compelling matchup offered.
Tom Schreier is a Featured Columnist at Bleacher Report. He covers hockey and baseball.
Follow him on Twitter @tschreier3.
Begin Slideshow

»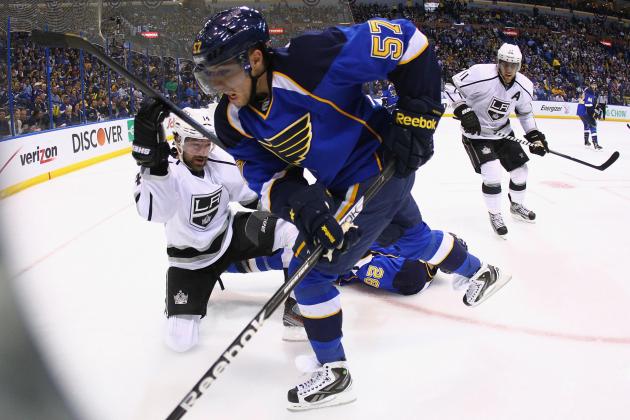 Dilip Vishwanat/Getty Images

A matchup of two Second Six teams looking to win their first Stanley Cup Championship.
The Blues were always close, made playoffs from 1980-2004, but never smoked the cigar.
This team looks like they could be good for a long time. They've got studs—Oshie, Backes, Elliott, etc.—but they play a great team game. It's not about the All-Stars; it's about their team defense and special teams.
This is a fun team to watch and a model for small-market, draft-and-develop teams to follow.
The Kings are looking to return to the Stanley Cup Championship for the first time since the Wayne Gretzky era. Although they've played in a big city that is attractive to free agents, the Kings have been plagued with poor management throughout their history.
GM Dean Lombardi has turned the organization around, however. He's brought up his own guys and turned them into superstars. Dustin Brown, Anze Kopitar, Drew Doughty and Jonathan Quick all came from the pipeline, and Lombardi has surrounded them with talent from Philly: Simon Gagne, Jeff Carter and Mike Richards.
This series pits superstars against team defense, the bright lights of LA versus the stubborn people of the US' 58th-largest state.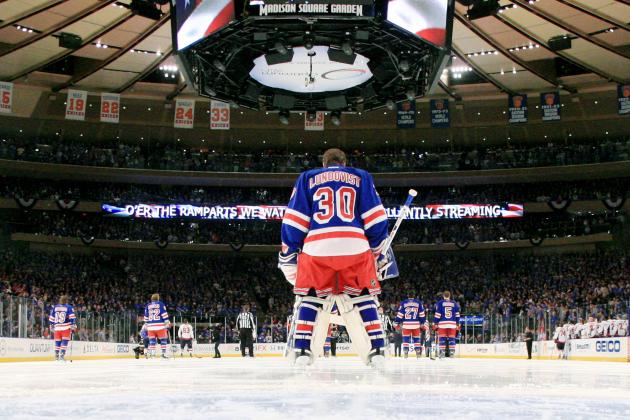 Bruce Bennett/Getty Images

The Capitals typically have had the upper hand in this matchup, but the Rangers are arguably the toughest team in the East.
New York is looking to turn the tables on the nation's capital when it comes to hockey prowess. This is going to come down to a matchup of superstars.
The Blueshirts feature imports Marian Gaborik and Brad Richards to compliment homegrown stars Ryan Callahan, Michael Del Zotto, Marc Staal and Derek Stepan.
The Caps, of course, have established stars Alex Ovechkin, Nicklas Backstrom, Mike Green and John Carlson—all drafted and developed players.
This series will come down to which superstars show up and which ones fade. It should be entertaining television.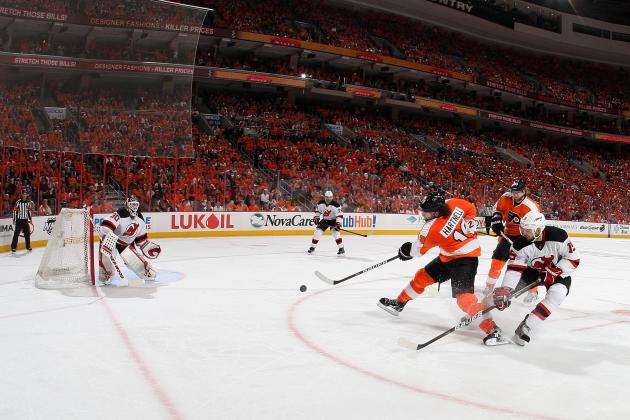 Jim McIsaac/Getty Images

This is a little bit of a big brother, little brother scenario.
The Flyers are a Second Six team. They have an established, rabid (kinda deranged) fanbase. Home games in Philly could be mistaken for a jail-yard brawl. This team loves physical play, and with a stadium full of people in orange, you might think you've received a life sentence rather than purchased a ticket to a hockey game.
New Jersey needs to pass this round to keep their team intact. They've got some financial issues, and Zach Parise is an unrestricted free agent.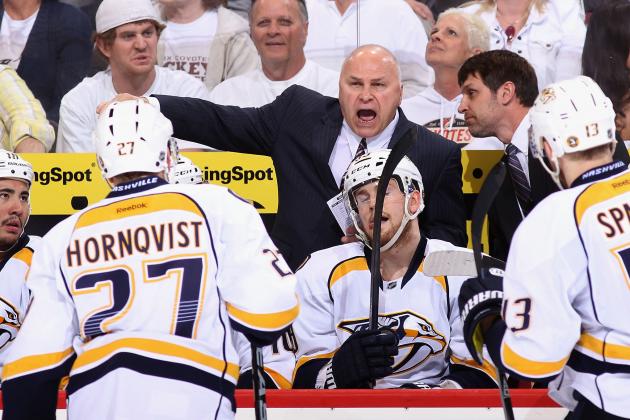 Christian Petersen/Getty Images

Year after year, this team has operated on a shoestring budget knowing they are in a city that, well, is associated with country music—not ice hockey.
Instead of being placed in the Southeast Division with non-traditional market expansion teams like the Tampa Bay Lightning, Florida Panthers, Carolina Panthers and the former Atlanta Thrashers, they were placed in a division with well-established hockey franchises: the Chicago Blackhawks, St. Louis Blues and Detroit Red Wings.
Still, under Barry Trotz, the team's only coach in franchise history, this organization (est. 1999) has done better than other teams that were established around the same time they were.
The Atlanta Thrashers (1999) only made the playoffs once, never won a playoff game and moved to Winnipeg.
The Columbus Blue Jackets (2000) are a disaster…and they have no excuse. They play in the same division and a more traditional hockey market.
The Minnesota Wild (2000) had instant success, but have faltered since and have not made the playoffs for four straight seasons.
If Nashville advances, the team will have reached the Western Conference Finals for the first time in franchise history and will give LA or St. Louis a run for their money.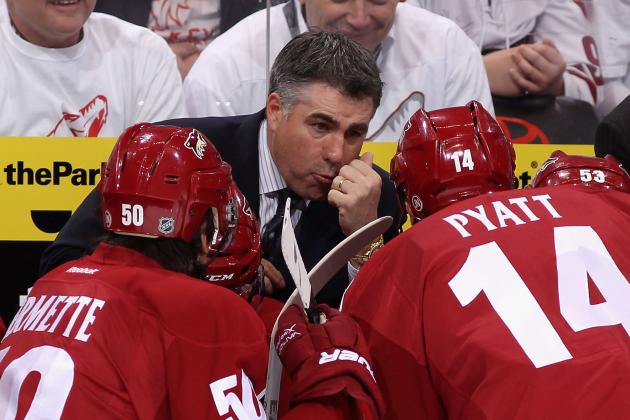 Christian Petersen/Getty Images

The Coyotes' financial problems have been well-documented. They may be skating on thin ice, but they've made the most of their situation.
Phoenix has made the postseason in the last three seasons after a six-year drought and have advanced past the first round for the first time since moving to the desert in the 1996-97 season.
There were rumors that the team was going to move to Seattle, Quebec City is building an arena and the Sprint Center remains unoccupied in Kansas City. All three cities have shown interest in an NHL team, and with the Thrashers' departure from Georgia, the Coyotes are the next franchise on the chopping block.
If they're going to remain in Glendale, this year's success must mean a rise in regular season attendance next year.
A Western Conference Finals appearance certainly would help that.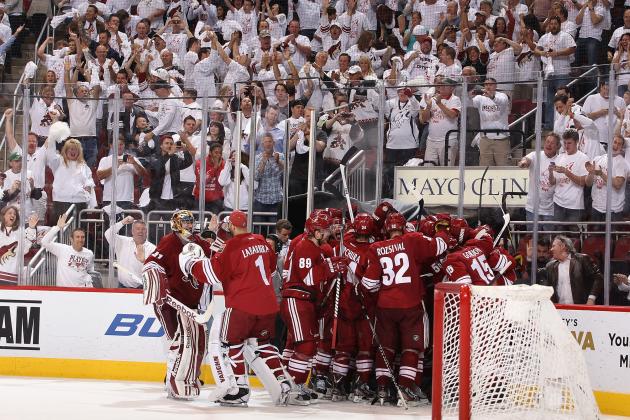 Christian Petersen/Getty Images

There was a perception that this series was going to be a low-scoring snoozer.
It has been anything but.
There have been 15 goals scored in this series. Phoenix won Game 1, 4-3. and took a two-game series lead in Game 2, 5-3. Things may change when the matchup moves to Nashville, but both defensive-minded teams have shown that their best players can find the twine when they need to.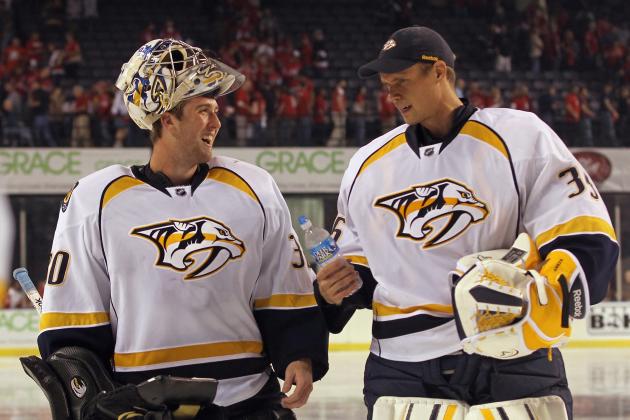 Bruce Bennett/Getty Images

This puts pressure on the goaltenders, of course.
Standing 6'5", the Predators' Pekka Rinne has been a stalwart for Nashville. He was a difference-maker in the Detroit series, but has been lit up so far in Glendale.
Mike Smith is no shorty either. He's 6'4" and played like a brick wall against a powerhouse Chicago offense in the first round.
His acting on the Matt Shaw hit was a little tough to watch, but otherwise, his play has been eye candy.
So far, he's been the better goaltender in the series.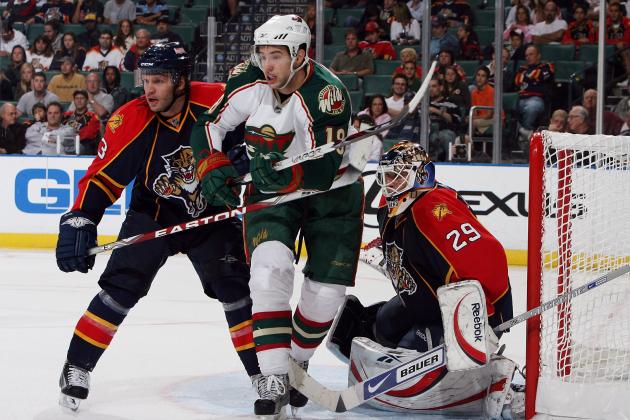 Doug Benc/Getty Images

The Predators are a great model for struggling small-market teams.
Franchises like Minnesota, Calgary, Columbus and Buffalo, where it's difficult to bring in free agents and have traditionally focused on team defense, should use the Nashville model.
They've drafted and developed their own guys and have them committed to a successful system. If these franchises focus on putting players from their own pipeline in their sweater and ask them to play suffocating defense, they can turn their fortunes around.
The Coyotes are a model for struggling non-traditional market teams in attractive cities.
I know the Florida Panthers made the postseason this year, but there's no guarantee they'll go back. Their Floridian brethren, the Tampa Bay Lightning, made great strides last year, but couldn't capitalize on their success even with a new look and renovated arena.
Finally, the Dallas Stars were almost there this season, but couldn't sneak into the postseason and, like the Coyotes, are in serious financial trouble.
Miami, Tampa and Dallas are all wonderful cities. They've got sunshine and a lot of attractions off the ice for professional athletes. These franchises should have no problem brining in free agents.
They all have financial issues, though, and need to have stability off the ice in order to have success on it. The Coyotes are in no way stable off the ice, but they are doing everything on it in order to put people in the seats and generate revenue.
They've done it by bringing in the right aging free agents, Ray Whitney and Adrian Aucoin, a great leader in Shane Doan and an outstanding coach. They've also got a superstar in his prime, Keith Yandle, and some great young talent, Oliver Ekman-Larsson and Mikkel Boedker.
Florida, Tampa and Dallas should take note.