Manchester City vs Manchester United: Live Scores, Highlights and Player Grades
April 30, 2012

Alex Livesey/Getty Images
Manchester City has one last realistic shot to snag the EPL crown from under the defending champions and bitter rival, Manchester United, and that is by beating them on Monday at 3:00 p.m. at Etihad Stadium. 
Update: Monday, April 30 at 5:00 p.m. ET
As you can imagine, the player grades aren't going to be to kind to the Red Devils. This was a match where their superstars are expected and hired to make a big impact and they failed. 
City shut out United for a 1-0 victory, and they were the more poised side throughout this match. United managed just five shots and not one of those was on target.  
Anyway, check out the key player grades for this epic match. 
Grades for Key Manchester City Players
David Silva: B
Silva was quiet for almost this entire match, which tracks with his disappointing second half of the season. 
However, and this is a big however, he struck a beautiful corner that provided the assist on the what is the biggest goal of the season.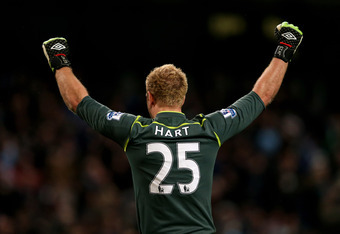 Alex Livesey/Getty Images
Joe Hart: B+
Yes, Hart got the shutout, but he didn't have to save a goal to do it. He did a nice job of stepping up on a late cross to earn a foul, and essentially sealed the victory. 
He did struggle controlling the ball in the windy conditions, which kept his grade from being an A. 
Samir Nasri: C-
Nasri was non-existent at the start of this match. He started to get in the flow and make his presence known as it progressed and was generally solid. 
That is until his late match gaffe, when he tried to walk-in a goal, he would have been better served to kick (see highlight below). That could have been an unforgettably costly error. 
Grades for Key Manchester United Players
Wayne Rooney: C+
Rooney was active and hustling this entire match. He did everything he could to help his Red Devils, but that ended up being not much. He fired off just one shot, and it wasn't on goal. 
Somehow, someway a player of Rooney's stature has to make more of an impact.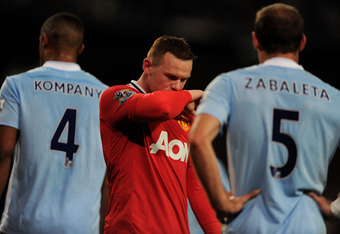 Michael Regan/Getty Images
David De Gea: B-
The lone goal that got in during this match was well placed and deep, and that came off of a well-placed corner. It would have taken a spectacular save and a nice bit of anticipation to save that one, but that is what was needed to save his team's hopes and he couldn't provide it. 
Nani: C-
Nani looked good early, but completely wilted as the pressure cranked up. He spent a good portion of the second half being almost a complete non-factor, and when he was a factor, it was because he was badly playing the ball. 
Man of the Match: Vincent Kompany
He scored the lone goal, and the one that will likely determine the EPL champs. It is the goal that shook the football world. That is more than worthy of this honor. 
Update: Monday, April 30 at 5:00 p.m. ET
For the most part, it was the Red Devils making costly, boneheaded plays in this match, but the biggest miscue of the second half belongs to Samir Nasri. He could have got a clinching shot off here, but instead opted to try a flashy bit of ill-advised footwork. Luckily enough for him, his team held onto their 1-0 advantage.
Check out the highlight, and stay tuned for player grades. 
Update: Monday, April 30 at 4:50 p.m. ET
Manchester City wins, 1-0!
City triumphantly held serve in the second half to preserve a monumental win. They got the one very late first half goal, and that was all the scoring in the match. 
It was a well-deserved win as they were quicker and more aggressive at ever turn. They were outplayed this entire match. 
The Red Devils had a few decent chances late, but they blew them with either bad passes or shots. City now has the inside track on the EPL title. They have a big edge in goal differential, and if they win their last two matches, the crown will assuredly be theirs. 
Update: Monday, April 30 at 3:48 p.m. ET
City leads, 1-0.
City strikes first! With the first half winding down Vincent Kompany jumped to catch a corner from David Silva with his head and netted the one and only first half goal in the pivotal contest. 
The crowd erupted and you could almost feel the tension rise from City and their supporters. They had dominated the half, but had nothing to show for it. 
Now it is time to see if this goal will open up the second half floodgates for City, or if United will make some tweaks, and come out firing. 
The Red Devils looked shockingly lifeless in this half. They are lucky to just be trailing by one. 
Update: Monday, April 30 at 3:40 p.m. ET
There is not a lot to update in this epic match, but I guess that is worthy of an update in its own right. 
The score stands at 0-0 in the 41st minute of this match. Manchester City is clearly the more aggressive and crisp side to this point, but they have nothing to show for it. If they don't convert one of these chances into a goal before too long, it could break their spirits. 
All eyes in the football world will be fixed on the match many are calling the biggest in EPL history. It really doesn't get any better than this. 
Two intense rivals, and extremely talented teams, battling it out for EPL hardware in a derby clash. While the trophy won't be handed out after the match, United can all but end the mystery about who will win by earning a favorable outcome. 
The Red Devils have a three point lead on City at the top of the table, and not another EPL team is close. Both will have just two matches following this epic derby clash.
That leaves City essentially needing a win. There is no way United will choke away a six point lead with two matches left, and even with a draw, it is hard to see the Devils blowing a three-point lead with just a match against Swansea City at home and Sunderland.
It is going to be all hands on deck for this match. Both sides will be giving everything they have to win this one. 
Daily Telegraph football correspondent, Henry Winter tweeted out the expected lineups for this match. 
#mufc: De Gea; Jones, Smalling, Ferdinand, Evra; Nani, Carrick, Scholes, Giggs, Park; Rooney

— Henry Winter (@henrywinter) April 30, 2012
#mcfc: Hart; Zabaleta, Kompany, Lescott, Clichy; Yaya Toure, Barry; Silva, Tevez, Nasri; Aguero.

— Henry Winter (@henrywinter) April 30, 2012