Texas A&M Football: 2-Deep Post-Spring Depth Chart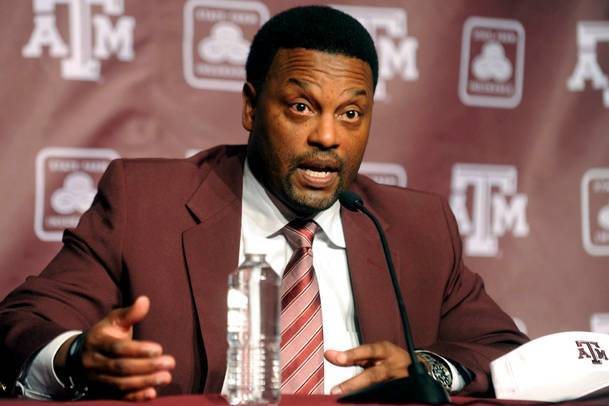 dallasnews.com
Texas A&M was the last SEC team to wrap up spring practice, and they'll now rest for a couple of months before preparing for the good stuff.
But with a new head coach in place, it was important for the Aggies to find out their weaknesses and strengths. It's also important for players to prove that they deserve to be on the football field this season as the program is out to prove they can hang with some of college football's top teams.
Which returning starters will keep their job, and which backups or younger players have slipped into a starting role?
Here is your 2012 Texas A&M post-spring depth chart.
Begin Slideshow

»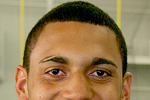 rivals.yahoo.com
Starter: Jameill Showers
Backup: Johnny Manziel
With Ryan Tannehill getting drafted by the Miami Dolphins, it looks like sophomore Showers is the favorite to replace him. He's somewhat of a dual-threat quarterback and has a very strong arm as well. He played well in the spring game, throwing for over 200 yards and two touchdowns. This is a battle that will continue throughout the offseason, but Showers is the frontrunner.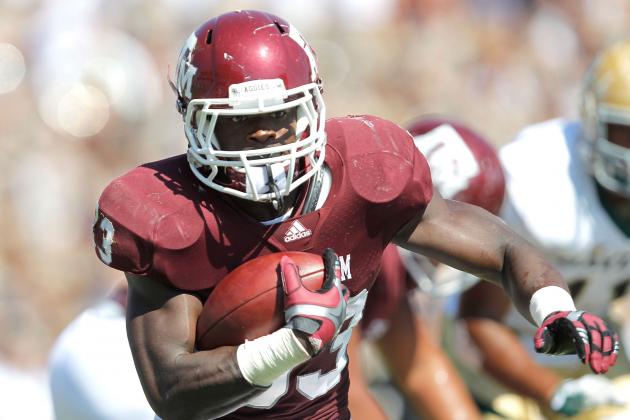 Sarah Glenn/Getty Images

Starter: Christine Michael
Backup: Ben Malena
With Cyrus Gray no longer around, Michael looked to be his replacement, but ended up tearing his ACL late last season. Good thing for Aggie fans, is that he's back on the field and should be ready when September arrives.
"He's way ahead of where I thought he would be," head coach Kevin Sumlin said via beaumontenterprise.com. "To be out there doing anything at all is really remarkable."
Malena has really impressed throughout the spring and should receive a lot of touches this season as well.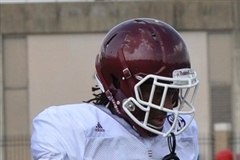 247sports.com
Starter: Derel Walker
Backup: Nate Askew
Walker is a JUCO transfer, who should make an immediate impact for the Aggies. He has great size at 6'2", 175 pounds and is extremely fast. Expect him to be a playmaker this season at the receiver position.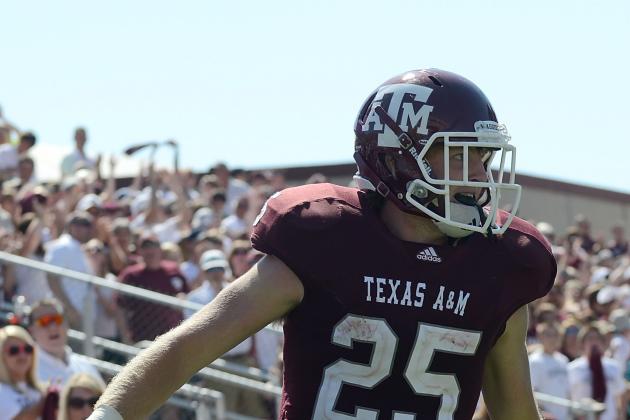 Sarah Glenn/Getty Images

Starter: Ryan Swope
Backup: Brandal Jackson
Swope was the top receiver last season for this Texas A&M team. It was his second-straight season he caught over 70 passes, but he also went over 1,000 yards receiving and hauled in 11 touchdowns. With that production and consistency, he'll remain the No.1 option on this offense.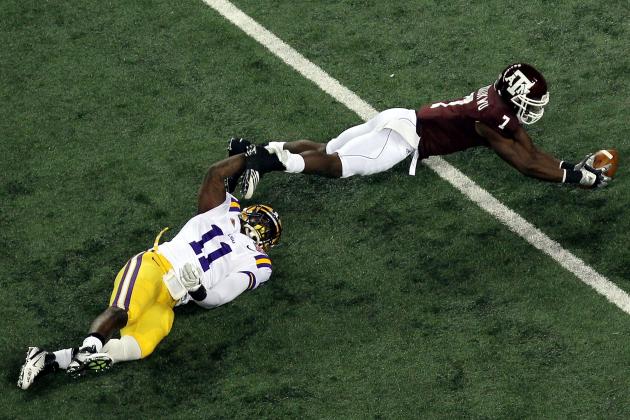 Ronald Martinez/Getty Images

Starter: Uzoma Nwachukwu
Backup: Malcome Kennedy
Nwachukwu has been a consistent receiver throughout his career catching over 30 passes every season since his freshman year. As he enters his senior season, he should have his biggest season yet, especially with Jeff Fuller no longer around.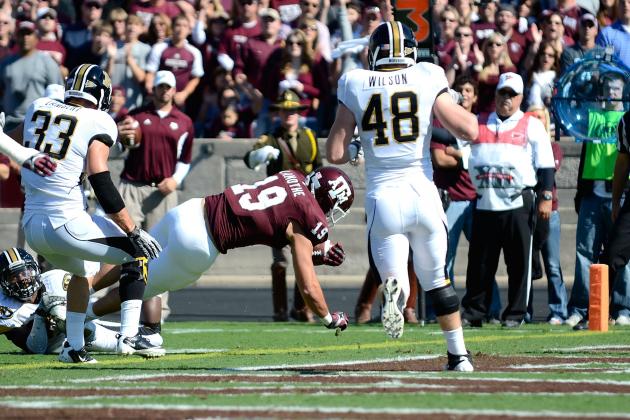 Sarah Glenn/Getty Images

Starter: Michael Lamothe
Backup: Hutson Prioleau
Lamothe caught 14 passes last season and three of those went for touchdowns. As of right now, he'll likely be the starter until the more talented tight end in Nehemiah Hicks recovers from shoulder surgery.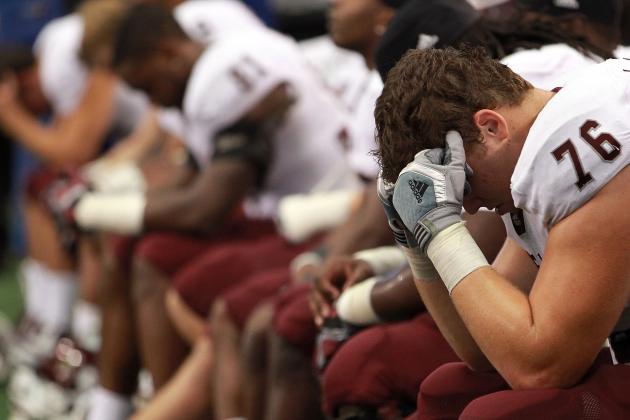 Ronald Martinez/Getty Images

Starter: Luke Joeckel
Backup: Garrett Gramling
Joeckel is as consistent as they come at the tackle position and has a bright future in the NFL. He was a 2011 All-Conference player and has a chance to become even better his junior year.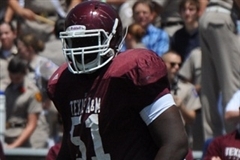 247sports.com
Starter: Jarvis Harrison
Backup: Shep Klinke
Harrison missed the entire spring with a shoulder injury, but should be back by the time the season begins. He's only a sophomore, but is very big and athletic. He also has the ability to play the defensive side of the ball as well.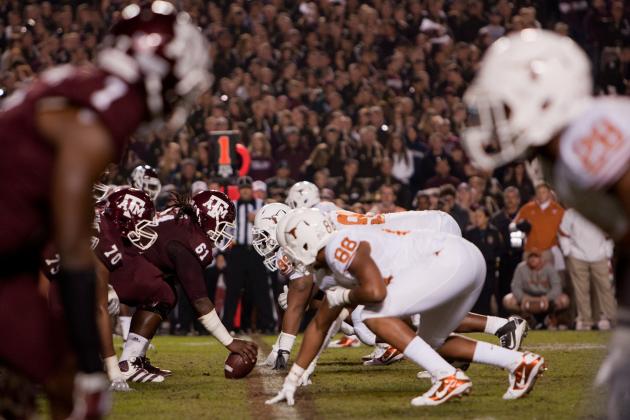 Darren Carroll/Getty Images

Starter: Patrick Lewis
Backup: Ben Compton
Lewis will enter his fourth season as a starting lineman and second at the center position. (Before he played right guard). Lewis is one of the few seniors on this offensive line and will be a key part of the success the Aggies look to have with this unit.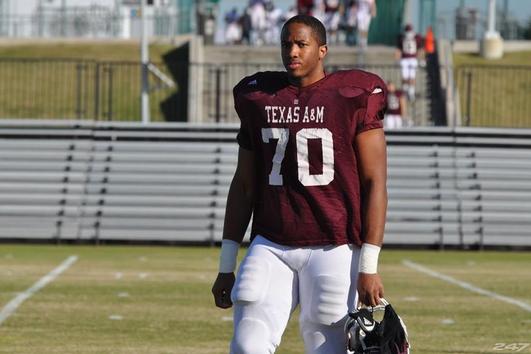 247sports.com
Starter: Cedric Ogbuehi
Backup: Shep Klinke/Ben Compton
Cedric Ogbuehi is an aggressive guard that has a great combination of power and strength. He started 10 games last year for the Aggies and is listed as the 10th best guard in the SEC by Bleacher Report.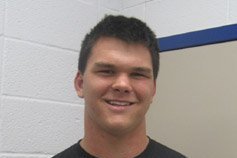 insidetexas.com
Starter: Jake Matthews
Backup: Joseph Cheek
Matthews is another returning starter on this line and also has a bright future at the next level. He's also another key member of this unit and will be tested throughout the year because head coach Kevin Sumlin plans to rely heavily on this line.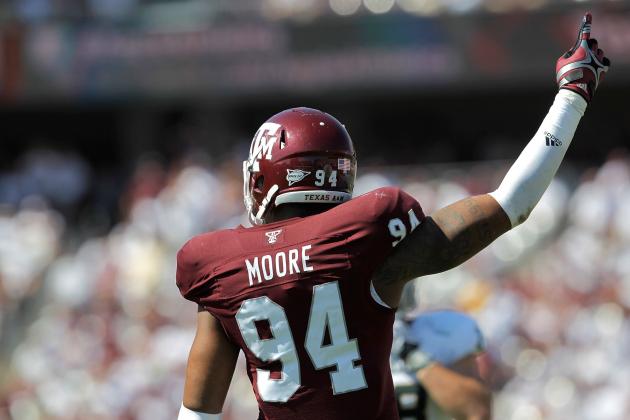 Sarah Glenn/Getty Images

Starter: Damontre Moore
Backup: Caleb Russell
Moore has shifted from linebacker to the defensive end position and it should pay off quite nicely. He was one of the more productive players on this roster last season, racking up 72 tackles, 17.5 tackles for loss and 8.5 sacks. Moore is said to be a top 150 player in the SEC this season by Bleacher Report.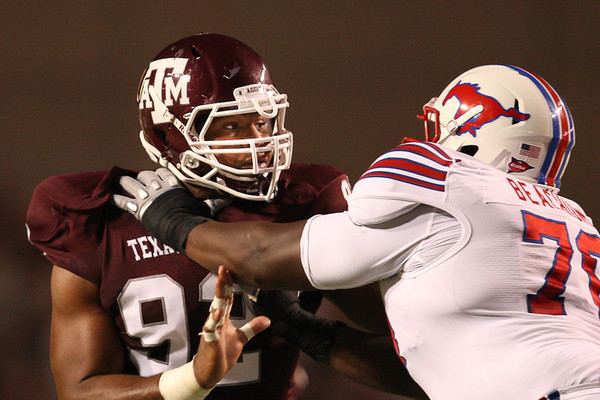 thomasgcampbell.com
Starter: Jonathan Mathis
Backup: Shayvion Hatten
Mathis is back on the field after missing last year due to injury. In 2010 he finished with 41 tackles, 3.5 tackles for loss and broke up two passes. He should pick up where he left off and have another solid season for the Aggies.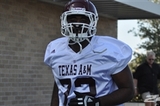 247sports.com
Starter: Gavin Stansbury
Backup: Kirby Ennis
Stansbury is a very athletic player who has fantastic pass-rushing skills. He contributed in the limited action he saw last season and finished with 15 tackles and picked up a sack as well. Expect to see him in a much larger role this season on the defensive line.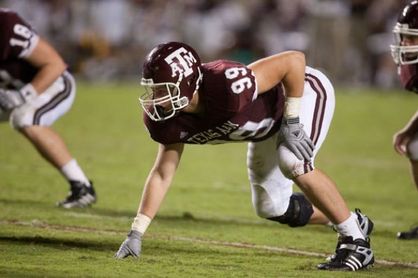 ctpost.com
Starter: Spencer Nealy
Backup: Stephen Barrera
Nealy finished his junior season with eight tackles for loss and 45 tackles. He has lost about 10 pounds during the offseason as he moves to the outside in the new 4-3 defense. He says he feels great and is ready for a big season in the SEC.
"This is a good weight. I'm moving better than ever," he said via AggiesSports.com. "I feel better."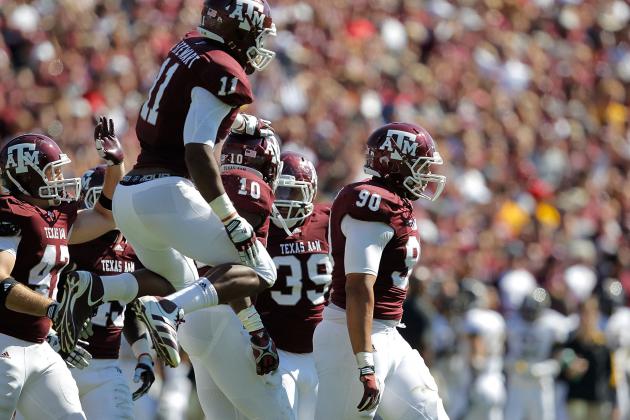 Sarah Glenn/Getty Images

Starter: Sean Porter
Backup: Tyrell Taylor
Porter really stepped his game up his junior season, leading the conference in sacks with 9.5, and finishing third on the team with 79 tackles. He'll remain in his starting role and says he absolutely has no choice but to have a great season once again. He said via ESPN:
This is my senior year. I can't mess it up. I can't afford to have a bad season individually or as a team. I don't want a bad memory to be my last year in college. You only get to go to college one time. No matter what goes on around me, it needs to be a good year.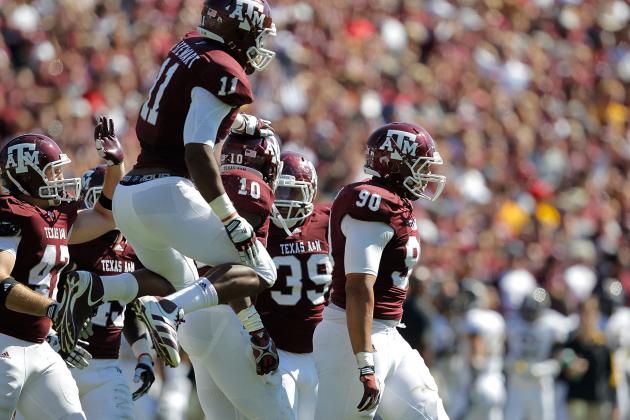 Sarah Glenn/Getty Images

Starter: Jonathan Stewart
Backup: Charlie Thomas
Stewart led this team in tackles last season with 98 and added three sacks for good measure. The 2011 All-Conference player will remain in his starting role at middle linebacker.

aggieathletics.com
Starter: Steven Jenkins
Backup: Donnie Baggs
Jenkins had a very productive year his first season in an Aggie uniform, racking up 61 tackles and breaking up three passes. According to reports, he's been amazing throughout the spring and could end up blossoming into something special this year.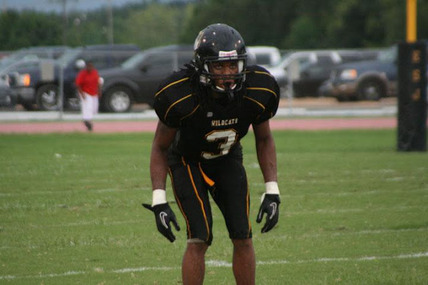 kcalfm.com
Starter: Floyd Raven
Backup: Otis Jacobs
Raven played off and on his freshman season and has seen a lot of time with the first-team defense during the spring. Jacobs is a JUCO transfer that is extremely fast and has solid coverage skills. This is a position that will likely continue throughout the fall due to the lack of experience both players have.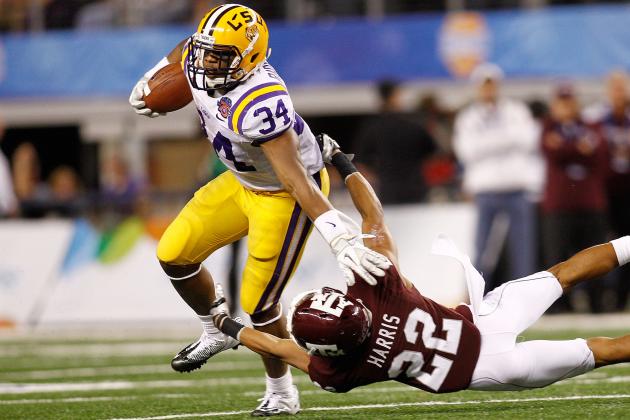 Chris Graythen/Getty Images

Starter: Dustin Harris
Backup: De'Vante Harris
Dustin Harris is the only experienced cornerback on this roster, and he did a little bit of everything for the Aggies last season. Overall, he's a great cover corner and has big-time playmaking ability. Expect to see another big year from the junior corner.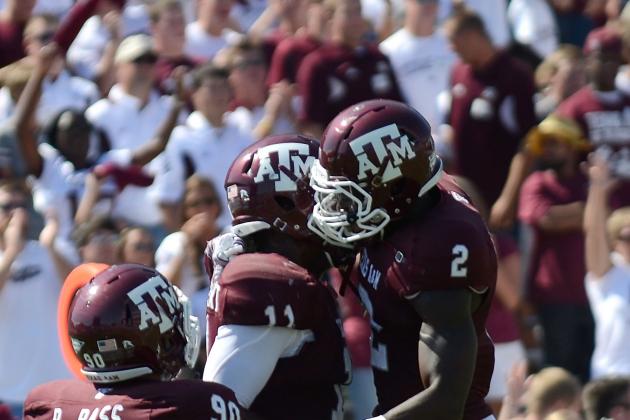 Sarah Glenn/Getty Images

Starter: Steven Campbell
Backup: Steven Terrell
Campbell is a really physical player who has the potential to be a great safety in the SEC. Problem is that he has had a problem staying healthy. He didn't participate at all in the spring due to a foot injury, but should be ready to go by the time September arrives.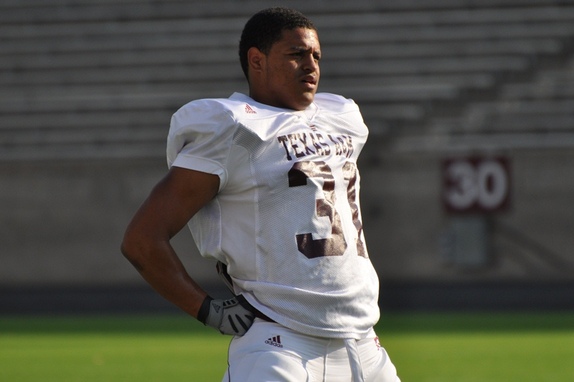 247sports.com
Starter: Howard Matthews
Backup: Toney Hurd Jr.
The Aggies are real thin at the safety position and will likely go with the sophomore in Howard Matthews. He played quite a bit his freshman season, finishing with 28 tackles and two sacks. Much like Campbell, Matthews is a physical type player and has great football instincts.