Tennessee Titans: Which Undrafted Free Agents Will Contribute?
May 1, 2012

Stephen Dunn/Getty Images
The Titans had a mediocre 2012 NFL Draft in my opinion.
Kendall Wright was an okay pick, but there's no way he should've been taken before Whitney Mercilus or David DeCastro. Zach Brown is a fine pick, but the Titans should've taken Peter Konz or Devon Still instead.
Anyway, the Titans did what they did in the draft, and it's over. Or is it?
The Titans have actually made some pretty good signings in undrafted free agency thus far, and three of the players might make the final roster.
The biggest names the Titans picked up are USC's defensive tackle DaJohn Harris and Alabama's center Will Vlachos.
I've seen Harris mocked to the Titans as early as the fifth round, so getting him without using a pick is a pretty good deal. He didn't have a ton of production as a tackler, but he did have seven tackles for a loss and six broken-up passes.
He also has great size at 6'3" tall and 310 lbs. Doctors at the Combine found a hole in his heart and he didn't participate, but he seems to be alright now. At his Pro Day, he ran the 40-yard dash in just under five seconds and had 28 reps on the bench.
He'll definitely make the roster as a depth defensive line player. With his former teammate, Jurrell Casey, already on the team, I'm sure the Titans will get nothing but the best from him.
Will Vlachos is another player that will definitely have a roster spot when all is said and done. As one of the interior blockers for Trent Richardson, Vlachos' tape speaks for itself. He's a powerful run blocker, if a bit undersized at 6'1" and 300 lbs.
You know who else had great production as a run blocker in college but was undersized? Scott Wells. If you don't remember him, he was drafted four spots before Mr. Irrelevant in 2004 and went to the Pro Bowl just last year.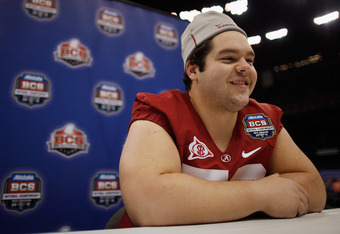 Chris Graythen/Getty Images
Like Wells, Vlachos is an underrated player who could have a very good career in front of him.
At his Pro Day, he proved to be incredibly strong, getting 33 reps on the bench. He isn't the fastest, but he's also a very hard worker and a great locker room presence. He could end up being a starter by 2013.
After Vlachos and Harris, there are two other intriguing players who could fight for a spot as well. Brandon Barden, from Vanderbilt, is a blocking tight end pure and simple, but he's a pretty good one.
With his size (251 lbs) and strength (27 reps on the bench at his Pro Day), he could make the roster not as a blocking tight end, but as a fullback. I am not entirely sold on Quinn Johnson or Will Ta'ufo'ou.
The other intriguing player is Chandler Burden, the former Kentucky left tackle. Like Barden, Burden might be looking at a position change. At 6'4" and 314 lbs, he's the perfect size for a guard.
He's also ridiculously strong; he benched 225 lbs 35 times at his Pro Day. At the Combine, that would've been the second best result. Pro Football Weekly even listed him as a developmental lineman to watch in a recent article. The Titans certainly took notice.
Other than these guys, there are a few other somewhat interesting players, but I don't see anything special. Still, Harris and Vlachos by themselves are a great haul in undrafted free agency. Barden and Burden could be good pickups too.
When 99 percent of undrafted free agents are just training camp fodder, getting four guys who have a realistic chance of making the roster is a great haul.
For a complete list of the Titans' signings in undrafted free agency, click this link.