Mayweather vs. Cotto: Floyd Mayweather Will Knock out Cotto Before Round 5
April 30, 2012

Jeff Bottari/Getty Images
Floyd Mayweather Jr. and Miguel Cotto are set for a 12-round fight on May 5, but spectators should get to their seats quickly, because this one will be over before the fifth round.
Mayweather is the best pound-for-pound fighter on the planet, and has the extra motivation due to an impending jail sentence starting on June 1.
Cotto is an excellent fighter, with a 37-2 career record that should read 38-1. His only losses came to Manny Pacquiao in November of 2009 and to Antonio Margarito in July of 2008.
The fight with Margarito has been the subject of controversy after the Mexican fighter was found to have illegal substances in his hand wraps during a fight with Shane Mosley.
Cotto exacted revenge on Margarito in his last fight and beat him by TKO in the 10th round.
Coming off an important victory for his career, the Puerto Rican will carry a lot of momentum into his fight with Mayweather.
"Pretty Boy" knocked out Victor Ortiz in four rounds the last time he stepped into the ring, and like most things Mayweather does, this also attracted controversy.
Mayweather delivered the decisive blow while Ortiz was repeatedly attempting to apologize for an illegal head-butt earlier in the round. 
While nearly every boxing fan has a different opinion on how this fight will end, Mayweather undoubtedly proved that he was still at the top of his game at age 34.
Now 35, his defense is still better than any boxer in the world, and he is far faster than Cotto.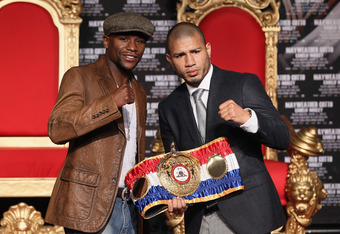 Jeff Gross/Getty Images
As Teddy Atlas of ESPN's Friday Night Fights said on air:
A lot of people trying to make an argument, a case, for Cotto, are going to say, "Well at 154, he's bigger, he's stronger." First of all, he was 140 pounds for most of his career, so how much bigger and stronger he is at 154, I'm not so sure. But, it's not going to make him any faster, and it's not going to make him harder to hit. He's still too easy to hit, too one dimensional, and he's just not fast enough to deal with Mayweather.
Atlas was spot-on with his analysis, and speed will be Mayweather's biggest weapon. He is crafty and fast enough to land a punch whenever he wants against Cotto.
While Mayweather has chosen to play defense and let the fight come to him in the past, he will be looking to make a statement in this bout.
He will be incarcerated for 90 days due to domestic abuse charges, which—even for a man with Mayweather's history—is a hit to his public image. 
In addition, Mayweather still needs leverage for negotiations to finally set up a fight with Pacquiao. A quick, decisive victory against Cotto would remind boxing fans everywhere how good "Pretty Boy" can be.
All this will be on Mayweather's mind as the fight nears, and it will lead to a clinical performance at the expense of Cotto. Mayweather will have no interest in letting this bout drag on, and he will end it very quickly.