2012 NFL Draft Results: Grading Each Baltimore Ravens Pick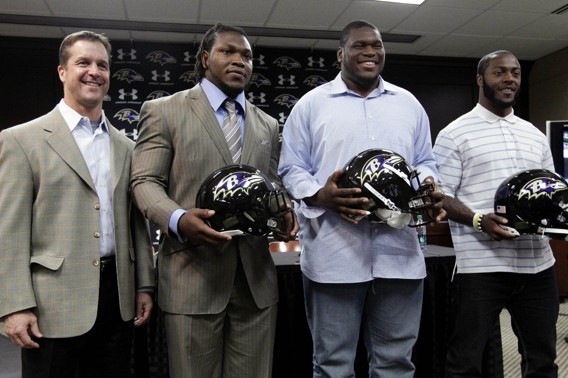 Heading into the draft, the Ravens' needs were pretty clear. If they weren't, Ozzie Newsome made them clear in various press conferences.
However, no matter how closely you follow the draft, it's impossible to predict.
I was able to correctly predict three players that the Ravens ended up drafting or signing as a UDFA, and I also mentioned a fourth as a probable option in my final mock draft—even though I got the rounds slightly off.
Now we're onto grades of the actual results, so let's see how the Ravens stacked up.
Begin Slideshow

»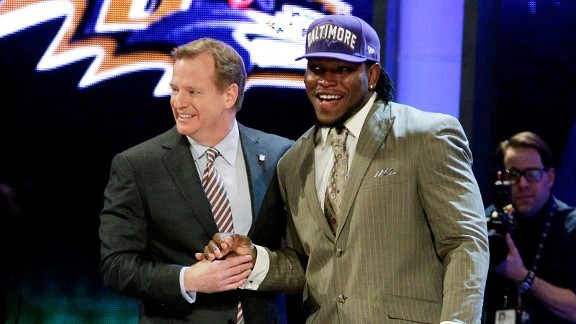 Grade: A
Fans were clamoring for another Alabama linebacker with the Ravens first-round draft pick—Dont'a Hightower—but trading down to gain an extra fourth-round pick and still nabbing Courtney Upshaw with the 35th overall pick is considered to be one of the biggest steals of the draft.
The Sam linebacker position was left open after the departure of Jarret Johnson in free agency, and Upshaw will compete immediately for a starting role with third-year veteran Paul Kruger.
At Alabama, Upshaw established himself primarily as a pass-rusher but also excelled in run support, which is an area that would have otherwise suffered next season with the loss of Jarret Johnson.
One area that remains a question mark in Upshaw's game is his pass coverage ability, which isn't something he was asked to do at Alabama.
Whether he can prove himself in coverage or not, right now I can't give the pick a grade lower than an "A," as the Ravens were able to pick up a a first-round talent in the second round and an additional fourth-round pick in the process.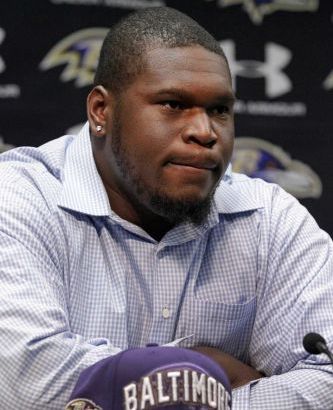 Grade: A-

Another great pick for Ozzie Newsome and company. Osemele was one of the better guard prospects in the draft and gives the Ravens some much needed depth and versatility along the offensive line.
He played left tackle at Iowa State, but he showed at the Senior Bowl that he may be better suited at guard against higher competition. However, Osemele's long arms and raw power may allow him to eventually move outside to right tackle, if necessary.
He will compete immediately for the open left guard position with second-year tackle Jah Reid as well as fellow rookie and fourth-round pick Gino Gradkowski. Right now, he's the favorite to win that competition, but training camp will ultimately be the deciding factor.
If Osemele can prove his effectiveness as a right tackle, it could also give Baltimore some leverage in future contract negotiations with former No. 1 pick Michael Oher. The Ravens may be a bit reluctant to give Oher the money he will likely be asking for when his rookie contract expires. His play has been a bit inconsistent, and he hasn't shown that he is the future at left tackle.
The only reason I can think of for grading this pick lower than an "A" would be passing up receivers like Mohamed Sanu and Rueben Randle, but offensive line took priority here.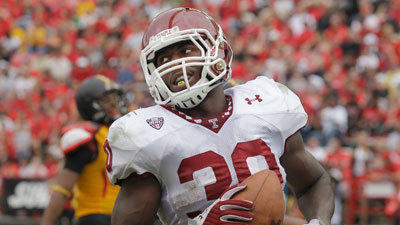 Grade: B+
There are plenty of people out there who believe that the Ravens' running back situation is just fine—with Ray Rice holding out and former seventh-round pick Anthony Allen as the backup— but I'm not one of them.
Trading up with the Falcons in the third round benefits the Ravens on three levels. 1.) It gives them leverage in the Ray Rice negotiations. 2.) It gives them a running back for the future, should a long term deal with Rice not get done. 3.) It gives them a guy that can fill Ricky Williams' shoes as the number two back next season.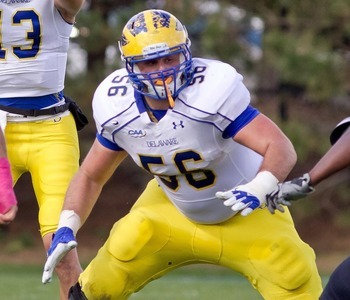 Grade: A
This is a pick that will have a lot of Ravens fan asking, "Who?" But don't get down on the guy just because he didn't play in a major conference.
Gino Gradkowski is a guy I predicted the Ravens to take in the sixth round in my final mock draft, and even though they ended up taking him in the fourth, I still really like the pick.
Gradkowski is a smart, athletic lineman with NFL blood lines that comes into a great situation. He'll learn behind Matt Birk as he's groomed to be the future starting center, and he definitely has the potential to win and to keep the job for years to come.
He comes with added value and versatility as he has played all three interior line positions throughout his collegiate career.
Grade: B+
With Tom Zbikowski and Haruki Nakamura departing in free agency, it was obvious that the Ravens would address the safety position at some point in the draft.
I think the late fourth round was the right time to do it, and drafting a guy that was already being mentored by Ed Reed makes all the sense in the world.
Thompson is a rangy safety that ran the fastest 40 time of any safety at the combine this March, and he has the potential to become an eventual starter for the organization. For the time being, he'll compete for a role on special teams and learn all he can from future Hall of Famer Ed Reed.
The Ravens may have been able to nab Thompson a little bit later—my only knock on this pick—but they saw a guy they wanted and took him.
You can't really fault them for that.
Grade: C+
The Ravens are pretty set at corner. They most likely drafted Jackson to compete with David Reed as the kick returner and to keep Lardarius Webb from having to return punts and risk injury.
Though he will likely focus on returning kicks, Jackson can still add some depth to a talented secondary, and he should push Chykie Brown and Corey Graham for the fourth and fifth corner spots on the depth chart.
I think the Ravens could have gotten more value out of this pick by picking a guy that could be groomed as a slot receiver—in addition to having return skills—but it looks like Jackson was the best returner on the board at this point.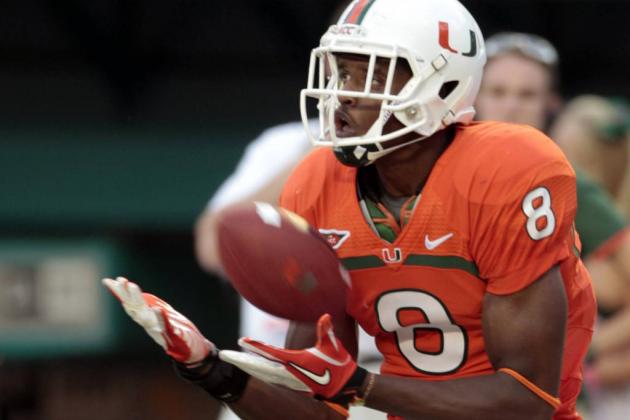 Grade: C+
It's hard to imagine getting a 6'5", 219-pound receiver that runs a 4.4 forty in the sixth round, but there was good reason for it.
Streeter is a bit of a one-year wonder, starting for only a year for the Hurricanes before declaring for the draft a year early.
He's very raw, but he does have a ton of upside. Even so, don't expect him to contribute much next season as he has a ways to go, but overall, it isn't a bad pick for the Ravens.
The main reason for the low grade here is the fact that the Ravens didn't pick up a receiver earlier, although they did get a guy who was projected by many as a third-round pick.
Grade: B
We knew the Ravens would add depth to the defensive line at some point in this draft, and the seventh round seemed like their best option—considering where the talent at the position was projected.
Tyson is a hardworking lineman that should make the final roster and provide depth nicely, which is much needed as both Cory Redding and Brandon McKinney signed with the Colts in free agency.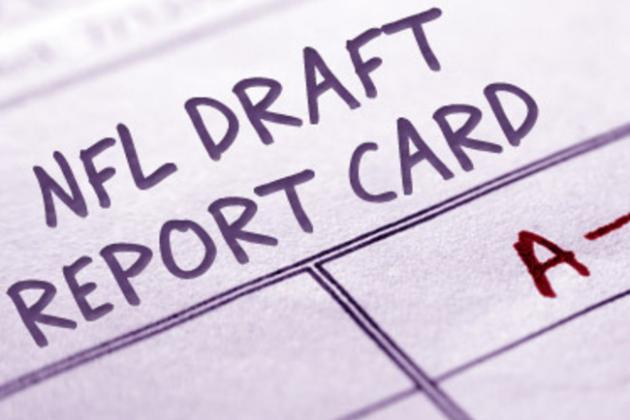 Final Grade: A-
It's not an exact science, but my final grade for the Ravens 2012 draft class is an A -.
If you averaged out the grades for each pick it would probably be more along the lines of a B or a B-, but considering some of the moves that Ozzie Newsome managed to make in order to get the players he wanted, I have to bump it up a bit.
The Ravens managed to get an extra draft pick and still get a potential future super star and defensive leader in Courtney Upshaw.
The move also gave them the flexibility to be able to move up and get Bernard Pierce—some insurance at running back—who will either give the Ravens some kind of leverage in the Ray Rice negotiations or provide a future back, assuming the two sides can't agree to terms.
The offensive line was bolstered with two versatile lineman that should develop into suitable starters at the very least, and they also picked up a potential future successor to Ed Reed in Christian Thompson.
The only thing they didn't do was get Joe Flacco a more NFL-ready wide receiver target, but Tommy Streeter certainly has the upside and potential to develop into a producer on the offense.