WWE Extreme Rules 2012: Is John Cena Really Injured or Is It Kayfabe?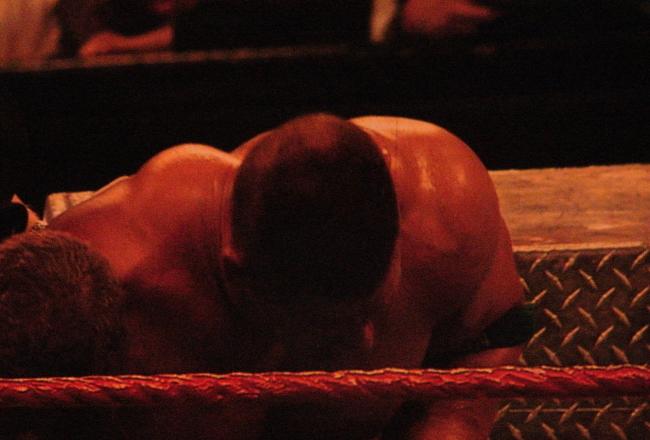 Cena after his brutal match with Lesnar (Photo by Chris Mueller)

At last night's Extreme Rules PPV, we witnessed John Cena overcome the man who made his return just four week ago and attacked him, Brock Lesnar.
The leader of the Cenation may not be the one who left in the best shape though as WWE is reporting that he was injured during the match.
John Cena's victory over Brock Lesnar came with a steep price, as WWE.com has learned the Cenation leader suffered an injured left arm in his Extreme Rules Match against the wrecking machine at Extreme Rules in Chicago.

Lesnar made it a point to punish Cena's arm in their hotly anticipated bout in Chicago's sold-out Allstate Arena, trapping his arm in a Kimura Lock halfway through their show-stopping clash. And while Cena – who also took an elbow in the opening moments of the match that split his head open – beat Lesnar by a narrow margin with an Attitude Adjustment on the steel steps, it appears he has ended up the worse for wear despite the victory.
Since this is coming from WWE, we have no way of knowing if it is a kayfabe or real injury, but my guess is it is a little bit of both.
Cena was clearly hurting after the match as he addressed the Chicago crowd. His voice was cracking from exhaustion and pain and his face could be read like a Shel Silverstein book.
I do not know if the injury to Cena's arm is a legit injury or just a reason to give the overworked face of the company some much needed time off.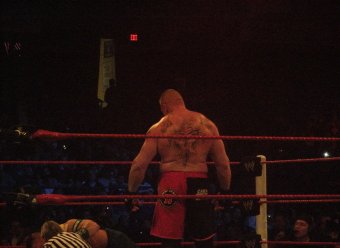 Photo by Chris Mueller
I do know one thing, the injury to Cena's head is very real. Just minutes into the match the ref had to break up the action to have a cut on Cena's head patched up.
The crowd went nuts because this was supposed to be an Extreme Rules match and here we were witnessing a match stoppage all for a little cut.
I think the reason the match was stopped is because the blood from Cena was not planned. It looked like Lesnar went overboard with some of his elbow shots and actually broke Cena open.
It is really hard to say whether or not Cena knew Lesnar would be as rough as he was, but if he didn't you have to give him credit for sticking with it.
We will see tonight on RAW whether or not Lesnar will be taking a few weeks off or if he will be right in the mix again after Extreme Rules.
What do you think? Is John Cena's injury legit or is it a reason to have him off TV for a bit?
This article is
What is the duplicate article?
Why is this article offensive?
Where is this article plagiarized from?
Why is this article poorly edited?