NBA Playoffs 2012: Blake Griffin's Immaturity Will Fuel Early Postseason Exit
April 30, 2012

Chris Trotman/Getty Images
For all of Blake Griffin's explosive dunks and big numbers, he's still an unproven postseason commodity who could hamper the Los Angeles Clippers as the organization attempts to establish itself as a Western Conference powerhouse.
Griffin managed to stay out of the way during Los Angeles' historic comeback against the Memphis Grizzlies on Sunday night. There's little question, however, that Griffin must become more of a leader if his team is to avoid any more 27-point deficits.
Outside of Chris Paul and Mo Williams, Griffin's supporting cast is still a bit rough around the edges.
That doesn't mean that guys like DeAndre Jordan and Nick Young won't help Los Angeles' cause. It just means they'd help it more if Griffin modeled the full range of effort that should be expected of this roster from top to bottom.
That kind of leadership will be all the more important going forward, even after a stunning come-from-behind surprise victory.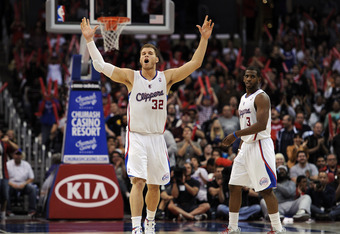 Harry How/Getty Images
The Clippers will be without one of their few veteran leaders after Caron Butler broke his left hand in the second half of Game 1 against Memphis. That's especially bad timing for a team already playing without 15-year veteran Chauncey Billups, whose season ended after just 20 games. 
Of course, it would be entirely unreasonable to expect Griffin to rise to the occasion in just his first postseason—even if that's exactly what the Clippers need.
He's an inconsistent defender who's been known to check out when a lob isn't being thrown his way. And while he's a dangerous scoring option, his postseason effectiveness will be affected by his limited range and raw post play.
Putting his skill set aside, the 23-year-old's biggest liability may be his lack on intensity and his complete inability to accept a referee's dictates. Any call he doesn't get is a bad one in Griffin's book.
That's a bit absurd coming from a guy whose signature dunk entails using an off-arm to club the defender in the face.
An entitlement mentality is the last thing this team needs, and even Chris Paul's professionalism might not be enough to set the right tone in this locker room.
And besides, this is no time for Griffin to take a backseat and play the role of a sidekick. On the contrary, he needs to become a leader sooner rather than later—a role he will earn with a little more maturity.