Bryce Harper: Bold Predictions for Phenom's First Stint in MLB
April 30, 2012

Stephen Dunn/Getty Images
If you haven't heard the name Bryce Harper yet, chances are you will hear it a lot now.
The Washington Nationals player—who we won't yet call a star—impressed greatly in his first outing in the bigs and in the process, created what could well be baseball's version of Jeremy Lin or Tim Tebow.
With a double, an RBI on a sacrifice fly and one incredible throw from left field, the No. 1 pick in the 2010 draft showed that maybe the hype surrounding his potential wasn't too far off base.
This is, after all the same Bryce Harper that found himself on the cover of Sports Illustrated at just 16 years of age with the tagline—Baseball's Chosen One.
As far as debut performances go, you couldn't have really asked for a better start, although I'm sure one out of the park would have been what he dreamed about that night.
Yet for all the hype and excitement about the potential superstar Harper could be, we must be careful not to get ahead of ourselves, as the reality is that he will likely be sent back to the minor league once Ryan Zimmerman returns from his shoulder injury.
Which, according to recent reports, appears to be sometime in mid-May.
That gives Harper around three to four weeks in his first stint in the big-time—ample opportunity to chalk up plenty of memorable moments for not only Nationals fans, but right across the league.
So as far as bold predictions go, here's three that look set to happen in the teenager's opening stint in Major League Baseball.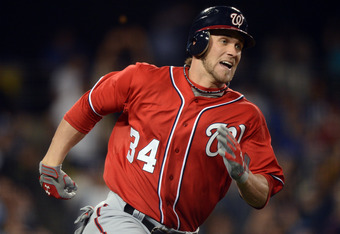 Harry How/Getty Images
1. Harper will hit double-figures for RBI.
Currently, Harper has just the single RBI to his name, but with potentially 10 to 20 games before Zimmerman returns, that number could well soar in to double figures.
Throughout the minor leagues, Harper has chalked up 58 RBI in 109 games, at an average of 0.53 per game. And whilst those numbers might not be magnificent, should he be able to emulate those numbers in the big time, the Nationals youngster will find himself in double figures.
If you're looking for a number, I say 12.
2. Harper's rocket arm will be on show for all to see.
Likely to field at left field, Harper will have great potential to showcase his strong arm and in his first stint in MLB, expect it to be on show every single night.
His minor league stats show that from 101 defensive chances, Harper has recorded 94 putouts—leaving him with a fielding percentage of .970 and a 1.92 range factor per game.
However, without looking at the numbers, Harper's strong arm was evident from his very first game.
In his first game, with the game on the line late in the seventh, Harper lets rip with an absolute rocket from left field. Due to Ramos' catching error, it didn't force an out, but it did give fans a taste of what can be expected from the left field over the next few weeks.
The rocket arm will be on show and will create, let's go with 12 outs.
It's a nice number.
3. Harper will bag a homer and will keep his helmet on.
After watching his first career Major League hit against the Los Angeles Dodgers, two things were evident—two things here; yes, I know, it's kind of cheating.
Firstly, Bryce Harper bagging himself a home run is not at all out of the equation.
The kid has a strong swing and a great sweet spot. His first hit found the base of the back wall on the full, so expecting him to take it a few yards further will happen in the next few weeks.
I'd say it happens in Game 12, just because the number is working so far.
Secondly, and definitely more importantly, is the helmet issue.
As you can see below, in his first ever run around the diamond, Harper appeared to flick off his helmet so that the world could see his odd effort at a mo-hawk.
Should he launch one over the wall, expect the helmet to stay on.
But don't expect the expectations to do so. They will have gone further than the hit itself as baseball's superstar of the future shows that the time, may well have finally come.
Tim Tebow, eat your heart out.
We've got Bryce Harper.
Read more articles by Dan here — or  Follow @dantalintyre