2013 NFL Mock Draft: Projecting Where Matt Barkley and More Top QBs Will Land
February 16, 2017
Jeff Gross/Getty Images
Don't let anybody fool: it literally is way too early to project the 2013 NFL draft. Teams just finished making selections for 2012 and are currently in the process of signing undrafted free agents and filling rosters for upcoming minicamps.
What teams look like now and what they'll look like by the end of the 2012 season are going to be different, but we can hypothesize which needs will still be needs come next April.
And we can take a look at which players to keep an eye on each Saturday this fall. One position with no shortage of talent in the 2013 class is quarterback, and we could see as many five quarterbacks come off the board in the first 32 picks.
Here's a look at the entire first round with emphasis on the signal-callers.
1. Jacksonville Jaguars: Matt Barkley, QB, USC
Barring a remarkable turnaround by Blaine Gabbert, the Jaguars will be in a world of hurt in Mike Mularkey's first season on the sideline.
If they happen to land the first pick, they'll have to face reality and won't be able to pass on a QB like Barkley.
Had he entered the draft this year, the competition between he an RGIII for the No. 2 spot would have been beyond fun.
Barkley doesn't have tremendous upside, but he's a guy who has everything you cannot coach and he's improved in each and every year he's been at USC.
Don't be surprised if he enters the NFL with a BCS National Championship and possibly even a Heisman Trophy to his name.
2. Indianapolis Colts: D.J. Fluker, OT, Alabama
Protecting Andrew Luck for the future will always be a top priority of the Colts. Landing Fluker would give them peace of mind for the first few years
3. Cleveland Browns: Robert Woods, WR, USC
There is a chance the Browns go after a quarterback early in 2013, but if they feel comfortable with what they have, their next best bet would be landing a superstar wide receiver. Woods is Barkley's top target and has tremendous upside.
4. Minnesota Vikings: Keenan Allen, WR, California
Minnesota has its quarterback, left tackle, running back and tight end, but it is still missing that true No. 1 receiver. Allen, who has great size at 6'3", 206 pounds, has legitimate No. 1 potential.
5. Miami Dolphins: Sam Montgomery, DE/OLB, LSU 
The Dolphins got their quarterback in Ryan Tannehill and now they can refocus on hitting the quarterbacks on opposing teams.
6. Arizona Cardinals: Tyler Bray, QB, Tennessee
Will the Cardinals want to continue taking the field with Kevin Kolb and John Skelton going back and forth? No, and by the end of the 2012 season, they'll be back in the hunt for a QB.
Tyler Bray has tremendous upside and continues to get better each and every season. The Vols haven't given him a ton of help in recent years, but playing in the SEC will ultimately be a huge boost for him going into the future.
If he puts it all together, he'll be a special player.
7. St. Louis Rams: Jake Matthews, OT, Texas A&M
The Rams could go in a few directions in 2012, but there is no denying that a franchise left tackle is a pick they'd make if given the opportunity.
8. Oakland Raiders: Tyler Wilson, QB, Arkansas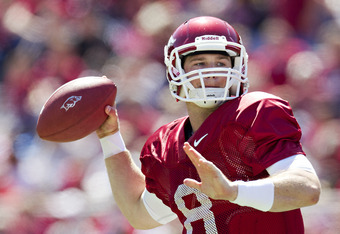 Wesley Hitt/Getty Images
Terrelle Pryor cannot be considered a legitimate quarterback option and Carson Palmer only has so many, if any, years left.
Wilson has been tremendously productive in short time as starter, but another year of dominance in the SEC will land him a top-10 grade in the 2013 draft.
The Raiders haven't had a ton of luck under center in the last decade, and new GM Reggie McKenzie is going to be out looking for a guy he can trust for the foreseeable future.
9. St. Louis Rams (via WASH): Marquess Wilson, WR, Washington State
With their second pick in the first round, courtesy of the Redskins, quarterback Sam Bradford gets himself a talented weapon in Wilson.
10. Seattle Seahawks: Jarvis Jones, DE/OLB, Georgia
Seattle will continue looking for ways to get after the quarterback in the NFC West, and Jones, who likely would've been a first-round pick if he went pro this year, gives the 'Hawks an immediate boost.
11. Tampa Bay Buccaneers: David Amerson, CB, N.C. State
The top cornerback of the 2013 class has a unique combination of size (6'2", 195 pounds), speed and ball skills (nation-leading 13 interceptions in 2011).
Corner continues to be a need in Tampa.
12. Buffalo Bills: Jelani Jenkins, OLB, Florida
Jenkins is a guy who'll come into the league and immediately make an impact. As the Bills continue to build their defense, he's a great fit for what they need and want.
13. Tennessee Titans: Tyrann Mathieu, CB, LSU
The Honey Badger is so much more than just a cornerback, and the Titans, who have needs in the secondary to begin with, will immediately benefit from the diminutive star's playmaking skills.
14. Carolina Panthers: Johnathan Hankins, DT, Ohio State
The Panthers could sneakily compete for a wild-card berth in 2012, but regardless of how they finish they'll continue to focus on defense first. Hankins is a mammoth talent with rare athleticism for his size (6'4", 317 pounds).
15. Denver Broncos: Marcus Lattimore, RB, South Carolina
Lattimore could contend for the Heisman Trophy if he can stay healthy this season, and the Broncos, who haven't had great luck at the running back spot, wouldn't pass on the opportunity to land him. He's a true workhorse back.
16. Kansas City Chiefs: Manti Te'o, ILB, Notre Dame
A likely top-20 pick this year if he'd declared, Te'o gives the Chiefs the linebacker they missed when Luke Kuechly came off the board two picks before their selection this year.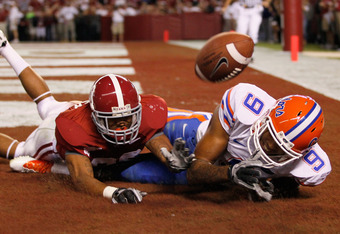 Kevin C. Cox/Getty Images
17. Chicago Bears: DeMarcus Milliner, CB, Alabama
Nick Saban knows how to turn out defensive back talent better than anybody else, and Milliner is just the next stud out of Tuscaloosa. Chicago can't go wrong adding a youthful secondary player.
18. Cincinnati Bengals: Barkevious Mingo, DE/OLB, LSU
Another of the talented SEC pass-rushers, Mingo gives the Bengals another force to use off the edge.
19. Philadelphia Eagles: Ricky Wagner, OT, Wisconsin
An Eagles' first-round pick is bound to be an offensive or defensive lineman regardless of need. Wagner's a solid pickup here.
20. Dallas Cowboys: Sharrif Floyd, DT, Florida
The Cowboys will be looking for a new 3-4 defensive end and Floyd's versatility helps fill that need immediately.
21. New York Jets: Michael Dyer, RB, Arkansas State
This is a reach here, but the Jets' need for a running back will be great next year and people won't soon forget the incredible talent Dyer has.
22. San Francisco 49ers: Barrett Jones, G/C, Alabama

Jim Harbaugh lands a guy he can start at multiple positions up front and also lands solid value for it too. If the 49ers are going to keep contending in the NFC West, they need to make sure they keep the trenches loaded.
23. New Orleans Saints: Landry Jones, QB, Oklahoma
The Saints know Drew Brees won't be around forever and Jones is simply too great a talent to pass up here.
The 6'4" signal-caller will likely go higher than this and we can expect a bounce-back season from him in 2012. He's accurate, efficient and has better-than-expected athleticism.
He has a chance to be really good.
24: San Diego Chargers: T.J. McDonald, S, USC
A super-talented safety who has great potential, McDonald will have a bounce-back year in 2012 and land himself back in first-round contention. The Chargers targeted a safety in the 2012 draft found good value with Brandon Taylor, but McDonald is a different level.
25. Atlanta Falcons: Alex Okafor, DE, Texas
Pass rushing continues to be a problem for the Falcons and Okafor, a 6'4", 260-pound tweener, has natural pass-rushing talent.
26. Baltimore Ravens: Chris Faulk, OT, LSU
Faulk is a ready-made replacement for Bryant McKinnie and gives the Ravens a battle-tested bookend opposite Michael Oher.
27. Green Bay Packers: Xavier Rhodes, CB, Florida State
Adding youthful talent in the secondary will be more pressing than ever after the 2012 season, and Rhodes' physicality is a great fit for this team.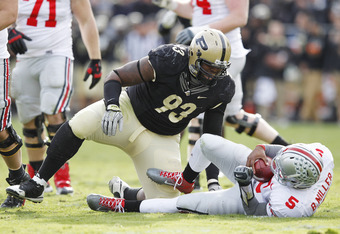 Joe Robbins/Getty Images
28. Pittsburgh Steelers: Kawann Short, DT, Purdue
The Steelers found the best value of the entire 2012 draft by selecting David DeCastro at No. 24 overall, and they can only hope to be so lucky in 2013.
Short is an immovable object on the interior and gives the Steelers another youthful building block in their aging 3-4 defense.
29. Detroit Lions: Xavier Nixon, OT, Florida State
The Lions were fortunate enough to land Riley Reiff in the first round of the 2012 draft and could get similarly lucky in 2013 with Nixon. The Seminole has great athleticism for the position and gives a potential star at tackle.
30. Houston Texans: C.J. Mosley, ILB, Alabama
One of the new leaders for Nick Saban's defense this year, C.J. Mosley will likely see his stock soar for good reason. If the Texans found a way to land the versatile tackling machine, they would be ecstatic.
31. New England Patriots: Khaled Holmes, G/C, USC
The Patriots steal Holmes right out from under the Giants in an effort to add some youth to their offensive line. His versatility and instincts will be greatly appreciated in New England.
32. New York Giants: Robert Lester, S, Alabama
Another of Saban's studs, Lester is a playmaking safety who will help the Giants and be a potential replacement for Antrel Rolle down the line.