WWE Extreme Rules 2012: Brock Lesnar Must Not Wrestle Again Until SummerSlam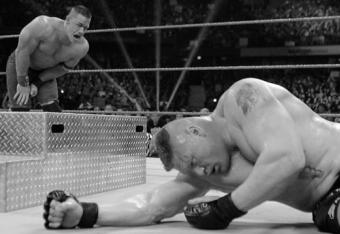 Courtesy of WWE.com

WWE backed itself into a small corner that it is going to have a hard time getting out of by booking Brock Lesnar to lose against John Cena at Extreme Rules.
Despite all the potential money the company lost because of that result, it can be gained back by keeping Lesnar off television until SummerSlam.
That match last night was a microcosm of the problems that have plagued WWE for years. Cena was put in a situation where he was supposed to lose. Everyone was expecting him to lose, and the story that was presented made it easy to justify having him lose the match.
But WWE went into full-blown panic mode because the thought of having Cena lose at two consecutive pay-per-views was too much to bear. What would WWE ever do if Cena went on a long losing streak?
Unfortunately, that was the best story for the company to tell. By having Lesnar go over Cena after that brutal match, a new monster for everyone in WWE to fear would have been established and we would have seen just how long it took for Cena to hit the breaking point.
Instead, Cena goes over and Lesnar looks like a slightly more vicious heel who couldn't get the job done against the superhero of WWE.
Plus, the fact that Cena might be leaving for a while makes this finish that much more baffling.
When Should Brock Lesnar Wrestle Again?
To get any momentum back after that illogical booking, WWE needs to make Lesnar a special attraction who is going to take over the company. That is, until Cena comes back to get his rematch with Lesnar, as he is the only one to have defeated him.
That is not likely to get WWE the money back they could have made if they had orchestrated the right finish for the match, but there is only one way to make this whole thing work.
WWE has to hope that fans forget the finish of this match, hold Lesnar off of pay-per-view until SummerSlam, when he will likely go up against Randy Orton, and make sure that Lesnar looks like the unstoppable monster he was supposed to be against Cena.
Lesnar's drawing power is not gone after this finish, but to the vast majority of the audience he is just another guy who has lost to Cena.
Check back for more on the WWE as it comes, and check out Bleacher Report's Wrestling Page to get your fill of the WWE. For more WWE talk, check out Ring Rust Radio for all of the hot topics you just can't miss.
This article is
What is the duplicate article?
Why is this article offensive?
Where is this article plagiarized from?
Why is this article poorly edited?