Many sports fans don't think the NBA matters until the playoffs. Well now it matters.
I'm watching the last of the Game 1's between Memphis and the LA Clippers. How strange is it for the word playoffs to be used anywhere near the LA Clippers? This is the Clippers' fifth playoff appearance and first since 2006. It's the franchise's eighth if you count the three made as the Buffalo Braves.
Wow, I'm wondering what percentage of you had never heard of the Buffalo Braves. I don't think I want to know.
Some quick thoughts on the first round series:
Eastern Conference
No. 1 Chicago Bulls vs. No. 8 Philadelphia 76ers
Yesterday's game was great for the Bulls for 46:50. It was that last 1:10 they had to watch out for. Reigning MVP Derrick Rose tore his ACL at that point and is out for the rest of the playoffs.
Devastating? Slightly.
I don't want to hear about Chicago's 18-9 record this season without Rose. Rip Hamilton might be coming on but can't make up for the loss of Rose. CJ Watson and John Lucas III? Not enough. The Bulls will get by the 76ers and maybe even Boston or Atlanta but that's as far as they go.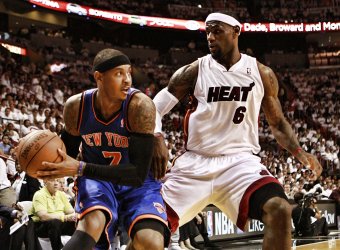 Marc Serota/Getty Images
No. 2 Miami Heat vs. No. 7 NY Knicks
Do you all appreciate the freak that LeBron is? I know all about the fourth quarter issues. I know all about the announcement. Let's focus on the court. He is unbelievable. The Heat got the chance to lose in the Finals last year because he took on Derrick Rose and shut him down. Yesterday he put the clamps on Carmelo Anthony.
Oh, and he scored 32. I don't know about six, seven or more championships but the first comes this year.
No. 3 Indiana Pacers vs. No. 6 Orlando Magic
Is there a more anonymous playoff team than the Pacers? Be honest, you had no idea that Frank Vogel coached them until I just said that. The anonymity is a shame because he's done a good job and they are a good team. The Magic stole Game 1 yesterday. Orlando was led by their version of Schwarzenegger and DeVito in "Twins" as Glenn "Big Baby" Davis had 16 points and 13 rebounds while little Jameer Nelson had 17 points and nine assists. The Pacers should win the series, but the Magic just might make this fun.
No. 4 Boston Celtics vs. No. 5 Atlanta Hawks
Old vs. young. It's time for the young Hawks to go as far as their potential says they should. Today they had the game in hand and let the Celtics make a game of it. Like the Bulls, the Celtics had a last minute issue with their star point guard that could greatly impact their playoff future.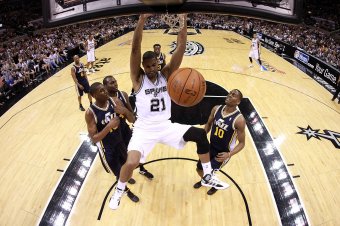 Ronald Martinez/Getty Images
Rajon Rondo was ejected from this game and could be facing a suspension for bumping official Mark Davis. Davis probably should have called a jump ball instead of a foul on Boston's Brandon Bass at that point, but there's still no excuse for a supposed team leader like Rondo to lose his cool. And he did. Rondo was probably still upset about Davis appearing to miss an out of bounds call a few seconds earlier. The younger, more athletic Hawks will advance.
Western Conference
No. 1 San Antonio Spurs vs. No. 8 Utah Jazz
There's no more underrated coach than the Spurs' Gregg Popovich in any league, any time. It's surprising they got the No. 1 seed since he only cares about the playoffs and did a masterful job of getting his old players rest down the stretch.
A rejuvenated Tim Duncan had 17 points and 11 rebounds while MVP candidate Tony Parker had 28 points and eight assists in the Game 1 win. Utah is nice, but the Spurs are headed to at least the Western Conference Finals.
No. 2 Oklahoma City Thunder vs. No. 7 Dallas Mavericks
It's the Thunder's time. Dallas lost too much from last year in Tyson Chandler and JJ Barea and Vince Carter, Shawn Marion and Jason Kidd just don't have enough left.
No. 3 LA Lakers vs. No. 6 Denver Nuggets
Do the Lakers still have Kobe? In this round, that's all I need to know. Andrew Bynum's triple double in Game 1 is a bad sign for the Nuggets. Coach Mike Brown is finally playing Jordan Hill and Devin Ebanks and it's paying off. Hill had 10 points and 10 rebounds today while Ebanks chipped in with 12 points and five rebounds. It's one round and out for Denver.
No. 4 Memphis Grizzlies vs.No. 5 LA Clippers
The Clippers have the flash but the Grizzlies have the substance. Last year's success in the playoffs was no fluke for Memphis. They are really good. Who would have thought Marc would be the better Gasol? Can they beat the Spurs in the second round? Finding out will be great.
Predictions beyond the first round? Nah, that's silly. Let's enjoy the journey together.