10 Strangest Occurrences in Football This Year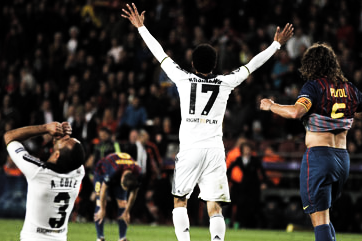 (AP Photo/Felice Calabro)
Sometimes in football, you witness some strange things, which can be funny or just weird.
Last year, Maranhão sprained his ankle doing some kind of trick that involved kicking air.
Four months into 2012 and there have been plenty of peculiar events in world football.
Here are the 10 strangest occurrences in football this year.
Begin Slideshow

»
@AnfieldCat has accumulated 68,484 followers (and counting) which demonstrates how popular animals invading football fields can become.
It still doesn't trump a dog urinating on Jimmy Greaves during the 1962 FIFA World Cup quarter-finals.
Losing 4-0 to Siena, the Genoa ultras started throwing flares which halted proceedings.
In order to allow the game to continue, some influential ultras suggested the idea of the Genoa players to strip down and hand over their shirts because they weren't worthy of playing for Genoa.
Football supporters have come to expect goalgasms from Ray Hudson but Gary Neville?
I was jumping up and down like a lunatic when Fernando Torres scored that I didn't even pay attention to Neville's commentary.
Supposedly Neville had a sore throat.
The Guardian linked its readers to Jack van Gelder's timeless commentary of Dennis Bergkamp's winning goal against Argentina during the 1998 FIFA World Cup quarter-final.
Make sure you read anbesaw's YouTube comment because that's exactly what I thought van Gelder was saying.
At least Sergio Busquets doesn't hurt his fellow professionals, let alone kicking his own teammate.
I thought it was karma when Pepe conceded the crucial penalty during the UEFA Champions League semi-final second leg against Bayern Munich.
To protest El Clásico forcing the Sevilla vs. Levante game to start at 10:30 pm, the Sevilla supporters hurled tennis balls onto the field.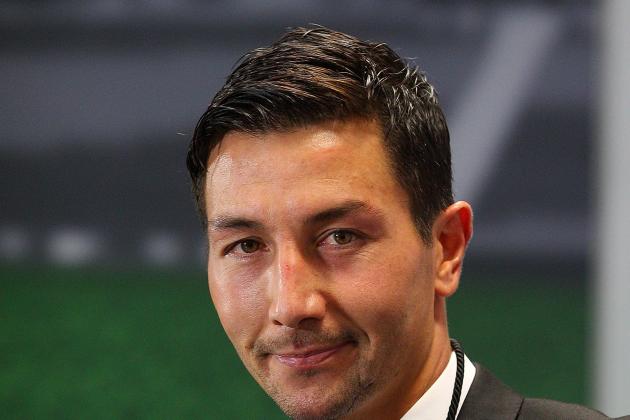 Chris Hyde/Getty Images

Thomas Broich, a wonderfully gifted playmaker, was wrongly awarded the Joe Marston Medal for the A-League grand final's best player.
To atone for their mistake, A-League officials awkwardly asked Broich for the medal back and then awarded Jacob Burns (pictured above) the medal.
It capped off an PR disaster for the A-League, with many believing referee Jarred Gillett had made the wrong call to award Brisbane Roar a 97th minute penalty (which was dispatched to give the Roar the win).
Clearly Cesc Fàbregas gained inspiration from Anderson distracting Wojciech Szczęsny during Arsenal's 8-2 thrashing.
A few years ago, Didier Drogba revealed José Mourinho's yellow card program:
Mourinho calculated everything—he looked at the match programme and analysed the cards each of his lads had received. He sometimes whispered to me,'It would be good for you to get a yellow card today. You would miss such-and-such a match. I will give you four free days'.
Evidently Roberto Di Matteo doesn't have that kind of program.
I felt so sorry for Branislav Ivanović.
talkSPORT did a hilarious parody of Geoff Shreeves' interview.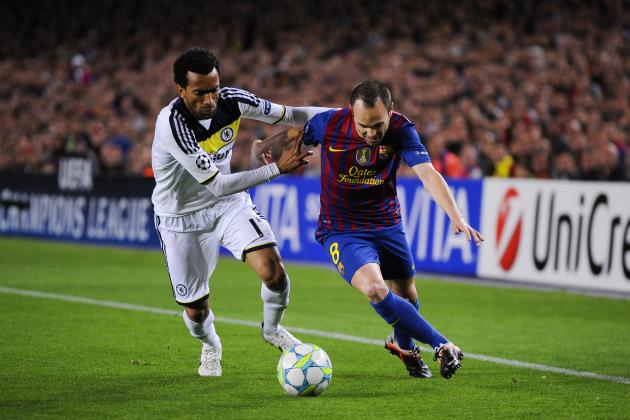 David Ramos/Getty Images

José Bosingwa is one of the worst right-backs I've ever seen but he plays better at centre-back, which is so weird.
He has low football IQ and horrific positional awareness—two traits crucial to a centre-back's success.
As a centre-back, Bosingwa didn't make any mistakes in the second leg against Barcelona and had a tidy game against Queens Park Rangers.
Talk about a freak injury, referee Daniele Doveri dislocated his shoulder signalling for a free kick during Napoli's 2-0 win over Novara.

Please read Replacements for Emmanuel Adebayor.