Manchester City vs. Manchester United: Just Another MAN-IC Monday
April 30, 2012

Alex Livesey/Getty Images
Cup final.
Yet another well-worn football cliche that really makes no sense.
Take Arsenal, for example. Every league game since the turn of the year was rated as a "cup final" in Arsenal's quest for fourth place. Well, hello! They've lost five and drawn three games since then (that's 21 points dropped) and find themselves fairly comfortably in third place. Explain that.
But today, I will agree. Today's clash between Manchester City and Manchester United at the Etihad Stadium will indeed be a cup final. This is as close to winner-take-all—in United's case, a draw would be almost as good as a win—as we could possibly get.
City find themselves three points behind United in the latest Premier League table, with a superior goal difference. Should the home team win tonight, they will be equal to United on points and lead their rivals on goal difference by seven or more goals. And if they match or better United's results in their last two games, the title will be theirs.
But a United win or draw tonight would all but deliver the trophy at Old Trafford. It is highly unlikely that they will get anything less than six points at home against Swansea and away at Sunderland in their last two games. Both those sides have ensured their status in the Premier League for another year, and have nothing other than pride to play for.
City, on the other hand, have a tricky penultimate game, away at Newcastle, and another potential banana skin at home against QPR, who will most likely still be in a relegation dogfight when the last day of the season comes around.
The mind games have been at a premium, with Roberto Mancini steadfastly maintaining that United have one hand on the title. That's obviously not the message he's been propagating on the training ground, because his team have looked revitalized of late. Since they were outplayed by Arsenal, City have won three on the trot, scoring 12 and conceding just one goal.
During the same period, United appear to have lost their way a bit, dropping five unexpected points in a 0-1 away loss at Wigan and a 4-4 home draw against Everton, in spite of leading 4-2 with eight minutes to go.
Come Monday night, the momentum is most definitely with City. They appear to have been revitalized by erstwhile bad boy—and United old boy—Carlos Tevez. He has struck up a great rapport with his countryman Sergio Aguero. They have started City's last three games as the strike pairing and have scored a combined nine goals in those games.
City have by far the stronger team on paper, and a squad full of fit players to choose from. They're playing at home. They're playing with the memory of "6-1" still lingering over both teams, however much everyone may deny it.
The game, and the title, is theirs to win.
Or is it?
Because United, who have what I believe is their worst squad in almost 20 years, have one man who no one else can or will have: Sir Alex Ferguson.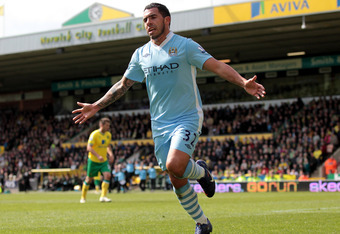 Matthew Lewis/Getty Images
As an Arsenal fan, there have been numerous times over the years when I have cursed him under my breath. His verbal battles with Arsene Wenger would get under my skin.
But one game last season changed it all: United vs. Arsenal in the FA Cup. United started the game with seven (yes, seven) defenders on the pitch—the back four, the twins playing on the wings and John O'Shea as holding midfielder. Darron Gibson played alongside him in midfield and Rooney and Chicharito were up front.
I was surprised with Sir Alex's team selection, but 90 minutes later, I was speechless. And reformed. I could see that the man was worth his weight in diamonds. Arsenal bossed the game, but Sir Alex's team got the result. Yup, it finished 2-0 to United.
He made those 11 players believe that they would beat Arsenal even though some of them were playing out of position. And even though the result left me gutted, I began to respect Sir Alex for something more than all the trophies he had won.
And coming back to tonight, it is the magic of that man that will deliver for United the result that they deserve. He will make a seemingly bizarre selection—like starting with Ji Sung Park or Dimitar Berbatov, or with both Paul Scholes and Ryan Giggs—or an inspired substitution, or play in an unusual formation. 
Sir Alex knows that this year's Premier League title is more important than any he's won. More important because it can shift the balance of power—in Manchester, England and Europe—for good. It can help City build up a head of steam that will turn them into an irresistible force. One that he—and everyone else—will be powerless to halt.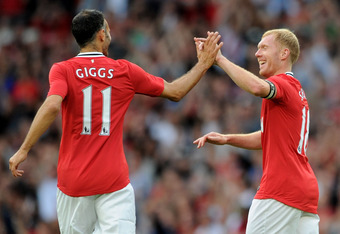 Chris Brunskill/Getty Images
So he will pull out all stops tonight.
And you can be sure that irrespective of whatever else he may do behind the scenes, he will send his 11 men out onto the pitch at the Etihad Stadium with one thought reverberating in their ears and minds. The thought that United will find a way.
To get a result tonight. 
And to deliver "number 20" in two weeks' time.