NFL Draft 2012: 10 Young Stars Who Will Immediately Improve Their Teams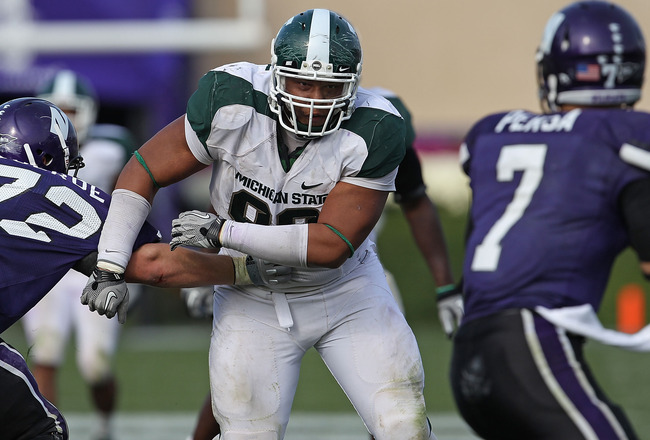 Jonathan Daniel/Getty Images
Every team is hoping to draft impact players, but while that impact is often only revealed two or three seasons in, there are 10 players in this draft who can immediately improve their teams.
There can be little doubt that the Cleveland Browns will be better if Trent Richardson quickly proves himself an every-down back at the pro level. Michael Floyd will at the very least create more space for Larry Fitzgerald, and that's no bad thing for the Arizona Cardinals' offense.
Defensively, Jerel Worthy can give the Green Bay Packers the interior rusher they badly missed in 2011, following the departure of Cullen Jenkins. His presence immediately makes the Packers defense better.
Here are the 10 players who will make an impact from day one and immediately improve their respective teams.
1. Andre Branch, DE, Jacksonville Jaguars
The Jacksonville Jaguars may have raised a few eyebrows with some of their draft selections, specifically opting for a punter in Round 3. However, they certainly got things right with their second-round selection of Clemson defensive end Andre Branch.
Jacksonville's defense has needed an explosive edge-rusher, in order to turn an already stout group into a potentially elite unit. Branch can be that player from day one.
The former Clemson star possesses arguably the best closing speed and most explosive first-step quickness of any pass-rusher taken in this draft. He has the natural bend and lean pro teams covet out on the edge.
Joining a defensive line that already includes Jeremy Mincey and Tyson Alualu will only help the player who recorded 9.5 sacks in 2011 to have an immediate impact.
2. Alshon Jeffery, WR, Chicago Bears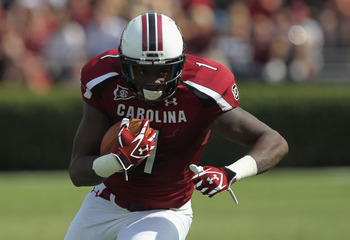 Streeter Lecka/Getty Images
Pairing Alshon Jeffery with Brandon Marshall on the outside will make a night-and-day difference to the Chicago Bears passing attack this season. With Marshall drawing multiple coverage, Jeffery has a legitimate chance to post big numbers during his rookie year.
The 6'4", 230-pound former Gamecocks star will partner with the 6'4", 230-pound Marshall, to give Jay Cutler two physical playmaking wideouts. Concerns about Jeffery's weight dropped him to the second round, but there is no doubt he has genuine big-play capability.
If the Bears can resolve Matt Forte's contract situation, they will suddenly find themselves with three dynamic weapons at the skill positions.
3. Michael Floyd, WR, Arizona Cardinals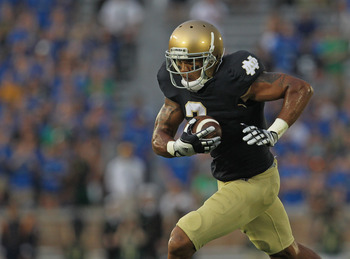 Jonathan Daniel/Getty Images
Michael Floyd was the pick of a strong draft class for the Arizona Cardinals. The ex-Notre Dame flanker has the size, tenacity and instincts over the middle to provide the ideal complement to the great Larry Fitzgerald.
The 6'3", 220-pounder doesn't shy from making the tough catch in traffic and is a useful weapon for the red zone. Playing alongside the NFL's best receiver gives Floyd a great chance to make a big early impact.
The Cardinals' defense showed tremendous improvement towards the end of the 2011 season. Floyd can do the same for the offense and make Ken Whisenhunt's team a genuine pick for the NFC West.
4. Whitney Mercilus, OLB, Houston Texans
Prior to the draft this author was concerned about the idea of Whitney Mercilus going to a 3-4 team. However, given the way Wade Phillips runs the scheme, making it more of a 5-2 front, Mercilus found a perfect landing spot with the Houston Texans.
The lengthy defensive end is a dream weapon for Phillips. Mercilus possesses the long arms, off-the-snap speed and athletic range to wreak havoc coming off the edge.
The Texans can never have enough pass-rushers for the Phillips defense. Even though the unit was stellar in 2011, the sack numbers came from the combined efforts of a core group.
Adding a player who posted 22.5 tackles for loss, 16 sacks and nine forced fumbles at Illinois, will force offenses to have to slide their protection over to one spot. This can create mismatches all over the field for the Texans.
Playing for a coordinator as aggressive as Phillips gives Mercilus a genuine chance to post similar gaudy numbers in his first pro season. His selection may have surprised some who expected Houston to find a wide receiver, but this was arguably the best pick of the first round.
5. Trent Richardson, RB, Cleveland Browns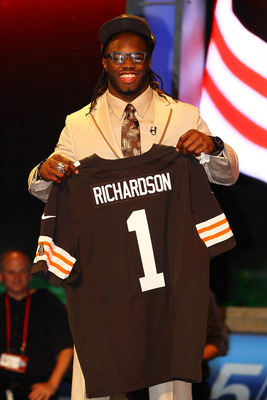 Al Bello/Getty Images
The Cleveland Browns' decision to select Brandon Weeden and ignore receiver in the early rounds may have raised the ire of some fans. However, the Browns faithful has to be excited by the selection of Trent Richardson.
The former Crimson Tide standout gives the Cleveland running game a dynamic workhorse, capable of breaking a game open at any time. Richardson offers an ideal combination of power, elusiveness and speed that will make the Browns offense better from day one.
Whoever is under center for the Browns this season can only benefit from the playmaking ability Richardsdon brings to the ground attack.
6. Morris Claiborne, CB, Dallas Cowboys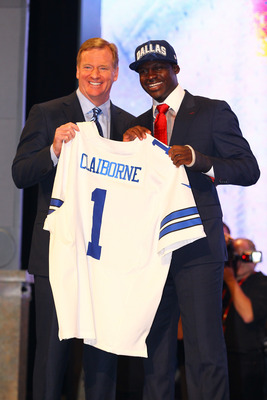 Al Bello/Getty Images
One of the best draft day moves saw the Dallas Cowboys trade up with the St. Louis Rams to select cornerback Morris Claiborne. Despite suggestions they may draft a defensive lineman, the Cowboys' biggest need was cornerback.
Claiborne is a tall, angular defensive back with a knack for getting his hands on the ball. Pairing his penchant for turnovers with the pressure threat from DeMarcus Ware is an ideal match and will see Claiborne grab his share of interceptions as a rookie.
The 5'11", 188-pounder gives Rob Ryan a blanket cover man, comfortable in single coverage. With Claiborne and Brandon Carr on the outside, the Cowboys need have no fear about the number of times they send the blitz.
7. Trumaine Johnson, CB, St. Louis Rams
Trumaine Johnson was an absolute steal for the St. Louis Rams in the third round. As much as the Rams needed help at defensive tackle and wide receiver, they also had a major need at cornerback.
Along with Janoris Jenkins, Johnson more than answers that need. He is a natural press corner with the size and aggression to rough up receivers at the line of scrimmage.
Playing against perceived weak competition and some disciplinary issues, including an arrest on a charge of disorderly conduct, dropped Johnson to the third round. However, if Johnson can stay motivated and out of trouble, he has the talent to make the field early.
If Jeff Fisher and Dave McGinnis choose to run a 46-style, pressure defense in St. Louis, Johnson has the one-on-one coverage skills to make it work.
8. Dwayne Allen, TE, Indianapolis Colts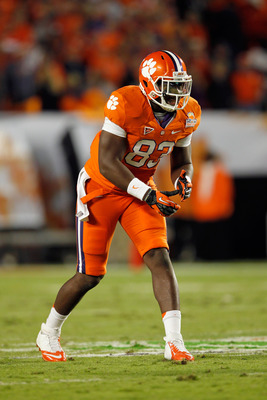 Streeter Lecka/Getty Images
Coby Fleener was an obvious match with Andrew Luck in the second round, but third-round choice Dwayne Allen was the smarter pick. Allen is more of a classic tight end than Fleener, and his impact for the Colts offense will be more significant.
At 6'3" and 255 pounds, Allen is a better technically sound and stout blocker than Fleener, which will aid the Colts' running game. Most importantly, Allen is a crafty underneath receiver who will provide Luck with a reliable outlet.
With Fleener able to stretch the seams and Reggie Wayne working the outside, there will be plenty of room for Allen to make an impact on screens and across the middle. He will make Luck's rookie transition that much easier.
9. Jerel Worthy, DT, Green Bay Packers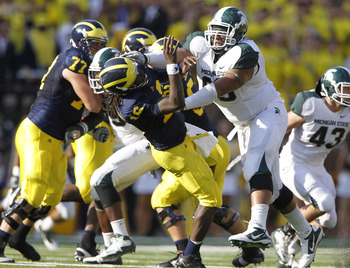 Leon Halip/Getty Images
Jerel Worthy was this author's favourite defensive tackle in this draft class and he was an outstanding choice for Dom Capers' defensive schemes. The real reason for the Packers' poor 2011 pass defense was the absence of an interior rusher to complement Clay Matthews and make Capers' multiple fronts work.
Worthy gives the defensive line a true playmaker who excels at shooting through the gaps and attacking the backfield. Penetration is the key to Worthy's game, and with him applying constant pressure to the pocket, quarterbacks will be forced to move to the outside and into the waiting arms of Matthews.
Capers only aligns in a 3-4 a fraction of the time and usually deploys the Packers in one- and two-defensive lineman fronts. Worthy joins B.J. Raji to give the Packers a dynamic tandem on the inside that will see Green Bay's defense back to its best this season.
10. Lamar Miller, RB, Miami Dolphins
Lamar Miller has true sleeper value as a fourth-round pick for the Miami Dolphins. The 5'11", 212-pounder gives an anemic Dolphins offense a multi-purpose threat.
He is blessed with legitimate game-changing speed and is a danger to stretch the field at any time. He is a direct runner, with the sharp quickness to avoid tacklers at close quarters.
Miller has big-play potential as a runner and receiver and gives Miami a nice weapon alongside Reggie Bush and Daniel Thomas. With this backfield trio to rely on, the Dolphins can feel comfortable about starting Ryan Tannehill from day one.
Keep Reading