2012 NFL Draft Grades: Why San Francisco 49ers Passed with Flying Colors
April 30, 2012

Jonathan Daniel/Getty Images
Although some of the San Francisco 49ers draft choices had analysts scratching their heads, the NFC West Champions were able to add depth, while grabbing playmakers like A.J. Jenkins and LaMichael James.
The 49ers came into the 2012 NFL Draft with few needs and a focus on depth and talent. This allowed them to draft to fit their system, rather than grabbing a top prospect to fill a void.
Although the 49ers drafting a wide receiver in the first round didn't turn any heads, grabbing Jenkins with the 30th pick had many Googling the former Illinois standout, as fast as they could.
What they found is this: The kid is fast, real fast.
Like 4.39 fast (via Top end sports).
He also caught 90 balls for 1276 yards and eight touchdowns, despite playing for a team which ranked 91st in total offense (via ESPN).

Jenkins was the seventh-ranked receiver according to ESPN Stats and Info, just behind Alshon Jeffery and Ruben Randle.
The speedy wideout should be a good fit for the 49ers and will allow the team to spread the field with the deep ball.
Although the 6'0" Jenkins may not compare physically to Stephen Hill or Jeffery, there's a reason why Trent Baalke and Jim Harbaugh have such confidence in this guy.
Yeah, I'm happy about all of them, I really am. Starting with [WR] A.J. Jenkins. Just great tape, great young man. I defy anybody to look at that tape and tell me that there's something wrong with it, that there's something that he doesn't do well.
With the 49ers struggling to get production from their receivers last year, Jenkins should be a welcome addition with the likes of Randy Moss and Mario Manningham. 
Jenkins also has some experience returning kicks in college, so even if he doesn't get early playing time, he may help out the return game.
As if the first round wasn't a surprise already, the 49ers second-round pick focused on another explosive offensive player.
This time the name was more recognizable—LaMichael James.
James was an absolute stud at the University of Oregon, rushing for 5,092 yards in his three-year career.
In 2011, he missed two games and was still able to rush for over 1,800 yards and 18 touchdowns.
The former Heisman Trophy finalist is a game changer on offense and has the ability to score every time he touches the ball, something the 49ers lacked last year.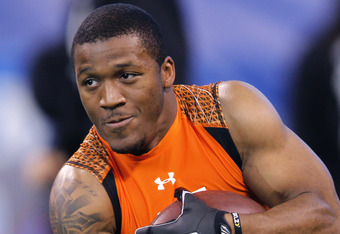 Joe Robbins/Getty Images
There are parallels between him and Darren Sproles with his ability to create in the open field.
The biggest question, though: How will James fit into the 49ers game plan with Frank Gore, Kendall Hunter and now Brandon Jacobs looking for carries?
The 49ers will likely try to get him out on the edge and in open space, so he can make the big plays they so desperately needed last year. 
After trading picks in the third round, the 49ers addressed their guard needs in the fourth round by drafting Joe Looney. 
The Wake Forest lineman missed the scouting combine, but has been cleared for activity after injuring his ankle.
Harbaugh thinks he could be a starter. Via San Francisco Chronicle:
As impressive an interview as we had at the combine, 49ers coach Jim Harbaugh said of Looney, emphasizing the lineman's "oomph" and "pizazz" as reasons. We believe he will be a starter in this league for us. 
The 49ers grabbed their first defensive player in the fifth round with Darius Fleming, linebacker from Notre Dame. Fleming will add depth to an already strong linebacking core.
Fleming may contribute to 49ers special teams unit, but probably won't see immediate playing time.
During the sixth round they drafted twice, snatching up Michigan State free-safely Trent Robinson, and Western Oregon Center Jason Slowey.
Both picks should fill backup roles with Slowey having the opportunity to also fill in at guard. 
The 49ers steal of the draft was Cam Johnson in the seventh round. Johnson was ranked as the 97th overall prospect via ESPN and No. 12 at the defensive end position.
Although listed as a DE, Johnson may stand up and rush as a linebacker like Aldon Smith. 
Either way, Johnson has a lot of talent and his ability to attack the QB is something 49ers should be happy and familiar with. 
Even though they added depth on both the offensive and defensive sides of the ball, one glaring omission is at the cornerback position.  The 49ers could have used a bit of depth in the secondary, even though they saw their best player Carlos Rogers return.
Overall, Harbaugh and Baalke's second draft was a success once again, with the team drafting explosive athletes to boost their offense. 
The 49ers also tackled their offensive line issues, even though it wasn't until the fourth and sixth round.
With many of the draft picks likely backing up, the immediate impact of this class may not be as clear as it was in 2011.
No matter how anyone feels about first two picks, the 49ers have improved their team through free agency moves and the draft.