FA Cup Final Odds Preview: Chelsea FC vs. Liverpool FC
April 30, 2012

Jamie McDonald/Getty Images
The 2012 FA Cup Final is coming up this Saturday, with Chelsea and Liverpool each looking to pick up the silverware. Let's take a look at the odds on the match and how the two teams got to the final: 
What: 131st FA Cup Finals
Who: Chelsea FC vs. Liverpool FC
When: Saturday, May 5, 2012
Where: Wembley Stadium, London, England
Time: 17:15 p.m. BST/12:15 p.m. ET/9:15 a.m. PT
Television: Fox Soccer Channel  (US)
Referee: Phil Dowd (Staffordshire)
FA Cup Final Wins: Liverpool 7 (last: 2006); Chelsea 6 (last: 2010)

LVH SuperBook Odds (To Win Outright): Chelsea -145, Liverpool +125
LVH SuperBook Odds (90 Minutes + Injury Time Result): Chelsea Pick -135, Liverpool Pick +115
Total: Over 2.5 +115, Under 2.5 -135
LVH SuperBook Odds (3-way Result): Chelsea +140, Liverpool +200, Draw +225
Just making and possibly winning the FA Cup Final six weeks ago looked like Chelsea's one real chance to save face on what had been a less-than-average year at Stamford Bridge.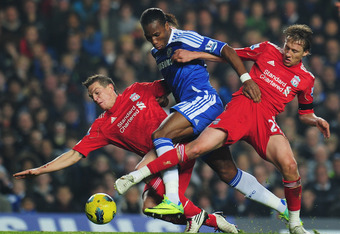 Shaun Botterill/Getty Images
Now, just a single point behind both fourth-place Tottenham Hotspur and fifth-place Newcastle United heading into Wednesday's showdown with the Magpies in west London (FSC, 2:30 p.m. ET/11:30 a.m. PT), the Blues now have two chances to qualify for the 2012-13 UEFA Champions League.
Either finishing fourth in English Premier League or beating Bayern Munich in UEFA Finals on May 19 will do.
That's not to say Chelsea wouldn't love to have it all: the FA Cup Final win, the fourth-place finish in the EPL and the UEFA Champions League finals victory.
Behind interim manager Roberto Di Matteo, who many are saying has earned the chance to land the job permanently at Stamford Bridge next season, Chelsea has gone a mind-bending 11-4-1 in his 16 games at the helm, outscoring the opposition 37-14 in the process.
So Saturday's showdown with Liverpool at Wembley Stadium is still big for the Blues, but suddenly not as important as a win over Newcastle mid-week, and certainly not as crucial as a win over Bayern Munich next month with all the future financial implications.
But the way Chelsea is playing and the way its fans are now feeling, winning all three of these matches certainly isn't out of the realm of possibility. A "non-treble" treble, you might say.
Carling Cup champions Liverpool made the FA Cup Final by ousting Everton, 2-1, on a last-minute goal by Andy Carroll in the semifinals, while the Blues crushed the Spurs, 5-1, in a game that had its share of controversy at Wembley.
What's strange about this date on the calendar is that Chelsea and Liverpool were scheduled to meet in EPL play, but now their league match has been rescheduled for three days later on Tuesday, May 8.
The same thing happened last year when Manchester City and Stoke City were scheduled to play an EPL match on the same day as the FA Cup Final, which was won by the Citizens, 1-0, on a second half goal by midfielder Yaya Touré.
Chelsea got to this chance at some silverware by outscoring opponents 18-3 (with three clean sheets) in its six FA Cup matches, while Liverpool outscored its opposition 17-5, allowing one goal in each of its five games.
Reds manager Kenny Daiglish will be without the services of the injured Charlie Adam, who tore knee ligaments at Queens Park Rangers in March. But with captain Steven Gerrard cleared to play and guys like Carroll, Dirk Kuyt, Glenn Johnson, Craig Bellamy, goalkeeper Pepe Reina and Luis Suárez—who is coming off a hat trick Sunday against Norwich—Liverpool certainly has enough talent to win this match.
Another guy coming off a hat trick Sunday (vs. QPR) is Chelsea's much-maligned Fernando Torres, who just may get the start from Di Matteo along with Didier Drogba in the Blues frontline.
Chelsea gets defender Branislav Ivanovic back for the match, but the availability of the injured David Luiz is still a big question. But no doubt guys like Juan Mata, Frank Lampard, Ashley Cole, goalkeeper Petr Cech and captain John Terry will be in Chelsea's starting 11 for this huge match for both sides.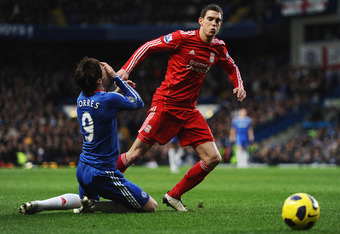 Laurence Griffiths/Getty Images
So it's a big Blues vs. Reds week in England this week, with the Red Devils and the Sky Blues meeting in the Manchester derby Monday (ESPN, 2:30 p.m. ET/11:30 a.m. PT) in the EPL game of the season, and the Reds and the Blues meeting on Saturday in Londontown for all the FA Cup marbles.
Who will win Saturday? Well, that will likely come down to a second-half goal and I just can't go against Chelsea with the roll they've been on lately and the fact they have lost just one match since Di Matteo has replaced André Villas-Boas.
And I wouldn't be the least bit surprised if former Liverpool star Torres ended up getting the game-winner in the last 20 minutes of the match.
PREDICTION: Chelsea 2 Liverpool 1
BETS: Chelsea -145  (to win outright); over 2.5 +115

Follow me on Twitter: @KevinStott11