New England Patriots 2012 NFL Draft Report Card: Grades for Every Pick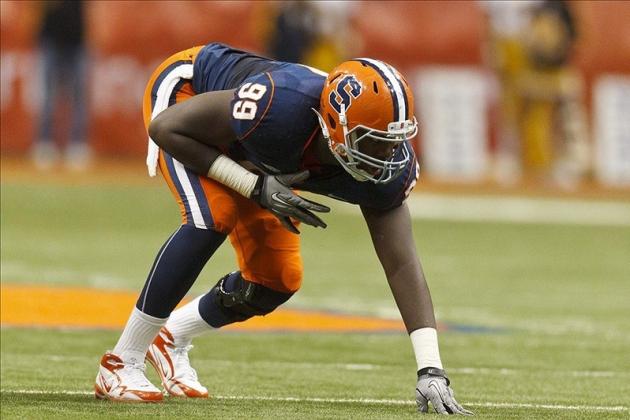 There are certainly many different ways in which to grade and evaluate a draft class. While we can only speculate on the potential and ceiling of the New England Patriots incoming 2012 rookie class, it's not too difficult to assign grades to the overall value of the selections.
Head coach and team GM Bill Belichick executes his draft strategy in this fashion so I'll do the same with the seven youngsters heading to Foxboro.
Begin Slideshow

»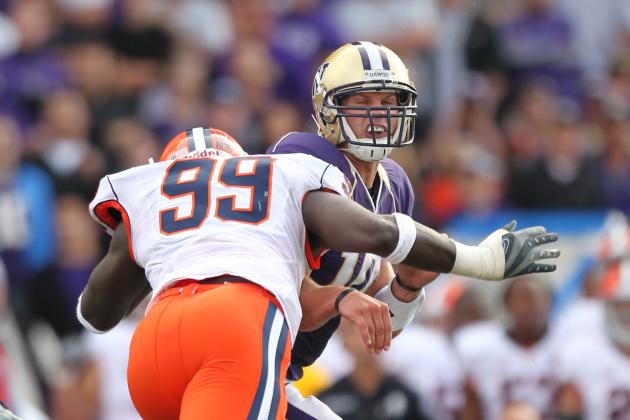 Otto Greule Jr/Getty Images

The overall value of this selection is quite hard to predict once you consider all the pieces involved. It was a 2011 draft day trade with the New Orleans Saints that allowed the Patriots to possess two first rounders this season.
New England nabbed the Saints first round selection used on Jones along with a 2011 second round pick (Shane Vereen) last year. New Orleans did the wheeling and dealing to grab Mark Ingram, but the Patriots turned one pick into two really intriguing prospects.
Jones may be a near guarantee to step into Mark Anderson's vacant sub rushing role while he adapts to the new climate. He's only 22, coming out as a Junior and should provide an imposing presence on and behind the line in New England for many years to come.
He could need developmental time, but with the huge upside Jones possesses that shouldn't be much of a problem. Fans in Patriot Nation are probably just happy to finally see a player of this mold on the roster after a draft.
Grade: B+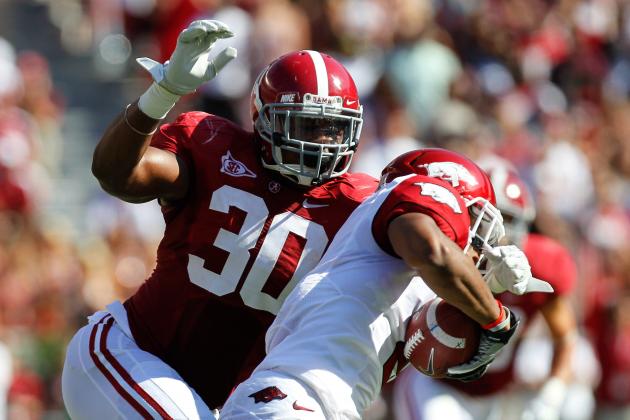 Kevin C. Cox/Getty Images

Bill Belichick sounded absolutely infatuated with Dont'a Hightower's prospects in comments reported by the Boston Globe, and it's easy to see why.
"Hightower has been in a great program for a great coach; won a couple of national championships and has been the signal-caller, leader of that defense,'' Belichick said. "He rarely came off the field.''
Installing an instant starter with this type of resume is what should be the textbook definition of value with regards to the NFL draft. Hightower is a three down player who probably could even make his name known on special teams as well.
Get to know this name, Hightower was a playmaker and leader just like Brandon Spikes and Jerod Mayo were in their respective collegiate years. Jones may have a higher ceiling, but Hightower has a better chance of making an immediate impact.
Grade: A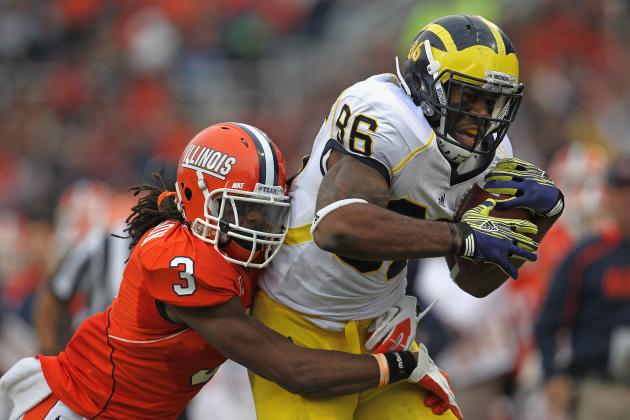 Jonathan Daniel/Getty Images

Value, value, value. The Patriots were connected to the likes of Harrison Smith and Mark Barron for literally months only to ignore the safety position all together until day two.
The pick reminds me a lot of the Ras-I Dowling selection of a year ago. Tavon Wilson wasn't expected to go as soon as he did, but New England clearly liked what they saw enough to end any possibility that he wouldn't stay on the board.
Wilson joins free agent signee Steve Gregory as welcome additions to the secondary this offseason. He wasn't taken this early just to sit, so he'll likely be given every opportunity to beat out his competition for playing time. Whether that will happen or not is yet to be seen.
The Patriots did a nice job addressing a big need early, but did so here after prioritizing all of their needs.
Grade: B-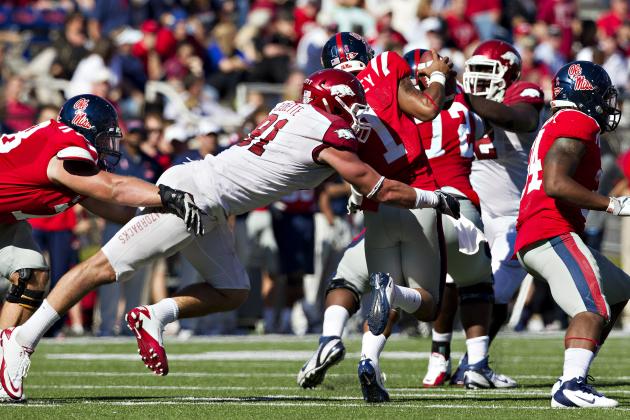 Wesley Hitt/Getty Images

Jake Bequette is 6' 5'' and nearly 300 pounds of solid lineman and he's going to be a lot of fun to watch in this defense. He plays with a high motor and consistently beats offensive lineman off the line of scrimmage using his big body to create momentum and push in the opposite direction.
He's got a history of getting after the quarterback and apparently New England is interested in standing him up.
"They wanted to see my pass rushing ability and my get-off out of my three-point stance. Bequette told the Boston Herald. But we also did quite a lot of two-point work in coverage and covering spot drops. We did everything with the linebacker stuff as well."
Again, a early round selection could always go the route of Ron Brace and never really develop. With that said, Bequette is being brought in with a purpose in mind and he'll be given every opportunity to earn snaps, there's certainly a few up for grabs.
The Patriots did a great job here targeting a final need in the early rounds and addressing it with a talented and versatile prospect.
Grade: B+
Coached up on the nuances and importance of special teams by assistant coach Mike Vrabel at Ohio State, Nate Ebner is an interesting name to keep in mind.
He'll be listed at safety, but don't expect to see him patrolling New England's defensive backfield any time soon. Ebner was a walk-on for the Buckeyes football team after converting from rugby. He's a definite project much like Mathew Slater, Macolm Williams, and Julian Edelman were/are.
Can't go wrong with a guy who likes to hit people as much as this kid, especially this late in the draft.
"I just enjoy running down as fast as you can", Ebner told ESPN.com. "It's just mayhem, it's exciting, it's crazy. It's such a rush. I don't even know what to say about it. It happens so fast. It's just one big blur, and then it's over. I just love it. It's just amazing. Maybe I got a screw loose."
Grade: C+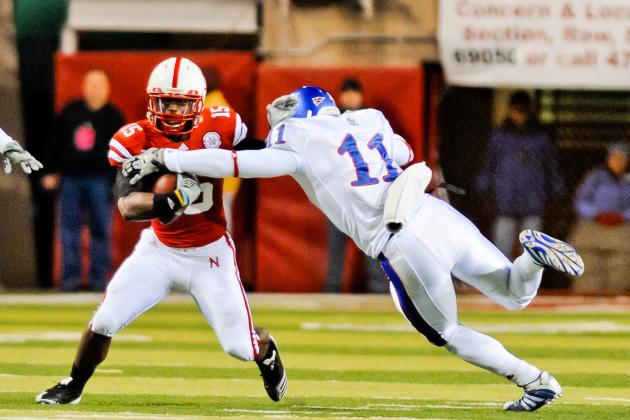 Eric Francis/Getty Images

Alfonzo Dennard represents a falling value pick, much like Aaron Hernandez a couple years ago. He plummeted into the last round of the draft due to off-the-field issues regarding an arrest.
While on the field, Dennard impressed in a number of areas. There are certainly weaknesses to his game that will need coaching up, but Dennard plays quite well in press situations. He's not that big, but man can he get up in receiver's grills and make their day a little harder.
Deep coverage and play reading are likely where he needs the majority of development.
Grade: C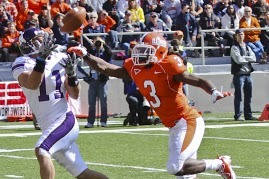 Lets get one thing clear with Jeremy Ebert, he's not going to set any records as a rookie burning by defenders on the outside.
A lot of people got enamored with his measurables, which are quite impressive, but he's a possession receiver suited best for the slot. That's not a very easy depth chart to ascend in New England, but with his sub 4.4 speed this could be you're new kickoff returner.
Grade: C+