2012 NBA Playoffs: Knicks-Heat Game 2 Preview; Can the Knicks Rally Back?
April 30, 2012

Marc Serota/Getty Images
Game 2 is going to show us just how mentally tough the Knicks are. We're going to see if this team can win a championship someday or if it's destined to be a borderline playoff team. 
What happened in Game 1 would break most teams. Not only did the Heat dominate the game, but the referees called such a terrible and blatantly biased game that it spawned comments from all over the NBA. 
Gary Neal tweeted "30-5 free throws!! All I have to say!!" And Rudy Gay added, "I hope y'all watching this game! Lmao".  
LeBron James got away with flopping so blatantly that fellow NBA players were disgusted by it. 
Klay Thompson tweeted, "I'll never respect floppers," while Patrick Patterson wondered, "What kind of league are we becoming?"
On top of all that, they lost their best defender to a torn ACL. 
The bottom line is what happened on Saturday pretty much precluded any chance the Knicks had of actually winning the game. By the middle of the second quarter they were so afraid of the whistle that they couldn't play physical defense. 
How the Knicks come back from that will determine if this series goes beyond a sweep. Most teams would fold after that, but the Knicks can't if they want to have any hopes of advancing.
The Knicks have to react to it the way a championship team would. They have to come out of the gates angry. They have to rally around their fallen teammate.
They have to show the Heat that they aren't scared of them, the refs or anything. They have to come out and play physical basketball and let the whistles come where they may. The Knicks have to play their way, not the way the Heat want them to.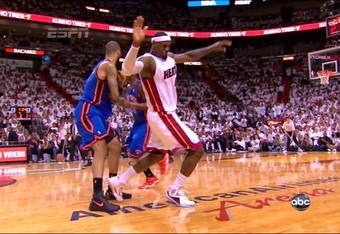 Several players are going to have to step up. We'd better hope that Tyson Chandler has had enough chicken soup, because if he doesn't defend the rim with his life the Knicks will lose. Landry Fields is going to have step up big time now that he is the primary defender of Dwyane Wade.
Amare Stoudemire needs to be the All-Star the Knicks signed him to be. Anything less than his absolute best puts them at a major disadvantage. Remember, the Knicks are outnumbered three to two in stars, so if Amare doesn't show up the Knicks are in big trouble. Carmelo Anthony can't do it all alone. 
Speaking of Carmelo, he has to take on a more direct leadership role. I sincerely hope that at some point he looks his teammates in the eyes and says, "Guys, we are not losing this game because I won't let us."
Carmelo needs to prove that he isn't just an All-Star, but that he's a player that can lead you to a championship. If that player exists anywhere inside of him, we'll see it tomorrow. Star players don't like being embarrassed like he was against LeBron. 
The bottom line is that the Knicks need to leave everything on the floor tomorrow night if they plan to beat the Heat. Each player has to do his job, and a few guys are going to have to do even more. If the Knicks have any chance of winning a championship with this group of players, they'll show it tomorrow night.