San Diego Chargers 2012 NFL Draft Report Card: Grades for Every Pick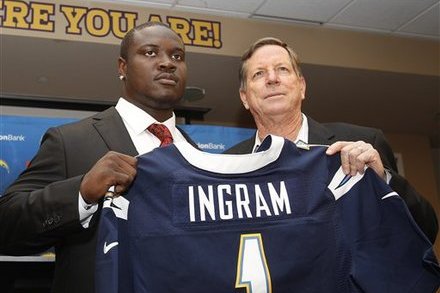 Photo courtesy of Associated Press
Like he's done so many times before, San Diego Chargers general manager A.J. Smith was hard at work on draft week, addressing needs and getting value with San Diego's seven picks. On days one and two, the Chargers selected three defensive players with starting potential, followed by four offensive prospects on days three through four who could fill holes down the road.
Leading up to draft night, there was speculation that San Diego had expressed interest in trading up from the 18th pick to nab Alabama safety Mark Barron. There was no denying Barron was the best available safety in the draft, but his demand proved to be way more than the Chargers had hoped. Barron was taken by the Tampa Bay Buccaneers with the seventh overall pick, a lot higher than San Diego had expected.
Thankfully, Smith remained patient on night one as he watched South Carolina defensive end Melvin Ingram fall down the board. Ingram was considered by many to be the best defensive end available and a top ten pick, but he was passed on by 17 teams. From that pick on, Smith continued to stay patient and made a move when he had to.
Begin Slideshow

»
Quite possibly the biggest steal in this year's draft was South Carolina defensive end Melvin Ingram at pick 18. Dubbed by head coach Norv Turner as the "most complete, versatile linebacker in the draft.", Ingram possesses a rare combination of speed, power and athleticism for his position.
Ingram's 48 tackles and 19 sacks his last two seasons at South Carolina show he's the pass-rusher San Diego has been looking for. But what you might not know is that Ingram has some pretty impressive ball skills. Aside from an infamous 68-yard touchdown run on a fake punt, Ingram is always a threat to take it to the house on turnovers as displayed in his highlight reel above.
As far as how Ingram will be used in San Diego's defense, chargers.com blogger Cristopher Smith reported Turner had this to say,
"When this defense has been at its best, we've had multiple players playing well at the outside linebacker position. We've been able to roll them in there. Melvin can be an impact player. He doesn't have to be on the field every down."
Grade: A+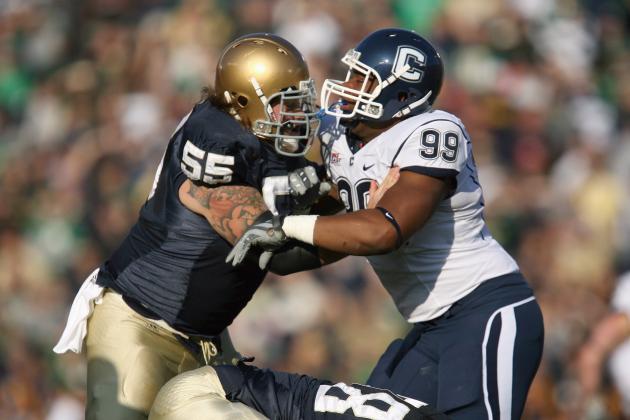 Jonathan Daniel/Getty Images

With their second-round pick, the Chargers elected to beef up the defensive line with Connecticut defensive tackle Kendall Reyes. At 6"4 and 299 lbs, Reyes wasn't the biggest defensive lineman available, but his versatility is something San Diego can really benefit from.
With 31.5 career tackles for loss, Reyes is the type of defensive lineman who can disrupt an offense without getting a single sack. His quick first step allows him to get inside and fill running lanes or get a hand in the quarterback's face.
As a former captain at Connecticut, Reyes is everything the Chargers could want from a character standpoint. He also fits well playing alongside Antonio Garay inside or on the edge of San Diego's 3-4 defense.
Grade: B
LSU safety Brandon Taylor didn't have the hype that Alabama's Mark Barron had coming into the draft, but he was still a captain of one of the SEC's most feared defenses. Taylor faced some of college football's top offenses in his collegiate career, and he wasn't afraid to come up in the box and make plays. Taylor racked up 71 tackles in 2011 including 6.5 for a loss in LSU's defense.
A.J. Smith had the following to say about selecting Taylor, as reported by Christopher Smith:
"Taylor was a guy we targeted that we just didn't want to take any more chances on."

"He's physical. Very aggressive in run support and has some coverage ability. We really like his instincts for the game."
While San Diego did sign veteran safety Atari Bigby in free agency, Taylor should have plenty of opportunities to see playing time next season in the nickel defense and on special teams. The only thing keeping this pick from being an "A" is the fact that San Diego had to give away it's third and sixth round picks.
Grade: B
Ladarius Green was an absolute pain to cover at Louisiana-Lafayette. The 6"6' tight end has tremendous speed and is freakishly athletic in the receiving game.
At the combine, San Diego scouts clocked a 4.45 40-yard dash time for Green and a 35-inch vertical leap which is unheard of for a traditional tight end. In his last performance against San Diego State in the R+L Carriers New Orleans Bowl, Green recorded five catches for 121 yards.
There's a lot to love about Green, but he's not perfect. The biggest problem with Green is his lack of blocking. At 238 lbs, Green is way undersized to block defensive linemen at the next level, and it could be his downfall as an NFL tight end.
Thankfully, San Diego has two of the best veteran tight ends in Antonio Gates and Randy McMichael who can mentor Green and help him develop his size and blocking. A great development player who could eventually be Gates' successor.
Grade: C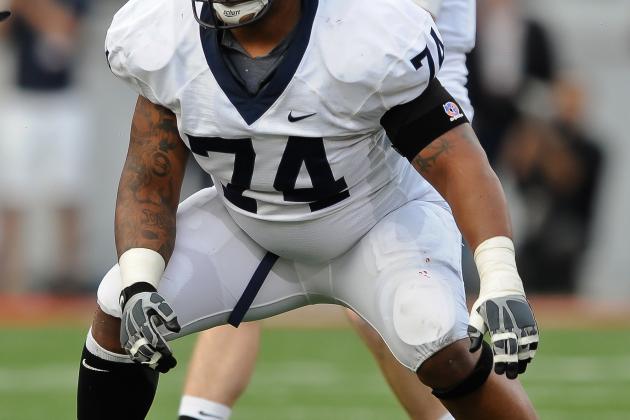 Jamie Sabau/Getty Images

The Chargers added some competition to the position battle for Kris Dielman's left guard spot with the fifth-round selection of Penn State guard Johnnie Troutman; a definite need on the offensive line.
The scouting report on Troutman claims he hasn't allowed a sack in 32 starts. A pretty impressive stat, but we'll know if he's the guy to fill in at left guard after training camp and the preseason.
Troutman is 6"3' and 325 lbs, so he has good size to move guys in the run game, but NFL.com reports he has trouble with his pass blocking. It's a great pick in terms of a need, but Troutman wasn't ranked high on a lot of draft boards. We'll have to see how he pans out in San Diego.
Grade: C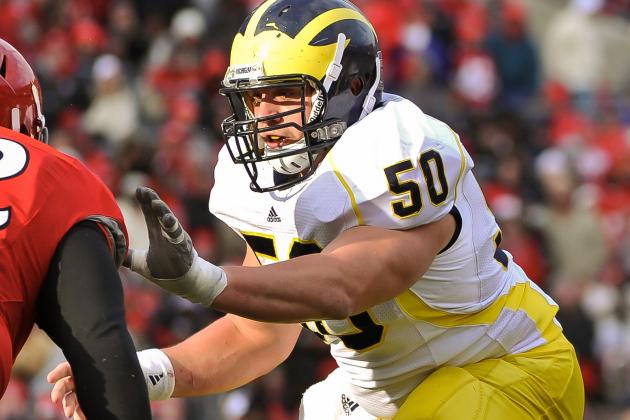 Jamie Sabau/Getty Images

Michigan center David Molk is an excellent pick-up for the Chargers in the seventh-round. I would even consider him a steal with all the awards he's won in his collegiate career.
Molk was named the best center in college football last season, winning the 2011 Rimington award. He's also a two-time first-team All-Big Ten player. Molk turned heads with his 41 bench press reps at the combine which was ranked first among offensive linemen and second overall. What more did the guy have to do to prove himself?
When asked how his collegiate accomplishments factored into his draft stock, Molk's answer portrayed a little bitterness, as reported by Christopher Smith:
"I don't know, frankly, from how this whole process went, if it matters at all."
I, personally, love that kind of answer. This shows Molk already has a bit of a chip on his shoulder. I definitely like this pick as it prepares for Nick Hardwick's eventual retirement, but Molk will be doing a lot of watching from the sidelines in 2012.
Grade: C+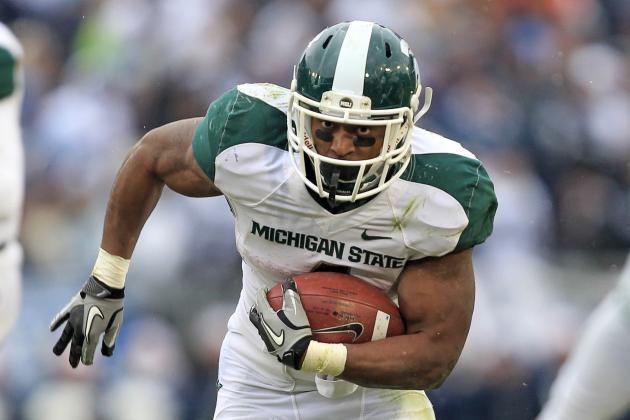 Hunter Martin/Getty Images

With their final selection, the Chargers selected Michigan State running back Edwin Baker in the seventh round. This was a huge need going into the draft, but I felt like San Diego should have addressed this need earlier. Baker is a good complement to Ryan Mathews in the backfield, but there were a lot of better running backs in this draft.
Mathews will no doubt be the feature back in San Diego's offense in his first full season as the lone starter. I was concerned, however, about his durability considering his history of injuries. Baker should fit well picking up the slack when Mathews needs rest.
Don't get me wrong, I like that San Diego filled this need, but it was a bit of a letdown that they didn't take one of the premier backs of the crop. Then again, A.J. Smith is a good judge of talent when it comes to the draft, so there's a good chance Baker is just what San Diego is looking for.
Grade: D
Kevin Terrell/Getty Images

Overall, the Chargers had a very successful draft. Needs were filled and the quality of players selected were some of the best in quite some time.
We knew defense was going to be the top priority going into the draft, and A.J. Smith did a great job bringing in some very promising players. All three guys have a great attitude and they make San Diego's defense much more improved from last season.
As far as offense goes, Smith knew the offensive line was going to need some help and he made the right choices taking two big-school players. I love the Ladarius Green pick and I'm excited to watch this guy hone his skills and become another aerial threat for Philip Rivers. I will admit that the Edwin Baker selection is a little disappointing, but it still fills a need for the Chargers.
Grade: B-