New York Giants' 2012 Draft: Rueben Randle May Be G-Men's Most Impactful Pick
April 30, 2012

Going into the 2012 NFL draft, I had a few ideas of where I thought the New York Giants were going to go.
I thought offensive line was going to be a priority, given the fact that the line from 2011 was shaky at best and needed to be upgraded.
I also thought tight end was a position that needed to be addressed due to the injuries of Jake Ballard and Travis Beckum back in February.
And with the possibility of a potential draft-day trade of defensive end Osi Umenyiora, I thought maybe they would go for defensive line depth.
But when it comes to Giants general manager Jerry Reese, he knows where to find talent in the draft.
With his early picks, he went for skill and talent over team need. I'll admit that on Thursday night, I scratched my head a little when he picked running back David Wilson from Virginia Tech.
When I heard Wilson compare himself to a mixture of Ray Rice and Arian Foster, I got really excited, because if he lives up to that kind of potential, the Giants could have a star in the backfield.
But the pick that I think will pay off big-time for the Giants will be the one from the second round: Rueben Randle.
When Mario Manningham left as a free agent to sign with the San Francisco 49ers, Giants fans all over wondered who would take his place.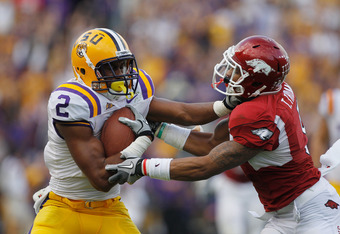 Chris Graythen/Getty Images
Could Jerrel Jernigan or Domenik Hixon be the No. 3 receiver, or could Ramses Barden live up to his potential?
As soon as I saw what Randle was capable of, I knew the Giants had just found a new offensive weapon for Eli Manning.
The Giants thought about taking Randle with their first-round pick, but when he fell all the way to their second-round pick at No. 63, Reese wasn't passing on him again.
Randle got comparisons from Christopher Harris of ESPN to Cincinnati Bengals wide receiver A.J. Green and current Giants receiver Hakeem Nicks, who has already made a tremendous impact for the Giants in three short years.
Randle is a 6'4", 210-pound receiver who has speed and size and is very tough on slant routes and in the red zone, which is what Nicks is for the Giants already.
If Randle has anywhere near the potential of what Nicks gives the Giants, then Reese got a steal of a pick.
Throw in the fact that the Giants also have another emerging star in Victor Cruz, plus Nicks and now Randle, and the Giants may end up having one of, if not the best receiver tandems in the NFL.
The term that was used to describe Randle was "NFL-ready." A lot of rookies don't always get that label.
But Randle did, which is what makes me really think Randle is going to be the best pick for the Giants from the 2012 draft class.
With Rueben Randle, I honestly believe the Giants have another star in the making.
Stay tuned, Giants fans.