WWE Extreme Rules 2012 Results: Why Brock Lesnar Should Be Fired
April 30, 2012

Jon Kopaloff/Getty Images
WWE's Extreme Rules pay-per-view event was one of the strongest shows following WrestleMania in recent memory, however Brock Lesnar returning to the ring and jeopardizing John Cena's safety on more than one occasion during the main event was not one of Extreme Rules' higher points.
Before the IWC takes to the comment section and declares my love for Cena, I'm not a fan of the Massachusetts-born superstar, but nobody should have to step into the ring with a guy who seems intent on hurting you for real.
After watching the former UFC Champion bust open Cena's mouth for real a few weeks ago on Monday Night Raw, I had a gut feeling that Lesnar was going to go into the pay-per-view and not remember (or maybe, not care) that he's in the sports entertainment business again, and nobody is supposed to actually get hurt.
Even during his first stint with WWE, Lesnar wasn't the safest guy to get in the ring with, but after cutting open Cena's skull with blatant hard elbows in the first 10 seconds of the main event tonight and then locking in the kimura arm-bar so tight that the audio team's equipment caught Cena telling Lesnar to "ease up", the WWE brass needs to step in. 
It's never easy to tell what's scripted and what's not, but before the pay-per-view went off the air, it appeared WWE's posterboy did a "shoot," going unscripted and telling the Chicago fans in attendance "I've got no left arm, and I'm tasting my own blood." before explaining he was taking a break from the business.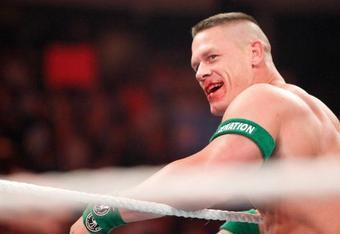 Whether or not Cena was due for time off is irrelevant and beside the point. Nobody, whether their a big-name like Cena or not should have to step into the ring with Lesnar and feel like they just left the octagon. This isn't MMA and it doesn't appear that Lesnar understands that concept.
WWE Hall of Famer Bret "The Hitman" Hart has stated on more than one occasion, that one of the proudest things he accomplished in the wrestling industry was never once hurting an opponent of his, which is something everyone who laces up the boots should strive to match. Lesnar didn't strive towards keeping people safe his first time with WWE, and tonight showed that now that he's had a taste of the MMA world, it's doubtful he'll try to keep any of his opponents safe this time around either.
I somewhat understand why the higher ups within the WWE felt it was a good idea to bring back Lesnar. Thanks to the UFC, he had a larger fan base than during his time in wrestling, and after leaving the company, Lesnar didn't seem to have anything lined up right away so WWE jumped at the chance to bring one of its former big names back to into the squared circle.
While the idea makes sense business-wise, and some fans were obviously happy to see him back, having Lesnar back on the roster isn't worth one, two or three other wrestlers being out six months due to injuries from him. If anyone besides a superstar as big as Lesnar had pulled that tonight, there's a fair chance they'd have been fired already.
While I think the Minnesota-born superstar deserves to be shown the door after what he pulled at Extreme Rules, at the very least WWE management needs to sit him down and make sure he understands the difference between making holds look real, and breaking someone's arm.