Cleveland Browns 2012 Early Positional Preview: Running Backs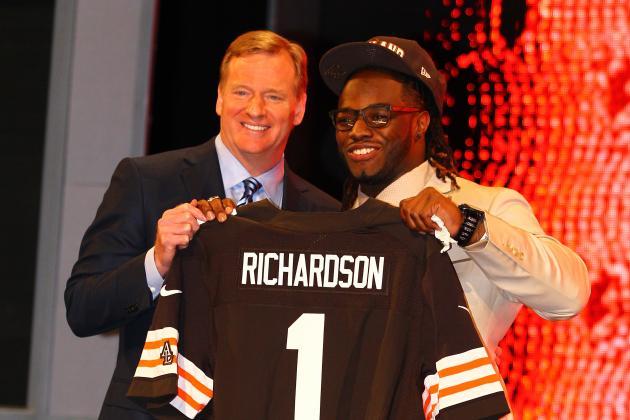 Al Bello/Getty Images

The Cleveland Browns running backs are a group that have a lot to prove throughout the 2012 NFL season. The Browns traded up in the first round of the 2012 NFL Draft to select the top rusher in the class, Trent Richardson, and were significantly disappointed in the production of the running back spot last season.
Cleveland currently has five active running backs on the roster heading into the summer mini camps. Richardson, Brandon Jackson, Montario Hardesty, Chris Ogbonnaya and Armond Smith will all be looking to make the Browns final roster and hopefully get some touches throughout the upcoming year.
Here is a look at all five running backs on the Browns roster and a little insight into what to expect from them throughout the 2012 NFL season.
Begin Slideshow

»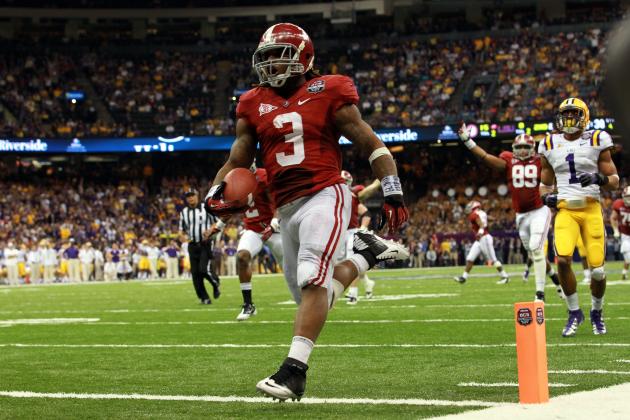 Ronald Martinez/Getty Images

Trent Richardson may be the most anticipated prospect the Cleveland Browns have drafted since their return to the NFL in 1999. Richardson has elite size and speed and has been compared to some of the best running backs the NFL has to offer.
Richardson was a two-time BCS National Championship winner and scored 21 touchdowns during Alabama's championship run in 2011.
Cleveland has lacked a dynamic running back throughout much of its modern history and many football experts realize the benefits that a dynamic rusher can bring to a struggling offense. The Browns are clearly planning to use Richardson as a three-down back and will likely give him 20-25 carries a game in what some are calling a "run heavy west-coast offense".
There will be a lot of emphasis on the running back position for the Browns this season especially with the uncertainty that surrounds the quarterback position moving forward. NFL experts anticipate defenses to put as many men in the box as possible and attempt to take Richardson out of the game plan early.
Strong defensive teams like the Steelers, Bengals, and Ravens know how to frustrate young offenses and Richardson will be key to the Browns having any sort of success in 2012.
Running in the AFC North is not an easy task for any back, but Richardson competed against some of the best defensive players in college football over the course of his career and put up some very strong numbers.
Cleveland has not had success against these AFC North opponents in recent seasons and will need an offensive spark from a player like Richardson if they hope to turn those misfortunes around.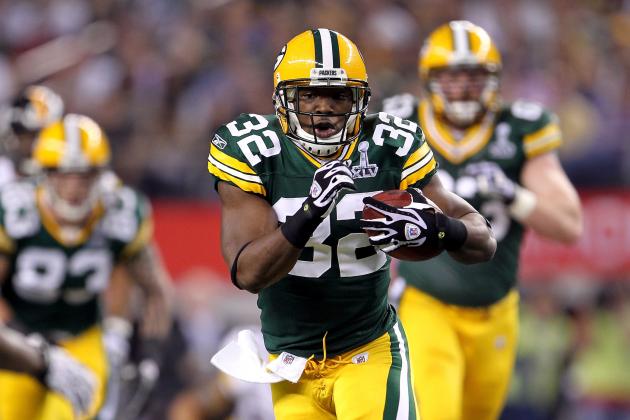 Jamie Squire/Getty Images

Brandon Jackson was one of the biggest disappointments for Cleveland in 2011 after a toe injury sidelined him for the entire year. The Browns went out and made Jackson their primary free agent signing after the 2010 season and expected Jackson to be the second-string running back behind Peyton Hillis last year.
In 2010, Jackson was a key part in the Green Bay Packers' Super Bowl run and played the majority of the snaps for any Packer running back that season. Cleveland expected Jackson to be able to provide a championship caliber work ethic to the organization, but barely had enough time to see him work before he was sidelined.
Cleveland has been relatively quiet on Jackson's health status for 2012, but it is expected that he will be a full participant when training camp rolls around in late July.
Pat Shurmur stated in an spring press conference that he expects Jackson to contribute to the Browns this season and is looking forward to seeing him back on the field fully healthy.
Ezra Shaw/Getty Images

Montario Hardesty has yet to live up to the hype that turned him into a second round draft pick by the Cleveland Browns in 2010. Hardesty has battled through injuries and has simply not looked like the explosive back that he was destined to become after his solid college career.
The Browns took a big risk with Hardesty in 2010 because of his injury history and the lack of talent in Cleveland's backfield at that point in time. To date, Hardesty only has 88 carries for 266 yards and no touchdowns in his NFL career.
Hardesty may be fighting for a roster spot this summer if he cannot stay off the injury report during training camp. Cleveland has build a strong cast of running backs over the last two seasons and may have to cut ties if the team feels he will not be productive for a third straight season.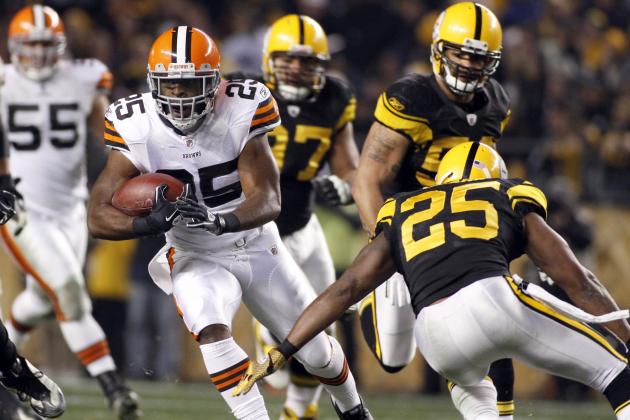 Justin K. Aller/Getty Images

Chris Ogbonnaya showed flashes of greatness with limited opportunities for the Cleveland Browns last season.
With Peyton Hillis and Montario Hardesty sidelined, Ogbonnaya was called on by the Browns to become an offensive spark that Cleveland lacked during the entire season. Even though he did not blossom into a consistent starter, Ogbonnaya played well enough to earn a roster spot for the upcoming season and the opportunity to compete for the second spot on the depth chart.
Ogbonnaya had his best game with Cleveland against the Jacksonville Jaguars as he rushed for 115 yards and the lone touchdown of his career. The Browns used Ogbonnaya mostly throughout the month of November when he averaged 4.4 yards a carry but sidelined the former Texas Longhorn upon the return of a healthy Peyton Hillis in December.
Ogbonnaya has also seen time with the St. Louis Rams and Houston Texans over the last two seasons.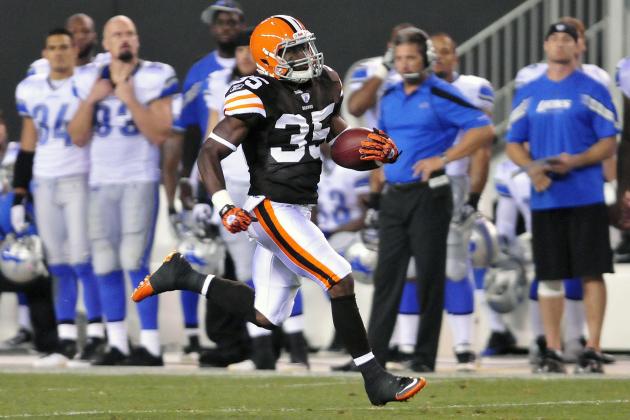 Jason Miller/Getty Images

Armond Smith was a bright spot for the Cleveland Browns in the 2011 NFL preseason and looked as if he could become an explosive running option for Cleveland in the future.
Unfortunately, there were simply not enough carries to go around in 2011 and Smith only carried the ball three times for a total of two yards throughout the regular season. Many Browns fans were confused as to why Smith did not see more playing time after recording nearly 200 yards on 31 carries which included an 81-yard touchdown run against the Detroit Lions on August 19.
Smith will be in Browns training camp this season and may demand some playing opportunities if he can perform as well as he did last summer. The Browns obviously have a lot of talent at the running back position and each carry will be considered invaluable to each player seeking a roster spot.
The competition to back up Trent Richardson seems wide open for the Browns running backs and each team knows that depth is a key component to winning games in the NFL. Cleveland looks like they have the talent to compete in 2012 if one of these ball carriers can be a contributing player this season.