Washington Wizards: Final Grades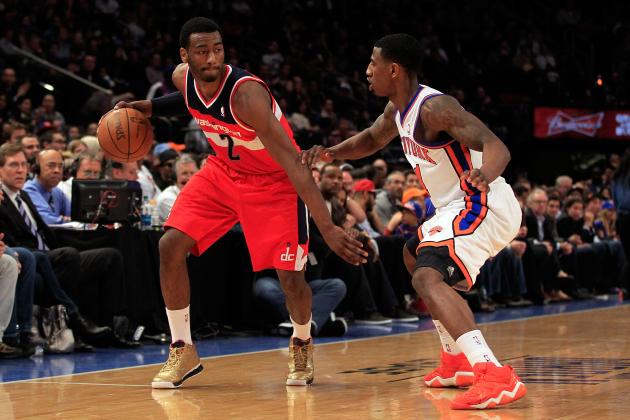 Chris Trotman/Getty Images

I can't even sugarcoat it. It was another agonizing season for the Wizards. While my expectations of the team as a whole was always low, there's not a lot of optimism when you have the second-worst record in the NBA.
During the season, drastic changes were made. Flip Saunders was fired as head coach. Team morons Nick Young and JaVale McGee were traded away and Andray Blatche was in bad shape. (no pun intended)
So is there anything to look forward to? Were any improvements made?
I can go back and forth with that one.
Well, upon the acquisition of former Nuggets center Nene, the Wizards seemed to pick up the pace. While they weren't winning a lot of games, they were at least being competitive.
In addition to that, the Wizards finally said goodbye to the unfixable McGee and enigmatic Nick Young. It's disappointing to see them leave and regardless if Nene works out in Washington, it had to be done.
What's so frustrating about that scenario is both McGee and Young have an incredible talent. Twenty-point scorers don't grow on trees, and Young could give you 20 a game if he ever fully committed. McGee has the athleticism of a small forward but may be one of the dumbest players I have ever witnessed.
Given Washington's track record of throwing away talent, I'm sure both of those players will develop into the athletes they are certainly capable of. (Just ask Ben Wallace)
As of right now, the Wizards simply do not have the talent to be a playoff team. Given a look at the roster, one can easily assume that this team has remained in rebuild fashion—or as I like to call it: "They are rebuilding a rebuild."
It has been brought to our attention that general manager Ernie Grunfeld will inexplicably be retained for the upcoming season. I understand Ted Leonsis has a reputation for being loyal and patient—but give me a break.
Let's just hope the Wiz get lucky and get the No. 1 overall pick in this summer's draft, therefore, Grunfeld doesn't have to make any hard decisions. (Anyone in their right mind will take Anthony Davis.)
Anyway, as the season drew to a close last Thursday and the Wizards players maturely celebrated their unsuccessful season at local clubs throughout the city, I have put together grades of the roster. (No, I'm not going to include Cartier Martin or Morris Almond or whatever his name is.)
Just getting a little sidetracked, but I'm assuming you noticed my sarcasm stated above in "maturely celebrate." Here's what I mean: I get it, you're young, you have the funds, have a good time—especially in a city that has a lot to offer.
What I find ridiculous is these advertisements they post on social media with half-naked girls next to them. Being a professional athlete, you have to put yourself on a pedestal. You are getting paid millions to play a children's game. Start setting a good example. OK, sorry I feel better now, onto the grades.
Begin Slideshow

»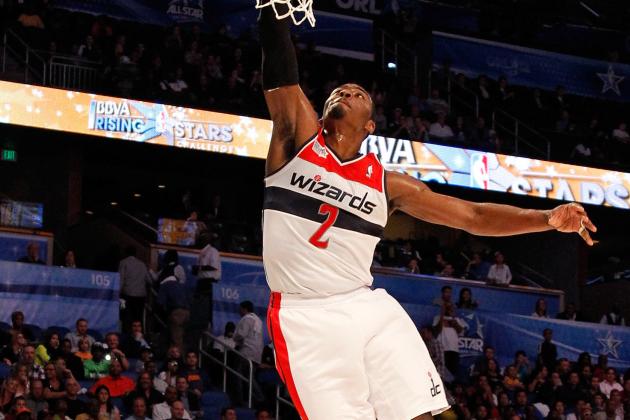 Mike Ehrmann/Getty Images

Overall Grade: C+
Am I being a little too harsh on the very talented point guard? Yes, and that's because I expect the most out of him. He's the best player on the team.
When you look at his season as a whole, was he really anything better than average? In consideration of his skill set and being the former first pick in the draft, no not really.
He often played lackadaisically, half-hearted (which greatly improved with Randy Wittman) and he still has no outside game. Rajon Rondo supporters will argue saying that he doesn't need to have a good jumper.
John Wall wouldn't need a jumper if he had three for-sure Hall of Famers on his team like Rondo does. He's got to improve upon this. Two of the best point guards in basketball came into the league without a jumper—Tony Parker and Derrick Rose. Now, both of them can.
Let's face it, Wall is not going to be put in a situation like Rondo, therefore, for him to ever reach elite status, which I think he's more than capable of, he needs a consistent outside game.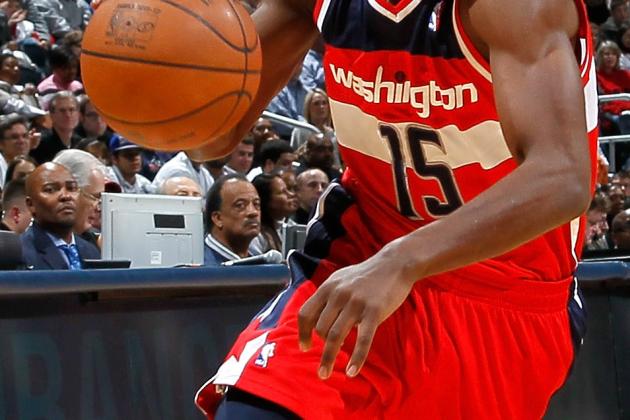 Kevin C. Cox/Getty Images

Overall Grade: C+
Crawford can flat-out score. I still can't get an accurate read on him though. His shot selection is terrible, but half of the time they go in.
Defensively, I would say he's dependable. He's a bit undersized for his position, but he's fearless.
If the Wizards ever develop some sort of future, I think Crawford's best fit would be as the team's sixth man. He could be the spark plug off the bench who can drop 10 on you in a second.
Jordan's inconsistencies have me giving him a C+. He has proven that he can play and compete in this league, but can he learn to become the better and more cerebral basketball player whom he will need to be?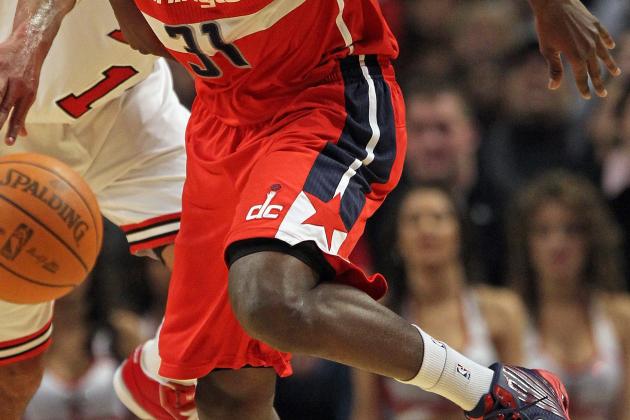 Jonathan Daniel/Getty Images

Overall Grade: C+
I only went to one Wizards game this year, and that was one too many. Anyway, it happened to be the first game of the season against the New Jersey Nets.
Deron Williams started heating up in the second half as no one could contain him. Out of nowhere, Singleton guarded the All-Star with ease and helped neutralize the Nets offense.
My initial reaction was very surprised. Here's a rookie who was genuinely an afterthought, after being a mid-round pick in one of the worst drafts ever. After one quarter, he showed the potential to be the team's defensive staple for years to come as well as hit the occasional outside shot which he has done so far.
As the season dragged on, I became less and less impressed with Singleton. There would be instances in which he would be incredibly uninvolved with the game. He also began to struggle defensively which is the reason why he was chosen in the first round.
Is Singleton ever going to provide a vital role for the Wizards? Probably not but he has the potential to become a solid role player for the next few years which is a necessity for every team.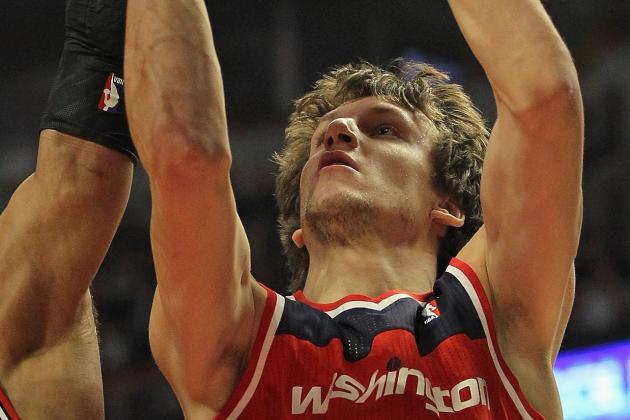 Jonathan Daniel/Getty Images

Overall Grade: D
I know that the 2011 draft was one of the worst of all time, but can someone please explain to me how a lanky 6'11" forward with no outside shot, inability to defend in the post and can't make a free throw if his life depended on it was a lottery pick?
His highlight of the year was making out with his girlfriend on draft night for the entire nation to see. Sure, he can run the court pretty well and will make the occasional highlight dunk, but is it worth the sixth overall pick?
Good call on that one Mr. Grunfeld. OK, I know I'm being harsh again, and I'm fully aware that Vesely's play did improve at the end of the season as the Wiz were playing against primarily backups.
However, I deem it unrealistic to believe that Jan is going to transform into a player worth taking that high in the draft. Let's hope I'm wrong, but I would consider this to be an unsuccessful first season for him.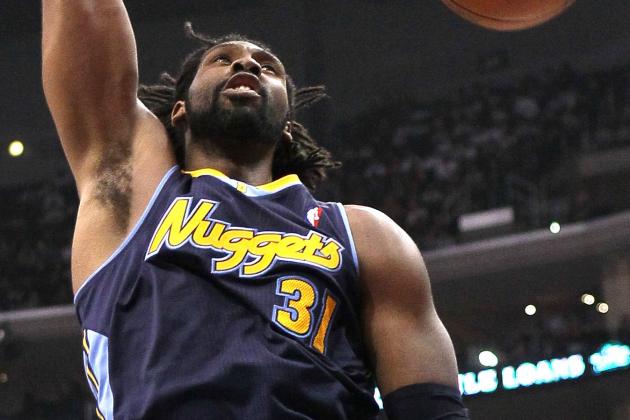 Stephen Dunn/Getty Images

Overall Grade: B
When Nene was playing, his presence was obviously impactful. The difference between him and JaVale McGee was remarkable.
He's a solid defender—one of the better low-post scorers in the game and is a core veteran, though, I still have some questions remaining about Nene.
Was he acquired simply to get rid of Nick Young and McGee and we can dump his salary this offseason? Or, does the front office feel that they have taken care of the two most important positions on the floor—point guard and center.
I would hope it's the latter; Nene still has some years left in him as long as he can stay healthy and provides some much-needed help for John Wall.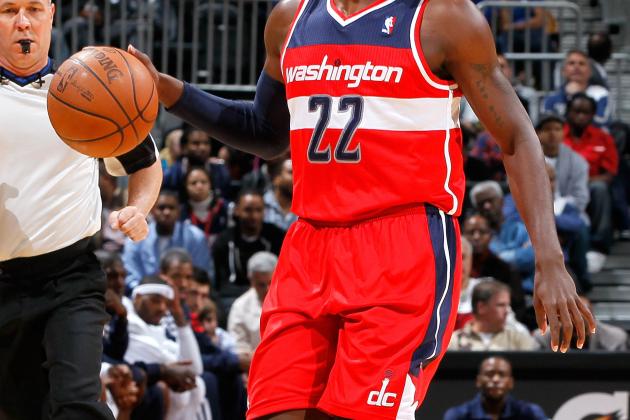 Kevin C. Cox/Getty Images

Overall Grade: C+
Probably has the easiest job on the team. He's the understudy to the team's best player who will also play the most minutes.
He'll get his 10-12 minutes per game, where he's supposed to run the offense, not make any highlight-type plays and collect a couple while he's out there.
I really don't see Mack's role increasing much next year, but he's a solid backup and should only improve upon his second season.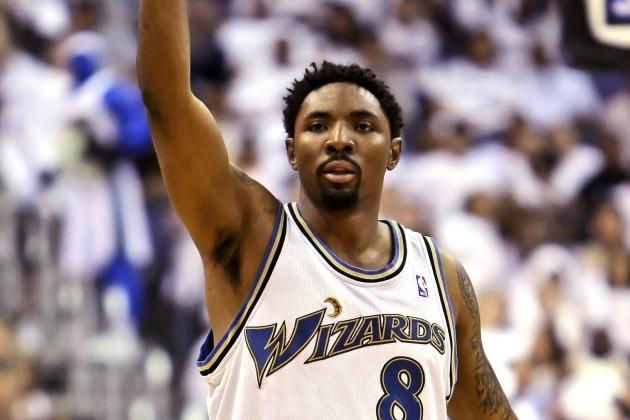 Drew Hallowell/Getty Images

Overall Grade: B
I know he technically isn't on the roster anymore, but he was there long enough to receive a grade.
Mason is never going to have a major role on an NBA team anymore. He's a veteran three-point threat where there is at least one type of player like that on each team.
I like Mason's game. He can obviously shoot, is a solid defender and is a good guy around the locker. Now of course, I don't consider Roger starting material, but I would like see him return next year and stick to being a reliable bench scorer.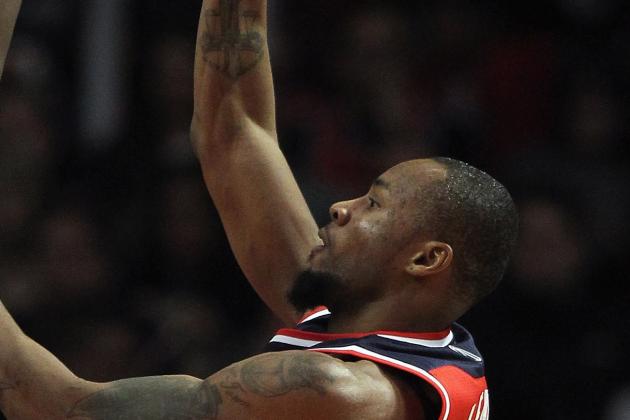 Jonathan Daniel/Getty Images

Overall Grade: F
I often have the debate with my friends: If you could play any professional sport, what would it be?
Most of the answers include golf or baseball, due to the guaranteed money, playing in great weather and not as physically exerting as other sports.
Well, if I could play any sport, I would play basketball under one condition: I'm Rashard Lewis. Talk about the easiest job in the NBA.
He's the second-highest paid player in the entire league. He goes in the game, half-asses his way to eight points and three rebounds. Then, sits out the rest of the season for a "knee injury" or whatever it was.
Sure, I guess we could be grateful for Lewis since we got him in exchange for Gilbert Arenas, but he doesn't have the outside shot he once had. He can't defend power forwards anymore like he used to and is absolutely winded on the floor.
I can only hope the Wizards find a way to part with the former All-Star or maybe retirement. He's just not that good anymore.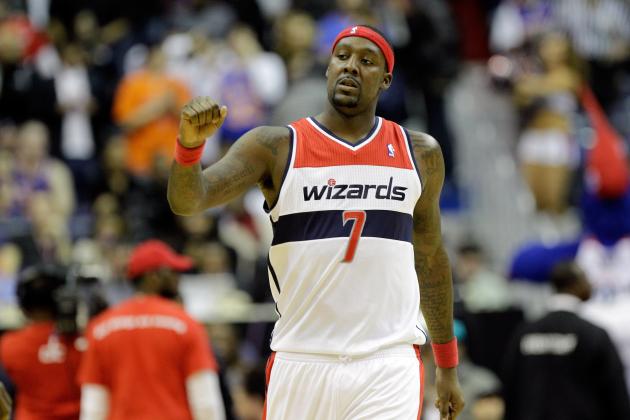 Rob Carr/Getty Images

Overall Grade: F-
Nope. Not going to do it. Not going to go on another Andray Blatche rant and I'm not even going to dignify him a response.
Congratulations, you might be the most hated player in the city.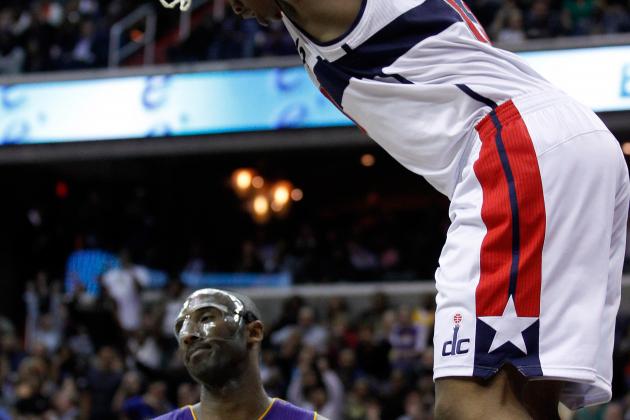 Rob Carr/Getty Images

Overall Grade: B+
This is probably premature, but Seraphin looked great after the McGee trade. He's aggressive, has an underrated low post game and has even started to develop a mid-range jumper.
Where Seraphin lacks in overall athleticism, he makes up for his effort and tenacity; I couldn't have been more impressed in his last month.
Kevin Seraphin might not transform himself into a reliable starter, but he can provide depth for the oft-injured Nene and could define himself as a great role player.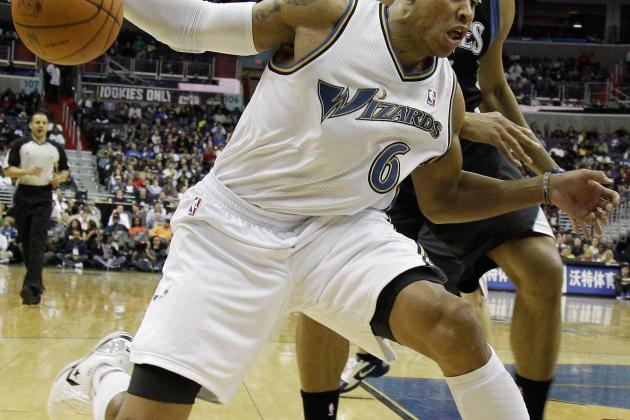 Rob Carr/Getty Images

Overall Grade: C
I actually thought Evans would have a larger role on the team this season. Obviously, there was something fans like myself weren't seeing.
Although sparingly, when Evans did play; he looked average at best, which is why he's getting an average grade.
I doubt Evans comes back next year, even though he has a reputation as a great locker room guy. Recently signed Al Singleton seemed to outplay him, and Maurice will most likely be a free agent.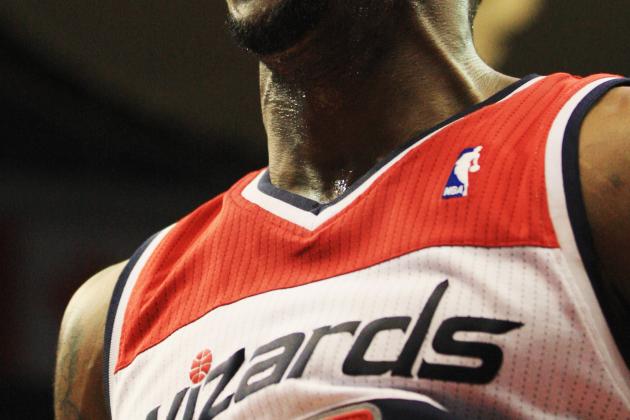 Rob Carr/Getty Images

Overall Grade: B+
I love Trevor Booker. I would have given him an A, if he didn't get hurt again. If Booker was two inches taller, I think the Wizards would have their answer at power forward. He's undersized but has shown the ability to guard some of the best offensive players in the league.
Booker is never going to be a 20-point scorer, but he does all the little things that go unnoticed. He'll outmuscle someone for a rebound, he'll dive for a loose ball, take charges and he'll get that intimidating-and-momentum-swinging ferocious dunk.
I remember watching the Wizards play the Thunder, and Booker might have defended Kevin Durant better than anyone else I've seen.
Additionally, he has improved offensively, and as long as he can stay healthy, we'll be seeing a lot of Trevor Booker in the future.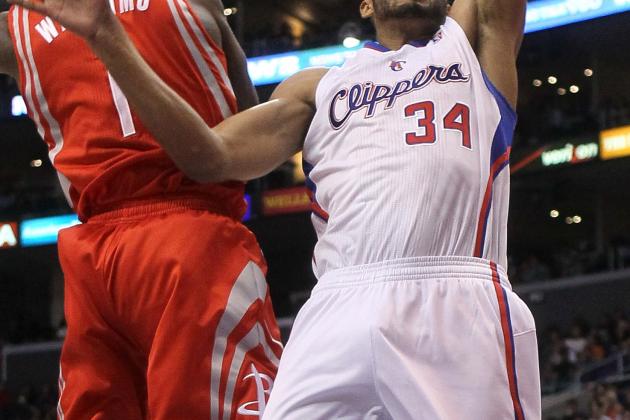 Stephen Dunn/Getty Images

Overall Grade: C
Well, I guess I have to write about Brian Cook. He was clearly a throw-in in the previously mentioned trade. Cook has been known to stretch the floor with his size and ability to shoot from long range.
I guess he did that a couple times. I highly doubt Cook will remain a Wizard, and if he does, we won't see a lot of him.